Hello everyone! How was your Christmas? Did you eat, like, a TON? Ugh, I sure did! Detox is starting early this year.
(Pretty sure it'll be ending early, too, if we're honest.)
So here we are with a virtuous smoothie! If you follow me on Instagram, you maaaay have noticed that I like smoothies. I really, really like smoothies.
On weekdays Mr. Veggie makes me my trusty green breakfast smoothie, and on weekends I experiment with new ideas. I've made this one a number of times now and I thought it was time to share the love!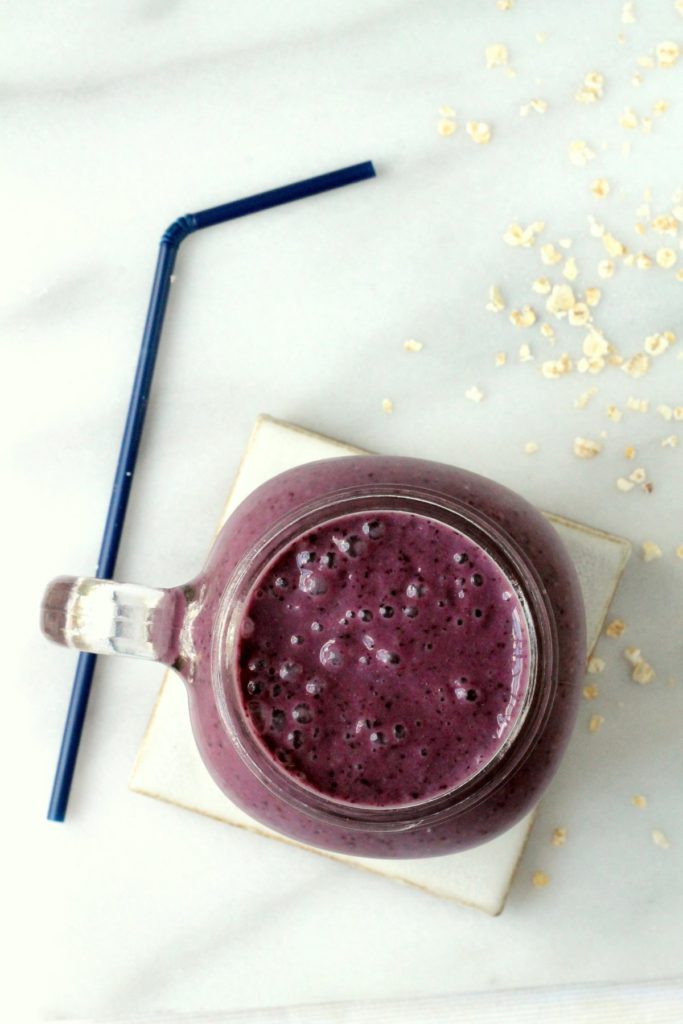 This smoothie has everything you need. A very quick microwaved oatmeal provides slow releasing energy – perfect for those who don't like the texture of oatmeal / porridge, but want to get the health benefits of it. Or those (like me) who are OK with oatmeal / porridge but have trouble eating any solid food early in the morning.
The oatmeal is spiked with vanilla and cinnamon so adds a little something to the flavor, as well as making it thick and filling. You can also throw in your choice of mix-ins (I threw in a chia seeds, maca and chlorella) if you're a mix-in kind of a person.
Hope you enjoy!
Blueberry Oatmeal Breakfast Smoothie
Ingredients
¼ cup dried oats
¼ tsp of vanilla extract
⅛ tsp cinammon
A couple of ice cubes
1 cup of frozen blueberries*
1 frozen banana*
1 mejool date, pitted
1 Tbsp cashew butter
1 cup almond milk , + a little extra for the oats
Optional add-ins
1 tsp chia seeds
1 heaping tsp maca powder
¼ tsp chlorella
Instructions
In a small bowl, pour almond milk over the oats until they are all moistened. Add the cinnamon and vanilla and microwave for about 30 seconds, until the oats are softened.

Add a couple of ice cubes to the bowl to cool the oats down.

Blend the oats together with all other ingredients in a high speed blender until smooth.
Notes
*It's OK if your blueberries or banana aren't frozen as long as one of them is! Otherwise add a few ice cubes.
Serving: 1g, Calories: 629kcal, Carbohydrates: 111g, Protein: 14g, Fat: 18g, Saturated Fat: 3g, Polyunsaturated Fat: 13g, Sodium: 67mg, Fiber: 17g, Sugar: 42g