Creamy Spinach Pasta with Goat Cheese & Cherry Tomatoes
Deliciously creamy spinach pasta with goat cheese, smoked cheddar and cherry tomatoes! This incredible vegetarian pasta comes together in just 20 minutes. It is bursting with flavor, comforting but light, and packed with healthy greens.
This is my early autumn recipe, where I am back to thinking of comfort food dishes to share with you all, but not quite able to let go of the spinach and cherry tomato obsession that has defined my summer.
This pasta is creamy and satisfying without being heavy, because there's no heavy cream involved. We just coat the pasta with some delicious goat cheese which melts in to give a light but creamy texture and an amazing flavor.
And speaking of amazing flavor, we're going to go large here and throw in some smoked cheese. Yesssss.
It's no secret that I love smoky flavors, and just a little bit of smoked cheddar goes a long way in this pasta to add complexity and deeper flavors.
It's a little unexpected because sometimes the best things are.
This is, overall, a slightly healthier way to enjoy a creamy pasta. By using very flavorful cheeses, we need a lot less. And while it's not a super saucy slurp-able (is that a word?) cream sauce, it still feels pretty luxurious on the tongue.
There is also decent amount of spinach and tomato in each portion, keeping every bite interesting and different.
Tips & Variations for Your Creamy Spinach Pasta
Cheese Swaps: You can use another smoked cheese like smoked gouda no problem. A non-smoky strong cheddar will still work nicely in here if you can't find anything smoked, but you'll lose some of the depth so make sure it's a really tasty strong cheese. If you don't have goat cheese, try cream cheese but think about another way to add some umami flavor. A splash of white wine when you're cooking the tomatoes?
Greens Swaps: Rainbow chard could also work beautifully here.
Making this with a baby or toddler at the table? Our 22 month old loved it once I chopped it in a mini food processor. This broke up the spinach and cherry tomatoes nicely (she won't touch them whole!) and left her with smaller pasta pieces, so she happily ate it all off a fork.
Different Pasta Shapes: I've also made this with linguine and loved the results. It's pretty flexible.
How to Make This Spinach Pasta in 20 Minutes
This is a super quick and easy dinner, which is just how we like it around here. Everything can be prepared in the time it takes to boil the pasta. I even managed to avoid too much chopping.
Keep scrolling for a full, printable recipe card… but I'll give you a quick photo demo first.
Once your pasta is boiling, you'll halve your cherry tomatoes, slice some garlic, rinse your spinach and grate your smoked cheddar. Prep DONE.
And then you'll just saute your garlic and cherry tomatoes for a couple minutes.
You'll throw in the basil and goat cheese, then you just wait for the pasta to be ready before proceeding.
Hel-LO my friend.
I like to wait to put the spinach in until the pasta has already gone in, so that we can avoid overcooking it. You could cook it in the previous step with the tomatoes and goat cheese, so that the pasta goes in afterwards and it's a bit less effort, but it's more likely to go soggy that way.
Then it's time for the smoked cheese, which we just mix through so it's starting to melt in, and it's a wrap.
Dive in!
Love easy pastas with spinach?
OMG me too. Please check out my Pasta Recipe Archives for loads more easy pasta dinners, many of which contains spinach or other greens.
A few examples would be Lemon, Gorgonzola & Spinach Pasta, Tomato & Mascarpone One Pot Pasta with Spinach and Blue Brie Mac and Cheese with Spinach.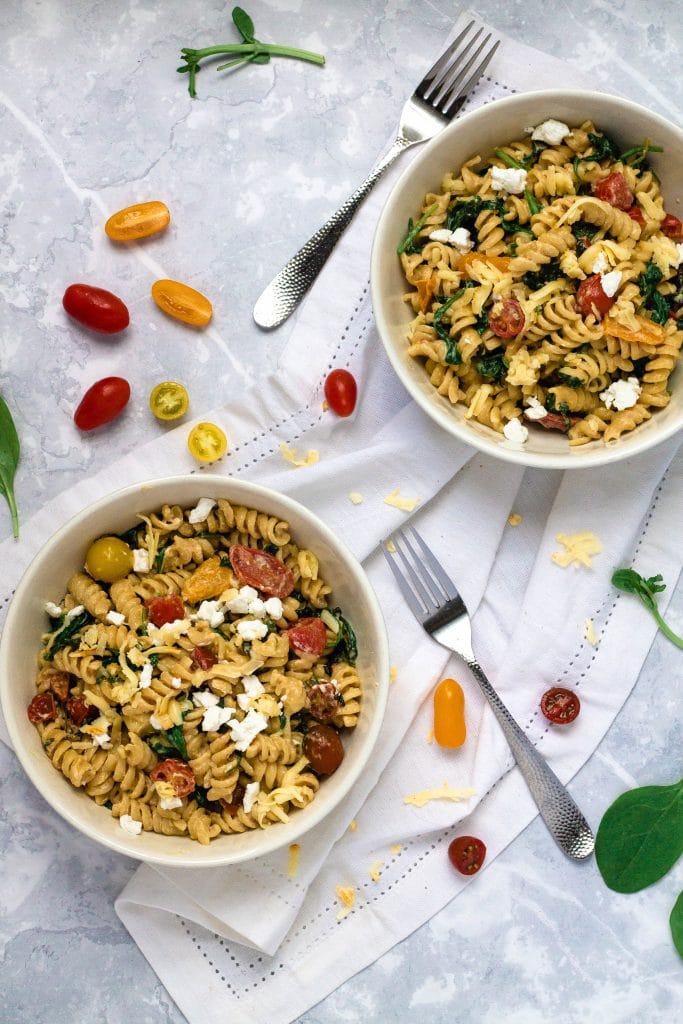 Now without further ado, go forth and make some cheesy spinachy pasta!