What Foodies Feed Their Babies // Tasty Homemade Baby Food Recipes from Foodie Bloggers
Over 30 tasty recipes for your baby's first year. Introducing solid foods to your baby is a particularly fun milestone if you love food and love to cook. Teaching your baby to enjoy flavor and healthy eating is a huge undertaking, but help is here! If you're a foodie who wants to introduce tasty, flavorful, gourmet homemade baby food recipes, read on for some recipes and ideas from like minded creative foodie bloggers.

A Note on How to Introduce Solids
It's entirely up to you to find an approach to introducing solids that you are comfortable with. Consult your health care team and do some of your own research, but I found that the current advice I was given here in the UK was pretty laid back and dismissed many of the rules that I see crop up in books and articles online.
So for the purposes of this collection, the only hard and fast rules I am observing are:
Completely avoiding honey and added salt under 1, and minimizing the use of any concentrated sweeteners.
Giving appropriately sized fingers foods to minimize choking risks.
Why I love adding foodie ingredients to my homemade Baby food
Using a variety of spices to make food taste good will expand the child's palate, and also cut down on the sugar and salt that we often use to make foods taste better.

– Vandana Sheth, RD, and spokesperson for the Academy of Nutrition and Dietetics. (link)
THIS.
The goal here is to get our tots eating what we eat, and enjoying what we enjoy. As a vegetarian, it is particularly important to me to bring international world foods to the table (because to be fair, so many cultures do veggies better than we do!)
I love the suggestion that this approach can safeguard against potential bad habits later. That makes perfect sense – if my kids don't learn to love healthy, innocent flavor enhancers like spices and herbs, there are going to be less options for making her food appealing – and this is where sugar and salt can creep in.
However
Big however.
Our kids are their own people, and picky eating is to be expected along the way, and there is nothing we can do that will guarantee smooth sailing at mealtimes forevermore. So don't stress and just try to enjoy these early mealtimes with your baby!
Now onto the recipes…
Below I've rounded up a selection of baby food purees, finger foods, breakfasts and dinners for babies under one, from parent bloggers who love food… and want their tots to love it too! Since this is a vegetarian blog, I am only including meatless recipes in this collection. Many of the sites I link to do have excellent meat and fish recipes if that is something you're looking for.
Gourmet Pureed Baby Food Recipes
Preparing baby food in the tastiest way possible, with delicious flavor combinations and herbs and spices, is a great way to show your tot how amazing solid foods are going to be!
Roasted Carrot Baby Food by Laura of Joy Food Sunshine | Pictured | Give some thought to how you prepare your veggies before pureeing them. Who said you have to steam everything? Laura encourages you to roast those carrots (and sweet potato) before you turn them into baby food – this brings out their very best flavor, and, after all, this is probably how you prefer to eat your veggies.
Tropical Puree by Heather at Hezzi-D's Books and Cooks | Nutmeg and ginger infuse this tropical puree with amazing sweet layers of flavor. It was love at first bite for Heather's lucky tot.
Avocado, Broccoli & Basil Puree | Pictured | Introducing herbs in baby food is one of the best ways to give your baby exposure to a range of tastes – especially tastes that you yourself love! This puree tasted a little bit like my favorite avocado pesto, which will be showing up on the table for years to come.
Blueberry, Chickpea + Rosemary Puree by Michelle at Baby Foode | Especially relevant for vegetarian tots, beans are a wonderful food to bring into your babies diet. And the discerning baby foodie will appreciate this fruit and herb combo which, to be honest, sounds like it came straight off a trendy bar's cocktail menu.
Golden Beet Puree with Tarragon & Yogurt by Trish at Rhubarbarians | Pictured | Trish won't give her baby anything that she doesn't think tastes good too – so her lucky tot is treated to this sophisticated pairing of tarragon with golden beets.
Kale & Banana Puree by Danielle at Red Kitchenette | Getting your baby eating leafy greens is a big priority for foodies, and this puree ensures that the bitterness of raw kale is balanced by banana to create the most palatable introduction.
Quinoa Ratatouille by Love & Duck Fat | When it comes to superfoods like quinoa, start 'em young as you can! This quinoa ratatouille is the perfect way to introduce both quinoa and veggie, herb infused tomato sauces. Let's face it, the life of a foodie kid will involve a lot of both.
Spiced Lentil & Apple Puree by Homemade Baby Food Recipes | Green lentils and sweet apples are cooked with spices in this delicious combo. Setting the tone for your baby to love your favorite homemade lentil soup!
Fancy Finger Foods
Time to get creative! Homemade finger foods give you a wealth of options for introducing the tastes and textures you want your tot growing up with. Older babies tend to enjoy soft or crispy textures, so it's a great idea to transform your favorite fruits and veggies into nuggets or baked goods if they struggle with the usual texture. These recipes are also ideal for baby-led weaning.
Spinach Nuggets by Maryea at Happy Healthy Mama | Pictured |Spinach can be notoriously difficult for toddlers and kids to accept, but Maryea has transformed it into cheesy, crispy nuggets. Start your baby off with these spinach nuggets as an early finger food and who knows, you may be able to keep spinach on the menu for years to come.
Baby Cheese Board by Michelle at Baby Foode | Michelle wants you to "just say no" to string cheese. Where cheese is concerned, you want your baby to appreciate the good stuff. Assembling a cheese board for finger food fun is one of the cutest foodie ideas I've seen for babies, and especially perfect for baby-led weaning.
Sweet Potato Cookies by Trish at Rhubarbarians | Easily turn sliced sweet potato into holiday themed cookies! With a sprinkling of pumpkin pie spice, because babies need to learn to appreciate fall flavors too.
Warm Stovetop Cinnamon Apples by Sarah at Sustainable Cooks | Pictured | Babies tend to love apples and applesauce, so if you want a fail-safe finger food to start the texture transition, or if you're practicing baby led weaning and wondering how best to introduce apples, this is a great and easy recipe. Sarah is wise to throw lots of cinnamon in the mix – and she suggests nutmeg, clove, vanilla or almond extract as added twists.
Carrot Muffins by Stacey at My Kids Lick the Bowl | Carrots have a natural sweetness, and so make the ideal base for a sugar free baby muffin. If you're drowning in recipes using apples and bananas for sweetness, this is a great way to mix things up.
Brilliant Baby Breakfast Ideas
From flavor-packed porridges and oatmeals, to interesting eggs and pancakes – these recipes will get your baby loving breakfast and brunch foods as much as you do!
Coconut Banana Baby Oats | Pictured | With coconut milk and cinnamon, this tasty puree is packed with healthy sources of sweetness.
Strawberry and Watermelon Baby Porridge by Ciara at My Fussy Eater | Let baby enjoy summery fruits with you in this delicious breakfast. While lots of baby recipes are full of yummy banana and apple, it's important to remember all the seasonal fruits on offer too.
Quinoa Apple Porridge from Dr. Hema at My Little Moppet | If your baby enjoys porridge and oatmeal, mixing up the grains on offer is an exciting way to bring variety into your tot's diet. Superfood quinoa shows up in this nice simple recipe that deserves a spot in your breakfast rotation.
Green Eggs by Samantha at My Kitchen Love Getting your tot to love the color green on their plate is a huge win, and Samantha has pulled it off by making these delicious green eggs a family breakfast tradition. The green mix-in can be frozen for absolute convenience.
Banana Spinach Pancakes by Celia at Chicago Jogger | Pictured | Start your tot's inevitable love affair with pancakes in the best possible way, with these spinach-packed pancakes that baby-led weaning mama Celia enjoyed sharing with her tot. Another delicious way of normalizing that pesky color green.
Delicious Baby Dinners
These meals are baby friendly versions of foodie favorites, and are all delicious enough for the family to eat together (though adults may wish to add some salt and extra spice to their portions). They aren't overly tame – experts do agree that spicy foods can safely be on the menu for babies!- but they don't go overboard on adult vices like hot chili peppers, salt, or booze, and they do add more veggies than the average grownup might have bothered to.
Vegetarian Chilli for Kids by Amy at Healthy Little Foodies (Pictured, left)| This is baby friendly if you use sodium free stock or sub with water | A great way to get some veggies and bean gobbled up! Amy notes that the vegetables kind of melt into the delicious tasty sauce, so if your tot has some issue with textures and whole veggies, but loves flavorful tomato sauces, you're onto a winner.
Palak Paneer Curry for Babies (Pictured, right) | I never expected my tot to like this, but oh boy was I in for a shock. It can get her gobbling a bowl of pureed spinach with great enthusiasm, so I consider it a miracle recipe.
Patatas Bravas by Mandy at Sneaky Veg | Crispy bits of potato? Check! Tasty tomato sauce? Check! Your tots will love feeding themselves this Spanish tapas classic. Mandy's version is mild, but has that smoky kick we all know and love. (For younger babies, make the potato chunks more like potato wedges so they can hold them in their fists and suck off the sauce.)
Roasted Butternut & Goat Cheese Mac & Cheese | Pictured, left |A little smoked paprika elevates this mac and cheese's flavor credentials, and plays beautifully with roasted butternut squash, an ingredient they've probably learned to love from their puree days.
Vegan Green Mac and Cheese from Veggies Don't Bite | Pictured, right | Make suitable for under 1's by eliminating the salt | Because vegan and dairy free babies need a great mac and cheese recipe too, and this one is twisted up with lots of stealth veggies and miso for flavor.
Hummus Pasta from Oh She Glows | For under 1's it's ideal to use use homemade hummus without salt to reduce sodium intake | If there's one thing you can count on a vegan mama to do, it's bringing the hummus! In this recipe, hummus is mixed in with tomato sauce to create a dish full of protein and healthy fats, with awesome flavor and a creamy texture.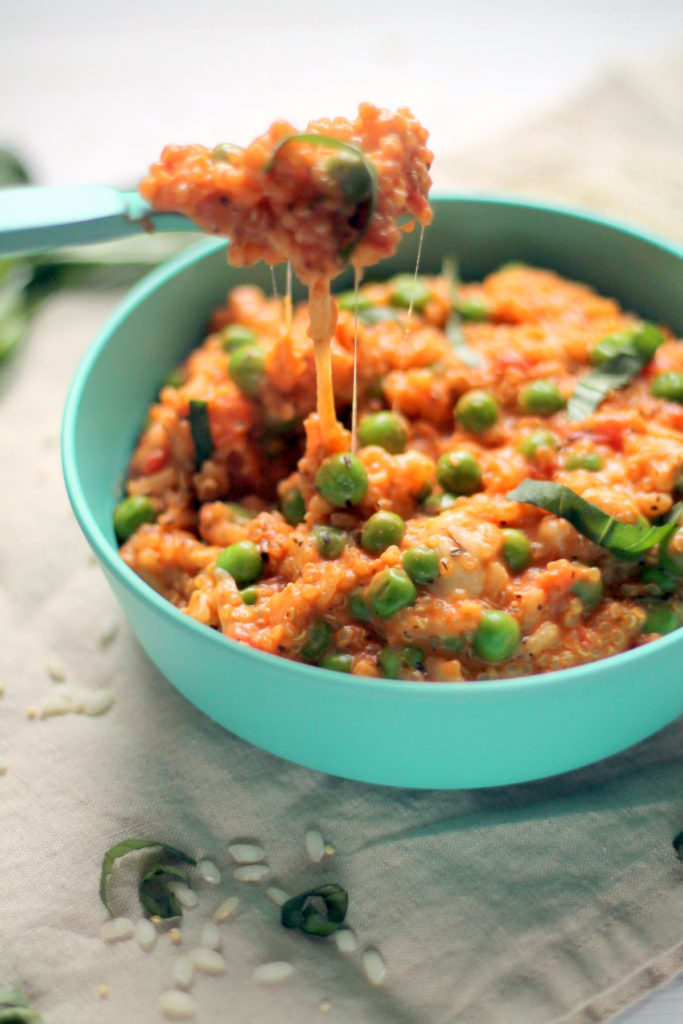 Tomato & Mozzarella Quinoa Risotto | Pictured | Full of herbs, fun stretchy mozzarella and sweet mascarpone, this risotto is a delicious dinner for babies with a developing love of Italian flavors, and is a great way to get some superfood quinoa in their tummy.
Baby and Toddler Soup Recipes by Kelly at The Pretty Bee | If your sophisticated tot wants to sip a warming soup on a winter's eve, these recipes are a great start. Crackers or bread sticks are the perfect accompaniment for tots who like to to dip!
Kale, Spinach & Apple Quesadilla from Michelle at Baby Foode | Once your older baby is competently feeding themselves, little quesadillas can be an easy, healthy meal. Michelle's recipe uses pureed spinach and kale for the most baby friendly texture, with some soft beans and cheese too. Serve this in tiny bite size pieces, or large strips, depending on your tot's preferences.
Falafel Sliders by Mandy at Sneaky Veg | Healthy, flavor packed falafel – an ideal dinner to get your tots exploring Middle Eastern tastes. Mandy's version is perfectly kid sized, and leaving out the salt makes them perfect for under 1's.
Desserts
Foodie parents are happy for their tots to indulge in a little sweet treat from time to time – with the knowledge that there are plenty of natural, wholesome ways to make treats!
Chocolate Avocado Baby Muffins by Pamela at Brooklyn Farm Girl | Pictured | Using superfood avocado as a baking ingredient is pure genius, and makes for a great healthy dessert full of good fats – something Pamela likes to share with her tot after each meal.
Banana Yogurt from Healthy Little Foodies Fruity yogurt is a godsend to parents, often one of the most easily accepted foods! Amy points out that many of the store bought yogurts have added sugar and it's actually very easy to make your own with brown bananas. She suggests adding cinnamon or cardamom for a little extra twist, something none of the store bought brands do, which I can definitely get on board with!
Baby Chia Pudding by Sarah at Fried Dandelions | Coconut milk, cinnamon and vanilla flavor this luxurious chia pudding for babies. Not only are chia seeds a healthy superfood, they have a fun texture for tots who are moving on up from purees.
Banana Peanut Butter Breakfast Thumbprint Cookies | Pictured | Oats, banana, cinnamon, vanilla, peanut butter and blueberries are all you need to put together this cute healthy cookie for your tot to enjoy. Thanks to the banana, vanilla and cinnamon, this is beautifully sweet with zero need for sugar.. And it doubles up as an energy booster for mama!
What about you?
Are you a foodie parent with some great recipes up your sleeve? Tell us all about them in the comments!