A cheesy no boil vegetarian pasta bake that the whole family will love! Tortiglioni pasta and lentils are baked in a creamy tomato and mozzarella sauce, then topped with a mixed herb crumb. No pre cooking required, everything cooks together in one dish for minimal effort and cleanup! This is a perfect vegetarian pasta dinner with added protein that everyone will be happy with.
Pasta bakes… always a crowd pleaser! And today's recipe is the holy grail of pasta bakes… the no boil kind! You don't need to pre cook your pasta. You just dump a bunch of stuff in a pan and then bake it. Woo hoo!
So this particular pasta bake features tortiglioni pasta, which is a huge ridged pasta shape that holds up really nicely in a pasta bake. I've added a can of green lentils (swap brown if you like) for a protein boost and to give the sauce a more substantial, almost meaty, quality. Lots of shredded mozzarella bakes into the sauce for a creamy finish that isn't too sharp.
Fun fact: This was one of the very few ways I was able to eat canned tomatoes while pregnant, because that creamy sauce wasn't such an instant heartburn trigger.
So let's talk about the green topping! Yeah, I almost had a ridiculously easy pasta bake recipe for you but I am going to ask you to spend 5 minutes making this herby crumb topping while your pasta is baking.
Instead of just baking more cheese on top, this brings in a whole bunch of flavor and texture to the dish and lets you use up a range of herbs!
The topping is what makes this dish soar, and it's still very little effort, I promise.
This recipe is totally kid friendly. Who doesn't love a creamy tomato sauce anyway? The lentils melt in and are barely noticeable to picky eaters, but the benefits of lentils are great. Extra protein and fiber!
How to make this no boil pasta bake
Let's take it step by step.
You'll put your dry pasta, lentils, cheese, herbs and garlic into a dish.
Then you add canned tomatoes…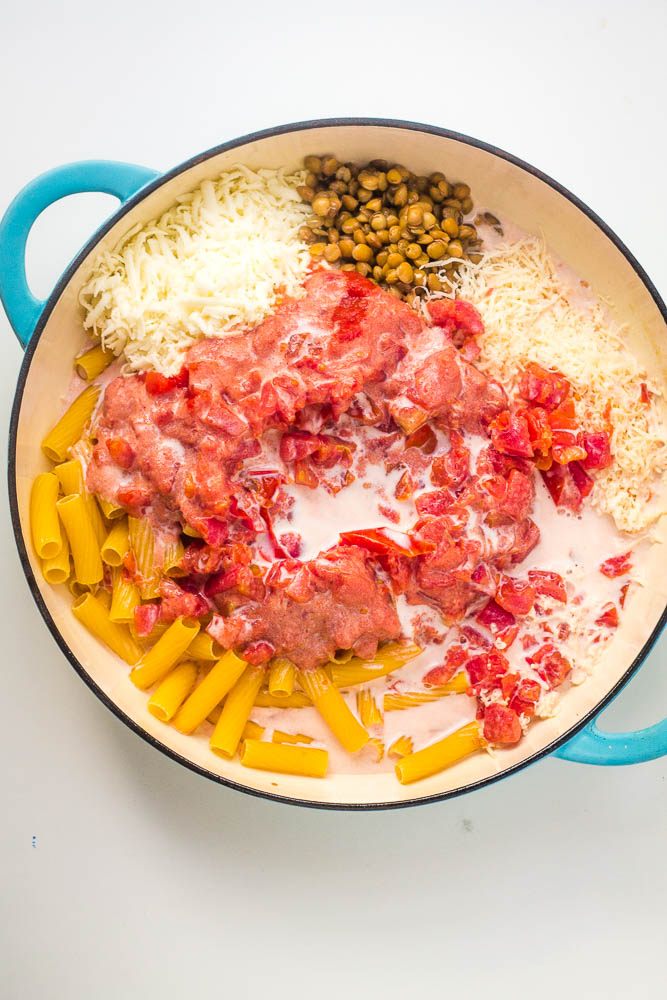 And milk! (Milk, rather than water, adds a nice creaminess here and I definitely recommend using whole milk.)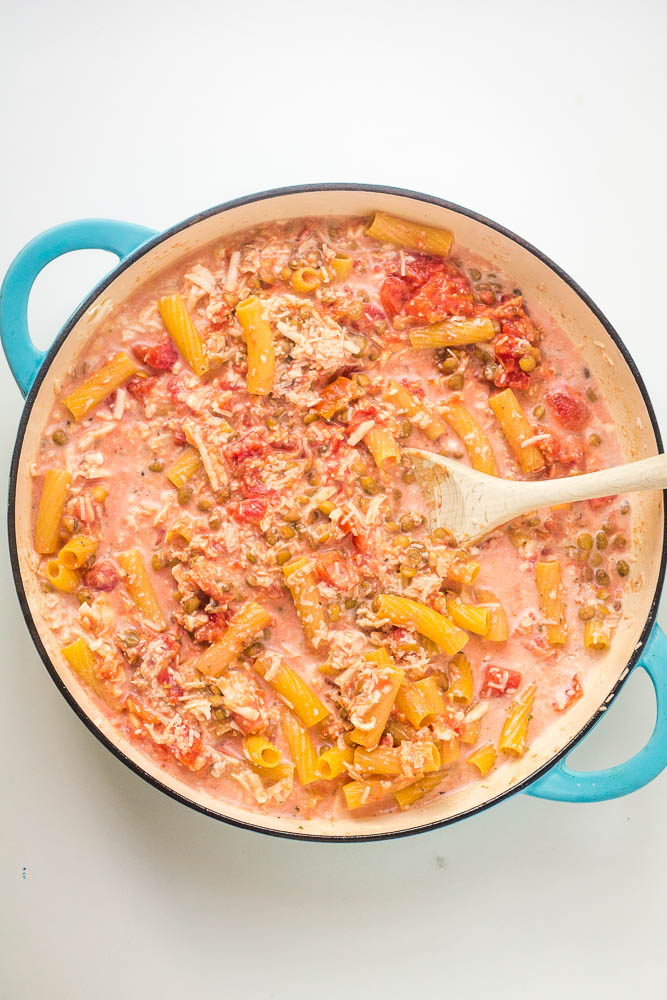 Mix it all together! It's not looking so pretty right now but never fear… it will bake into something magical.
Now put that dish in the oven and let's make that herby crumb topping I was telling you about.
All you gotta do is put some breadcrumbs, parmesan cheese, salt and pepper, and a bunch of herbs in a food processor.
Which herbs? I opted for basil, thyme, rosemary, sage and chives. Because it's what we had. It worked very very nicely. Parsley and oregano would feel at home in this recipe too.
Blend it up with some olive oil and here you go! An amazingly tasty herb topping.
Pasta's ready! Take it out and give it a stir. Watch the mozzarella melt into the creamy sauce.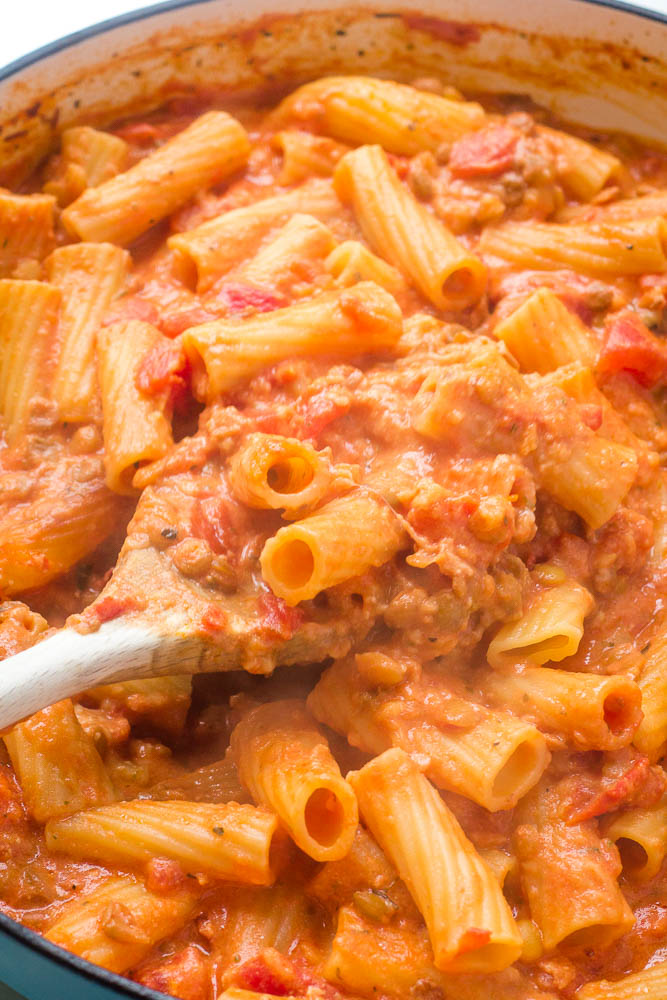 Mmmm.
Add your herb topping… and put it under the broiler / oven grill.
Ta da! Your pasta bake is ready, and your family is happy and fed.
Variations on this Tortiglioni Lentil Pasta Bake
You can definitely swap penne or rigatoni for the tortiglioni.
If you'd like to give it a sweeter edge, try using one can of cherry tomatoes and one can of normal tomatoes.
The herbs are totally up to you. You could go 100% basil, or do what I did and mix it up (I used basil, chives, rosemary, thyme and sage)
I do not recommend reducing the cheese to lighten this up. Especially not the parmesan – this is a really simple recipe that doesn't have enough other flavor sources to compensate if you ditch the parmesan. But if you really want to go lighter on it, I'd suggest adding things like roast veggies, sundried tomato puree, extra herbs and even capers to boost the flavor up.
If you aren't feeling the herb topping, go ahead and melt some extra cheese on top. Again though, this takes away a big flavor source so you may want to add a little something to boost it back up.