This recipe is a cheese lovers dream, topped with spiced breaded halloumi bites! This vegetarian pizza is a fun treat for your next Meatless Monday or "Fakeaway" night, and is very adaptable to your tastes.
This pizza is a fun one. Mozzarella, feta, cherry tomatoes, peppers and big ol' crispy halloumi bites.
And if you use pre-prepared dough and sauce, you can probably get this on the table in half an hour.
Halloumi on pizza… let's discuss
It's not an obvious thing to do, to put a non melting cheese on top of a pizza. I have seen grated halloumi used as a main pizza cheese, so you don't have a melty pizza but a sort of crispy pizza – but that's not the road we're travelling.
We're keeping the melty mozzarella. Also feta for creaminess. (All cheese textures are welcome on this pizza!) And then the halloumi gets coated in a spicy crumb and is a topping that is distinct from the "base" cheeses.
I have no idea if that makes sense, but yeah, that was the thought process that led to my essentially putting halloumi fries on pizza.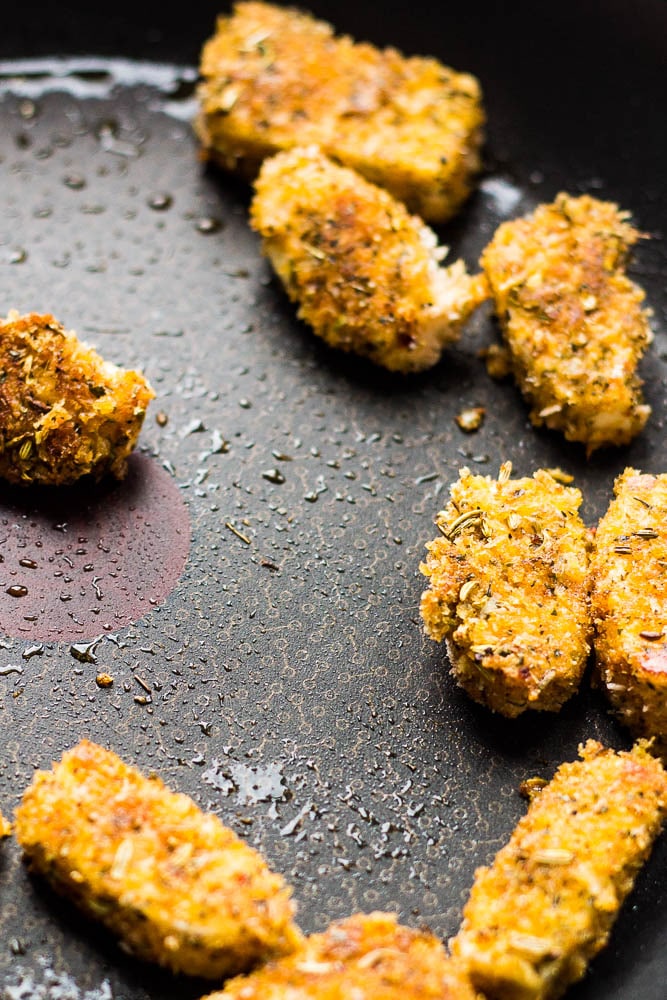 Regrets? NONE.
Ingredient Notes
I used a pre bought pizza dough for this recipe which has extra seasonings it to make everything that little bit, well, EXTRA. As well as easy. If you want to make a dough from scratch, my Buttermilk Pizza Dough is quite popular. And delicious.
For pizza sauce, you could use jarred, you could even use a layer of red pesto if you prefer. I used a batch of my white wine pizza sauce.
I'd say this is not an occasion for the finest, most expensive halloumi. You can get the cheaper store brand block.
I use pre-shredded mozzarella for this recipe, to avoid excess liquid.
Additional topping ideas: olives, capers, pineapple (please someone try this, it would be epic!!), mushrooms, any vegetable at all really.
Note that you'll only use part of the block of halloumi
… which is mildly annoying, I know, because it's just easier to use a whole pack. I always try not to leave you with awkwards amounts of leftover ingredients, but the whole pack is too much for the pizza. So we use a little over half. Here are some ideas for using up that remaining sliver:
Cut into a couple slices to fry up and add to tomatoes and herbs, for a mini version of this salad.
Fry long, thin slices to make a few halloumi fries to serve with another meal.
Cut into tiny cubes, fry up with smoked paprika, to make a sort of bacon or ham substitute for a salad or pasta dish.
Make a single halloumi bagel for lunch. Or a sandwich version of that.
Leftover Halloumi Pizza?
Lucky you! The first time I made this I expected the leftovers to be pretty uninspiring, because halloumi doesn't keep well. It dries out and hardens and just kinda loses its sparkle.
Somehow, though, this pizza tasted really good leftover. The flavors were so much punchier. The reheated halloumi didn't exactly thrive, but in this context, it worked out pretty well. So what I am saying is – don't hesitate to hang on to your leftovers! Just reheat it in the oven to recapture as much crisp as you can… or have it cold! Cold is good too.
Other Ideas for You
I kinda love making pizza with different cheeses. Check out these:
If the halloumi is what brought you here, there's PLENTY more where this came from:
Halloumi Pizza
This recipe is a cheese lovers dream, topped with spiced breaded halloumi bites! This vegetarian pizza is a fun treat for your next Meatless Monday or "Fakeaway" night, and is very adaptable to your tastes.
Ingredients
1 pizza base, You want something that will make 1 x 12 inch pizza, though a little more or less will be fine
1 serving pizza sauce
1 mini pepper, sliced
3 cherry tomatoes, quartered
¾ cup (85 g) shredded mozzarella
¼ cup (40 g) feta, crumbled
Fresh basil leaves, optional garnish
Halloumi
5 oz (140 g) halloumi cheese
4 Tbsp breadcrumbs, I like to use panko breadcrumbs, but normal dried are fine too
2 tsp Italian seasoning / Italian mixed herbs
1.5 tsp fennel seeds
½ tsp smoked paprika
1 egg, whisked
2 Tbsp olive oil
Instructions
Preheat the oven to 200C / 400F.

Prep your pizza : Roll out your pizza base, spread the sauce on top, and add most of the mozzarella (reserving a little to add on later). Set aside.

1 pizza base, 1 serving pizza sauce, 3/4 cup shredded mozzarella

Mix the breadcrumbs, Italian seasoning, fennel seeds and smoked paprika together in a small bowl.

4 Tbsp breadcrumbs, 2 tsp Italian seasoning / Italian mixed herbs, 1.5 tsp fennel seeds, 1/2 tsp smoked paprika

Whisk the egg in another small bowl.

1 egg

Now prepare your halloumi. Dip each piece into egg, and then the breadcrumb mix, and then lay it onto a plate or a piece of parchment paper.

5 oz halloumi cheese

Pour olive oil into a frying pan and bring to a medium-high heat. Add the halloumi to the pan and fry on each side until it's just golden. Err on the side of undercooking them. We don't want them super crispy, because they're still going to spend time in the oven which will cook them further.

Now add the halloumi to the top of the pizza and add the remaining toppings around the halloumi – the rest of the mozzarella, the feta crumbles, cherry tomatoes and peppers.

1 mini pepper, 3 cherry tomatoes, 3/4 cup shredded mozzarella, 1/4 cup feta, 2 Tbsp olive oil

Place in the oven for 10-12 minutes, until the crust is cooked and the cheese is melted and just starting to brown. Add torn basil leaves to the top, if using.
Notes
Leftovers can be stored in the fridge for a few days and eaten cold, or reheated briefly in the oven. It can also be frozen for 3 months.
Calories: 456kcal, Carbohydrates: 34g, Protein: 21g, Fat: 26g, Saturated Fat: 12g, Polyunsaturated Fat: 2g, Monounsaturated Fat: 10g, Trans Fat: 1g, Cholesterol: 66mg, Sodium: 1207mg, Potassium: 145mg, Fiber: 2g, Sugar: 5g, Vitamin A: 695IU, Vitamin C: 13mg, Calcium: 559mg, Iron: 3mg