Scamorza cheese (smoked mozzarella) elevates this simple pasta to pure perfection! With herby, honey pan roasted cherry tomatoes and brown butter pine nuts, this has a touch of luxury while being simple to prepare.
I have several recipes which combine pasta with cheese and tomatoes and I love them all, but this one has that special touch. A few thoughtful additions which make it feel so much more exciting than your everyday tomato pasta.
What I should point out is that it is not an economical recipe and the ingredients are expensive. But if you're looking for a way to do justice to a little treat yo-self moment in the cheese shop, that is what I am setting out to achieve with this one. And if you like the look of this but want to make it more cheaply, you absolutely can, I've included some suggestions below.
What is scamorza? Is it the same as smoked mozzarella?
Scamorza is a smoked Italian cheese which is very similar to mozzarella. Technically it's not mozzarella, but outside of Italy where it is less well known you will see it referred to as "smoked mozzarella" too.
Texture wise, it is different. It's drier and firmer than fresh mozzarella, but it's softer and milkier than "cooking mozzarella".
If you're not in Italy, you may need to seek this out in a bigger supermarket, Italian deli or a cheese shop. In the UK I can buy it from Tesco (Tesco Finest range) or Ocado (Natoora brand). If you find something called "smoked mozzarella" and not "scamorza", go for it. It will be close enough to swap in for this recipe.
If you are interested in this recipe but can't find any scamorza, try normal mozzarella or crumbled feta. They both end up pretty delicious.
The Three Elements of this Recipe
It is a super simple recipe, but each of the main elements are a little extra, which is how it ends up tasting so much better than you expected.
The honey glazed pan roasted tomatoes are sweet, herby and a good way to prepare tomatoes in the winter when, let's be honest, tomatoes don't taste quite as good. Caramelizing them in honey makes up for a lot of off-season disappointment. (If it's summer and you've got delicious seasonal tomatoes on your hands – oh, lucky you, this will be epic.) If the term "pan roasted" is a head scratcher for you, it just means we cook them in a frying pan but they end up a lot like if we roasted them. The honey glaze really helps make that work, allowing them to caramelize, reduce and get sticky and jammy.
The scamorza gives this dish that little something smoky and fatty that you might have been missing from a meaty pasta dish. The contrast with the sweetness of the tomatoes is perfection. If you can't find scamorza, you can go a different way – I have tried it with normal mozzarella and feta, and I loved the results with both of those too.
The toasted pine nuts in brown butter are essential for finishing this off with 1) extra flavor and moisture from the butter and 2) texture and crunch from the nuts. I tried this dish several times and it was always fairly basic until I added this element. If the price of pine nuts is off-putting to you (fair enough), crumbled walnuts swap in well.
If this kind of pasta meal is up your street, then great, I have so much more for you! Such as Pasta Burrata Bruschetta (this one is pretty strictly for summertime), Creamy Spinach Pasta with Goat Cheese & Cherry Tomatoes and Gemelli Pasta with Herbed Ricotta & Cherry Tomatoes. You can browse the full pasta archive here.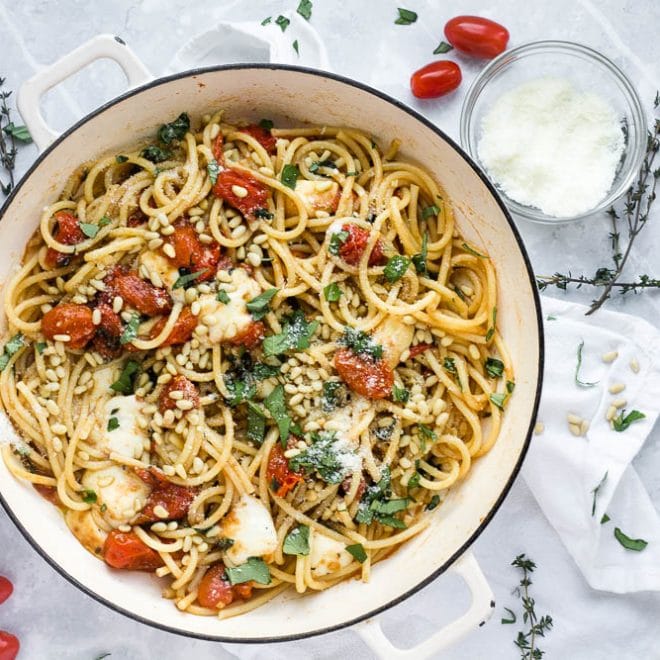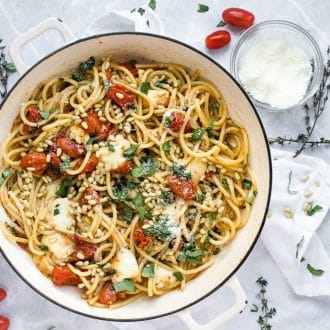 Scamorza & Cherry Tomato Pasta
Scamorza cheese (smoked mozzarella) elevates this simple pasta to pure perfection! With herby, honey pan roasted cherry tomatoes and brown butter pine nuts, this has a touch of luxury while being simple to prepare.
Ingredients
300 g (11 oz) pasta, long pasta shapes such as bucatini, linguine or spaghetti work well here
500 g (18 oz) cherry or baby plum tomatoes
4 Tbsp olive oil
2 Tbsp honey
2 tsp balsamic vinegar
4 cloves garlic , minced
2 tsps fresh thyme leaves
200 g (7 oz) scamorza, chopped into small squares
4 Tbsp pine nuts
25 g (2 tbsp) butter
2 handfuls fresh basil, chopped
2 tbsps parmesan or other Italian hard cheese, grated
Instructions
The first thing we'll do is cook the cherry tomatoes
Prepare the honey balsamic glaze by whisking together the garlic, olive oil, honey and balsamic vinegar.

In a deep sided frying pan or a shallow casserole dish, add the tomatoes and the glaze. Bring to a medium-high heat until the glaze starts to bubble.

Add the thyme to the pan.

Keep the heat as low as possible whilst still allowing the glaze to bubble, and stir the tomatoes regularly until they have mostly collapsed. Refer to the images in the blog post as a guide to how they should look. For me, it takes about 10 minutes but every stovetop is different. Don't worry if the glaze is fairly runny – it will thicken as it stands.

Remove from the heat and let them sit.
And while the tomatoes sit, we will prepare the rest of it.
Boil the pasta according to package instructions.

While it is cooking, add most of the basil to the cooked tomatoes and stir through. (You'll save a little basil to top the pasta with at the end)

Drain the pasta when al dente. Reserve some pasta water.

Toss the pasta into the mixture with the cherry tomatoes. Add the scamorza cubes and mix through until they start to soften, but not quite melting (you may need to put on a very low heat to achieve this). Then let that sit while you cook the pine nuts. You want everything ready before starting the pine nuts.

Add the pine nuts and butter to a small frying pan or milk pan. Heat until the butter is starting to bubble slightly, and then turn the heat down as low as possible. Mix continuously and after 4-5 minutes the butter should be a slightly browning and smell toasty.

Pour the pine nuts and butter over the top of the spaghetti.

Serve, adding a little extra basil and some grated parmesan cheese to the top of each bowl.
Notes
Don't be tempted to try to overlap cooking the tomatoes and cooking the pasta. Cooking the tomatoes fully before you start the pasta really gives the best result as it allows the tomatoes time to stand. The sauce thickens and they get stickier and jammier and far more delicious.
Sources: Inspiration from Fox Valley Foodie and Kitchen Stories
Calories: 735kcal, Carbohydrates: 74g, Protein: 24g, Fat: 39g, Saturated Fat: 13g, Polyunsaturated Fat: 5g, Monounsaturated Fat: 17g, Trans Fat: 1g, Cholesterol: 57mg, Sodium: 427mg, Potassium: 562mg, Fiber: 4g, Sugar: 15g, Vitamin A: 1259IU, Vitamin C: 31mg, Calcium: 327mg, Iron: 3mg