This recipe for yellow (or golden) tomato sauce is a must-have for your summer! It is easy to make, relatively quick to cook, chunky and rustic, bursting with basil, and absolutely delicious. Make it creamy or keep it more pure, the choice is yours. It's perfect as a spaghetti sauce or pasta sauce, or with any other meal where tomato sauce is needed!
Yellow or golden tomatoes are such a gift! They are super sweet and juicy and perfect for sauce. With some dishes, I really feel like you need to SEE the red of a tomato, but I feel no bias against the color of this sauce. It cooks down to a rich orange, and it actually gets very "glowy", especially if you don't opt to add any cream or cheese to it.
What we're going for today is kind of a rustic, chunky, imperfect sauce. It cooks pretty fast in a small-ish batch (I'm using four pretty large tomatoes here, because that tends to be the number of yellows I get in my heirloom tomato boxes) but you can scale it up to your heart's content if you don't mind giving it more time.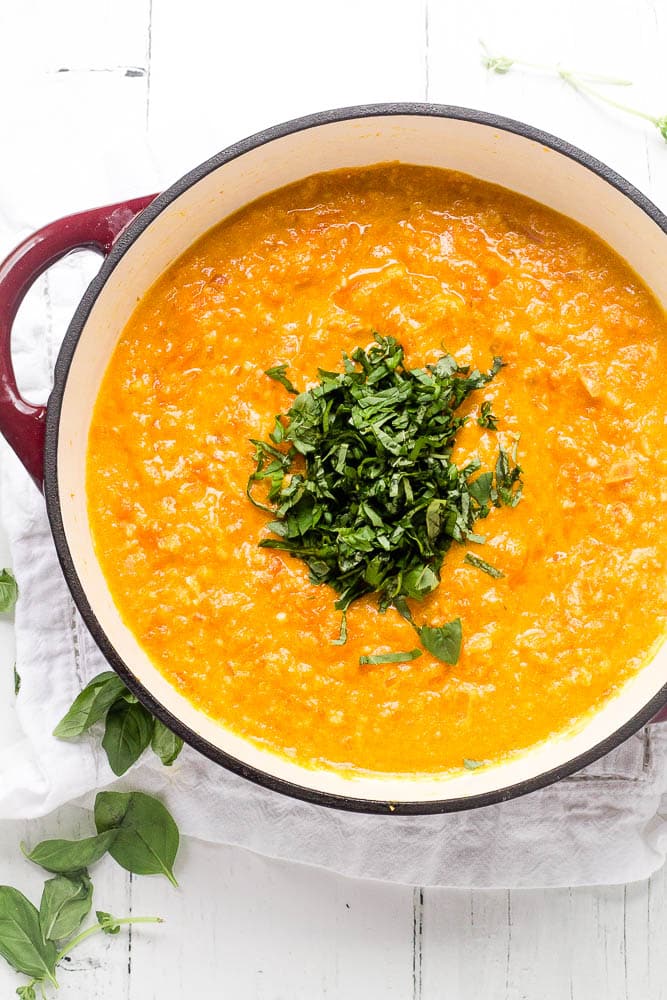 Let's talk ingredients
The ingredients make or break such a simple sauce! So let's discuss what is important and what is not important: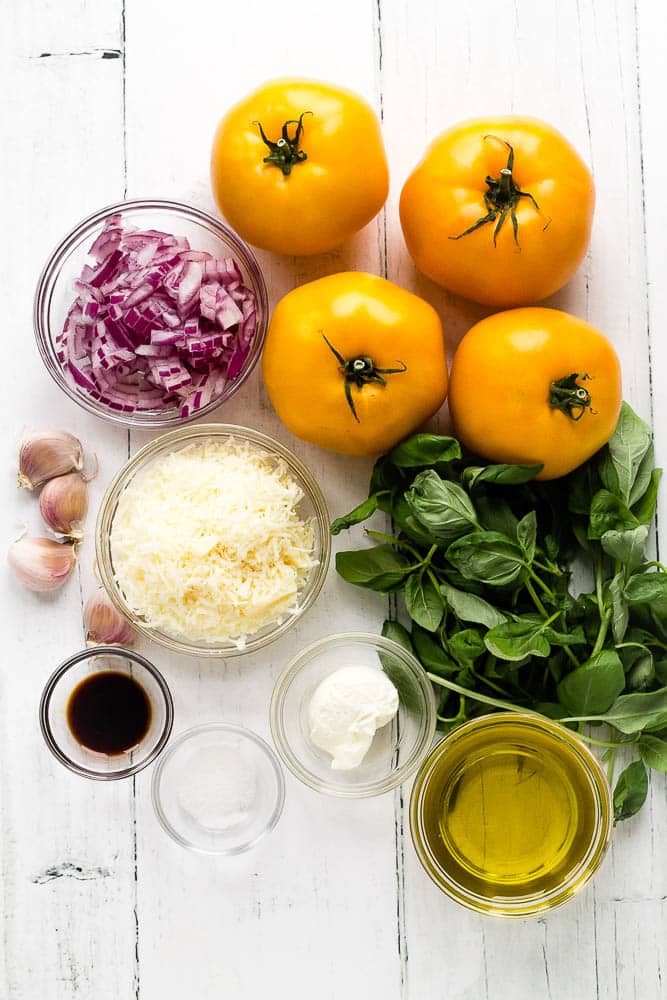 Large yellow tomatoes. Or orange, or golden. I've got four decent sized ones, so we go to the effort of peeling and de-seeding these. If you wanted to make this sauce with small (cherry or plum sized) tomatoes, you could, but it will work differently – you wouldn't bother peeling them, so we'd accept some skins in the mix and much more textured finish, and they wouldn't leach as much moisture so it would be a quicker cook time.
Minced onion. Teeny tiny pieces please! You can use white or red onion here, or shallots.
Garlic. Because of course. Four large cloves.
Balsamic vinegar and sugar. To deepen and enhance the flavors.
Lots of basil because this is the sort of fresh bright tomato vibe that demands basil. I don't give a precise measurement here, just a nice handful of basil is good. I've chopped it for the batch pictured but in other batches I've let the leaves stay whole and both ways work well.
Olive oil. We are generous with the olive oil in this recipe, it adds a wonderful richness.
Mascarpone (optional). A dollop of mascarpone will give the sauce a creamy feel and it also serves to thicken up the more watery bits and bring some uniformity to the texture. You can also use a dollop of cream cheese. I don't always use this, and I don't always use as much as a tablespoon. When it's peak summer and the tomatoes are so juicy and delicious it's hard not to take a bite as you're peeling them, I am generally less inclined to add the mascarpone and more inclined to embrace a more sloppy juicy sauce.
Parmesan or parmesan style cheese (optional). We get a hit of salty umami goodness from this, and it also helps with the thickening aspect. You don't need as much as I used (which was a big handful), just a couple tablespoons is fine. Be generous with the salt if you skip it.
The best cookware for the job
A shallow but wide casserole dish is perfect. Since I am making a small batch, this allows the tomatoes to cook down super fast.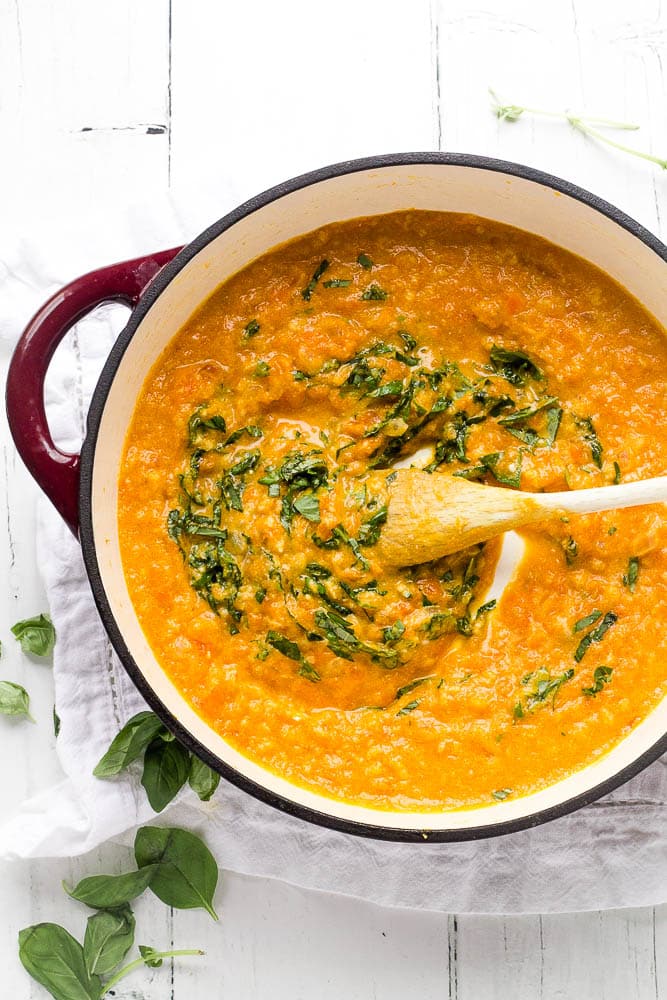 If you want to make a bigger batch, you can use a deeper saucepan or casserole dish but it will take longer to cook the deeper the layer of tomatoes is in the pan.
When choosing cookware for tomatoes, avoid reactive pans (aluminium, cast iron and copper being examples) which can be problematic for tomato sauces due to the acidity of the tomatoes reacting with the metals. Opt for stainless steel or enamelled cast iron instead.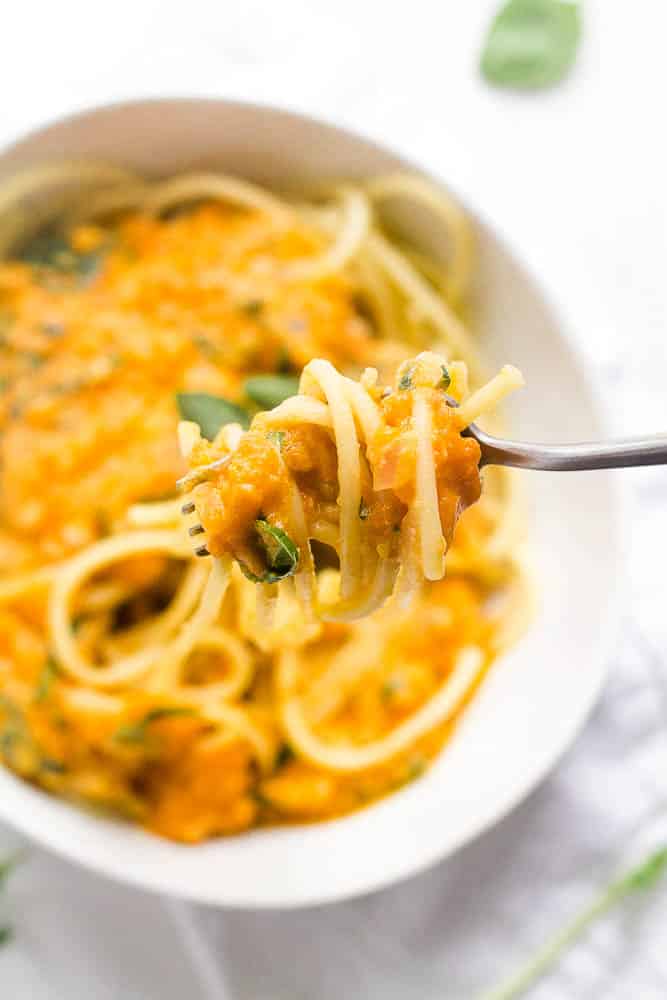 The perfect yellow spaghetti night
You can of course use any pasta shape, but I love to serve this with spaghetti, bucatini or angel hair pasta. The following recipes would work well on the same table:
Making this sauce to freeze it
This sauce freezes well for 6 months, so if you have a big batch of yellow tomatoes, you can make sauce to last through the autumn and winter too! If you are making this sauce with the intention of freezing it, I would be inclined to leave out the mascarpone or parmesan as the texture of the cream won't be quite the same when you defrost it. You can of course add these ingredients when you defrost and serve it if you wish.
More summer tomato recipes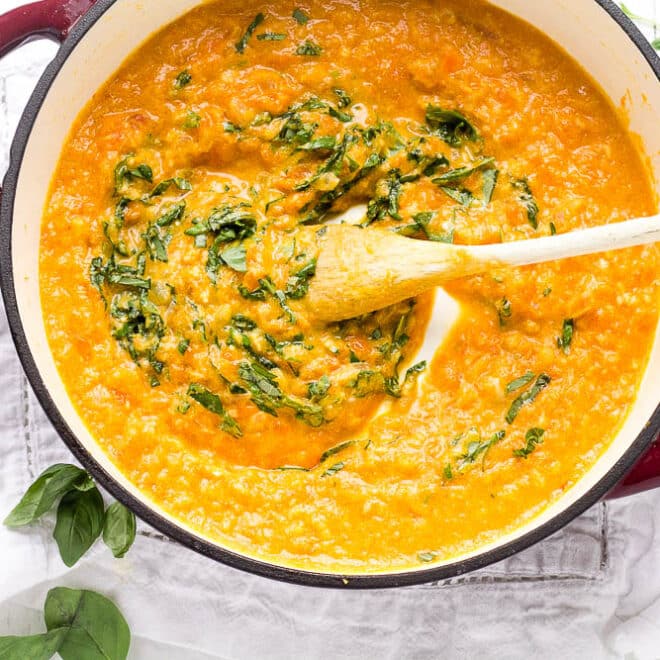 Yellow Tomato Sauce
This recipe for yellow or golden tomato sauce is a must-have for your summer! It is easy to make, relatively quick to cook, chunky and rustic, bursting with basil, and absolutely delicious. Make it creamy or keep it more pure, the choice is yours. It's perfect as a spaghetti sauce or pasta sauce, or with any other meal where tomato sauce is needed!
Ingredients
4 large (2.2 lb) yellow tomatoes, about 1kg or just over 2lbs
4 Tbsp olive oil
½ white or brown onion
4 cloves garlic
1 tsp sugar
¼ tsp balsamic vinegar, higher quality, thick balsamic
1 handful parmesan, or vegetarian Italian hard cheese
1 Tbsp mascarpone
1 bunch basil
Instructions
Prepare your tomatoes. Lightly cut out an X shape on the bottom of the skins. Place in a bowl and pour boiling water over the top. After 1-2 minutes, take them out, drain the water, and place them back in the bowl.

4 large yellow tomatoes

Peel the tomatoes (the skins should come away easily after being soaked) and chop them into 3-4 large pieces each, slicing from top to bottom, discarding the stem and the toughest part of the core. With the pieces that remain, scoop out the big clusters of seeds and membrane, but there is no need to be a perfectionist about it. We don't want to drain too many of the juices, and a few seeds are OK. Place the tomatoes in a bowl and set aside.

Heat 1 Tbsp of the olive oil in a wide bottomed, casserole dish or saucepan. Over a very gentle heat, saute the onions and garlic until they are soft. Try not to let anything go brown in the process.

1/2 white or brown onion, 4 cloves garlic, 4 Tbsp olive oil

Bump up the heat and add about 1/3rd of the tomatoes to the pan, and mix through, allowing them to start cooking and releasing juices. Add another 1/3rd to the pan, and once they're starting to break down, add the remaining 1/3rd. Mix constantly, breaking up the tomatoes with the spoon.

You can use a potato masher to encourage the tomatoes to break up further, if you wish.

Add the remaining 3 Tbsps of olive oil, balsamic vinegar and sugar to the pan. Bring to a gentle simmer, cover and allow to cook for 1-2 hours, until a thick sauce has formed and the oil starts to come away from the tomatoes.

1/4 tsp balsamic vinegar, 1 tsp sugar

Finally, mix in the mascarpone and parmesan until melted through.

1 Tbsp mascarpone, 1 handful parmesan

Add the basil leaves, stir through.

1 bunch basil

Serve.
Notes
Scaling the recipe up: This recipe is easy to scale up! Just double, triple, whatever you want to do. But as you add to it, you will end up needing a longer cook time. A small quantity of tomatoes + a large bottomed pan means the liquid evaporates super quick and the sauce I make is ready very fast for a fresh tomato sauce. If your tomatoes are very deep in the pan, you're going to need a lot longer, plan up to 3-4 hours for a huge batch.