Quick and easy halloumi burgers with sweet chili sauce and avocado. These are incredibly tasty and certain to be a win for a vegetarian burger night! I love to serve mine with avocado and chopped coriander (cilantro), but you can put your favorite toppings to work.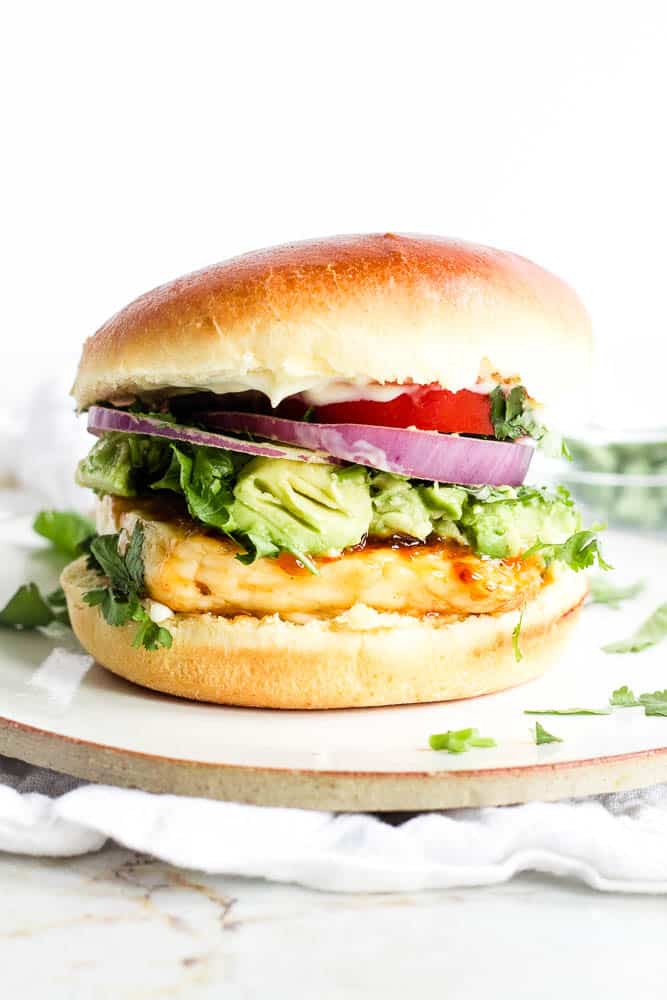 Halloumi burgers for the win!
I remember when halloumi burgers first started popping up on pub menus (yes I'm old) and it was wonderful. While the vegetarian burgers of that time really varied in quality, the sudden influx of halloumi burgers meant that there was always a meatless option that was a little more indulgent.
I've tried halloumi burgers up and down the whole country, and there are definite favorites which come to mind, like the ones with truffle mayo and the ones with a homemade caramelized onion jam. But for making a halloumi burger at home, this recipe was the winning formula for me. Simple, not too many ingredients, juicy and delicious.
These burgers have a slight Asian twist with the sweet chili sauce and chopped coriander (cilantro), which adds a ton of flavor for minimal effort. Some avocado for added creaminess, red onion for sharpness, tomato for juiciness, and we're good to go.
How to make burgers from halloumi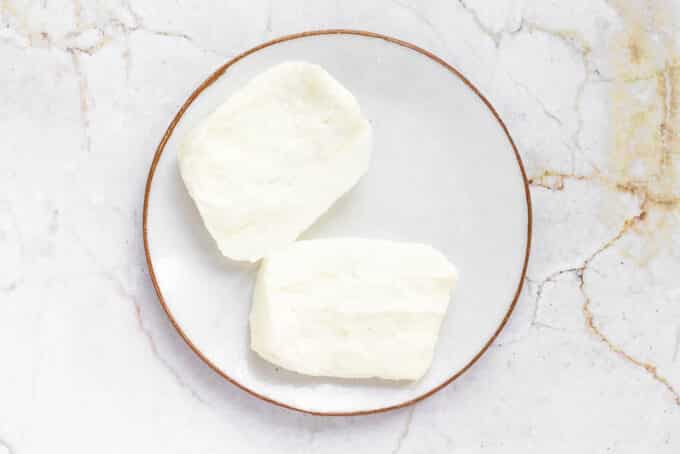 Simply grab a block of halloumi (usually 225 or 250g, it doesn't matter which) and cut it in half widthways to get two solid "burgers". Pan fry them for 1-2 minutes on each side, until golden and crispy.
These fit nicely in a small-medium burger bun.
Making the burger crispy
Some halloumi burger recipes seek to make the burger extra crispy. You can choose to bread the halloumi, or even just roll it in cornflour (cornstarch) to give it an extra crispy edge. I tend to think halloumi's own exterior can go crispy enough without needing to go through that extra step so I am always happy to simply pan fry straight halloumi and call it a day.
For this recipe, since we're going to coat our halloumi burgers in a glaze anyway, it's definitely not necessary to add breading or flour. We're going for sticky and juicy, not pure crisp, in this recipe.
What about the pre-shaped halloumi burgers I've seen in the supermarket?
This may not be a universal thing, but in the UK you can buy packs of halloumi burgers which are already sliced, and are a nice round burger shape. This is useful if you're heading to a barbecue and want to be able to throw something from the pack to the grill with no prep. But honestly? They're usually too thinly sliced for my liking. I want my halloumi burgers to be a thick juicy slab and not get lost amongst the toppings. So I never bother with those, and just get a normal block of halloumi. It's cheaper that way too.
How to make the sweet chili glaze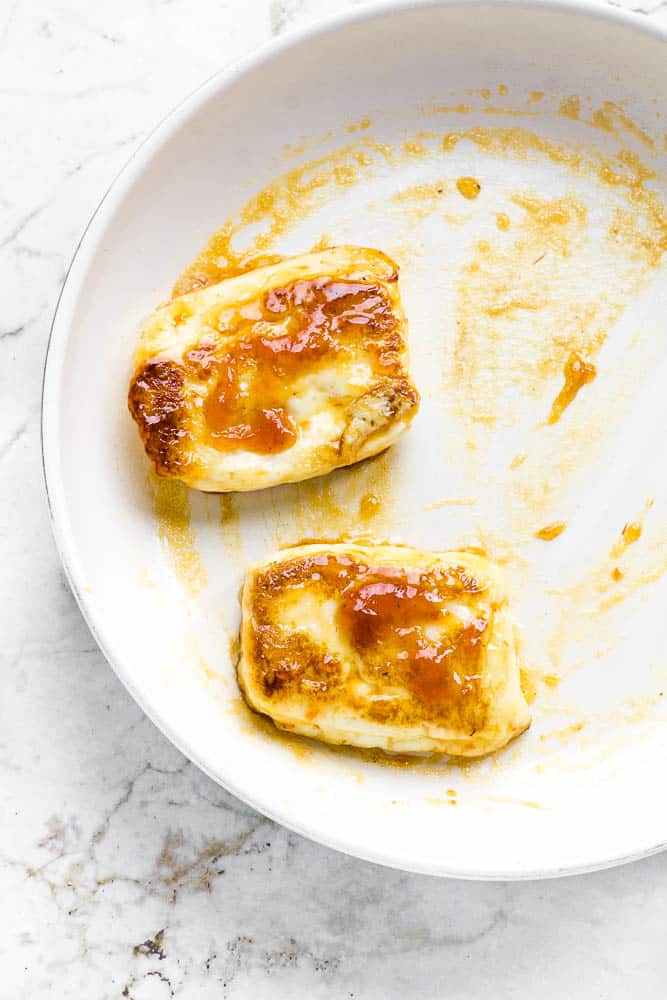 The sweet chili glaze it is a really simple touch. All you're doing is cooking some bottled sweet chili sauce in the pan to reduce it a little, and then adding the halloumi back into the pan to get covered in it. It only takes an extra couple of minutes.
It's totally optional though – you could also put the halloumi in the bun plain, and just pour sweet chili sauce on top as it is; I just find that sweet chili sauce can be a little too drippy, so it helps to thicken it up.
Toppings
This is the fun part! This is where we really bring things to life.
My perfect line up for these sweet chili halloumi burgers is as follows:
Mashed or sliced avocado
Red onion slices
Tomato slices
A handful of chopped fresh coriander (cilantro) leaves. I love how this works – we already have the sweet chili glaze so we may as well lean into the Asian fusion vibe a little more.
Mayo spread on both sides of the bread. Not essential considering we already have the sweet chili glaze and the avocado for moisture, but I always like to have mayo too.
More Halloumi Ideas
Halloumi is one of my favorite ingredients, and I have an entire guide on how to cook with it. I'll also point out that these Halloumi Bagels could be made as burgers, if you prefer the idea of pesto, avocado and cherry tomatoes as your toppings.
Some other ways to use halloumi:
Halloumi Burgers With Sweet Chili Glaze
Quick and easy halloumi burgers with sweet chili sauce and avocado. These are incredibly tasty and certain to be a win for a vegetarian burger night! I love to serve mine with avocado and chopped coriander (cilantro), but you can put your favorite toppings to work!
Ingredients
2 small – medium burger buns
225 g block of halloumi cheese, sliced widthways to make two burgers
2 Tbsp sweet chili sauce
½ avocado, sliced or mashed
1-2 Tbsp chopped coriander
4 slices red onion
2 slices tomato
mayonnaise, optional, to taste
Instructions
Slice your block of halloumi into two pieces, widthways.

Heat olive oil in your frying pan to a medium heat. Add the halloumi and pan fry for 1-2 minutes on each side, until brown and crispy. (Don't feel the need to press down on the halloumi as it cooks- that will make it release some of its liquid, which will flood the pan and stop it getting as crispy as it can.)

Once it's done, set the cooked halloumi aside on a plate, and then use a paper towel to wipe the oil out of the frying pan you just used.

Add the sweet chili sauce to the clean pan, and heat until it starts to bubble, using a spatula to mix it throughout and stop it sticking to the bottom.

Add the halloumi back into the pan and use a spatula to move the halloumi around in the pan to get coated in the sauce. Once the glaze is nice and thick, also use the spatula to grab the sauce from the pan and spread it on top of the halloumi.

Now you can build your burgers! Place the halloumi down on a bun.

Add the avocado on top, followed by onion slices.

Add a generous handful of chopped coriander (cilanto).

Add a slice of tomato.

Place the top of the bun on – all ready!
Calories: 633kcal, Carbohydrates: 39g, Protein: 31g, Fat: 40g, Saturated Fat: 21g, Polyunsaturated Fat: 4g, Monounsaturated Fat: 13g, Trans Fat: 0.01g, Cholesterol: 2mg, Sodium: 1764mg, Potassium: 403mg, Fiber: 5g, Sugar: 14g, Vitamin A: 315IU, Vitamin C: 11mg, Calcium: 1203mg, Iron: 2mg