These vegan sheet pan / traybake fajitas are filling and incredibly tasty with roasted vegetables and black beans in a sticky sweet chili fajita sauce! Easy to make and a winning, crowd pleasing fusion dinner.
Let's talk vegan fajitas…
We have several options for meatless fajitas, but if pure vegetable fajitas have you feeling underwhelmed, and you just want to see some protein on the plate, I can confirm that adding black beans to your fajitas is a valid choice. In this recipe, you get the combo of charred vegetables and filling black beans sitting together in a sticky, smoky sweet chili fusion fajita sauce.
We've strayed quite far from authentic fajita vibes here but it is super tasty, easy, and can be made with supermarket staples. And it's versatile. It can be a taco filling or a quesadilla filling if you prefer. I quite liked piling it into those Old El Paso taco boats.
So the sweet chili fajita sauce…
Inauthentic as it is, sweet chili sauce with a little soy sauce + some Mexican spices can become this crazy delicious fusion fajita sauce if you'll let it. It keeps these fajitas super moist and juicy where the ingredients could have otherwise very easily dried out.
If you're not digging it, however, you could try my barbecue fajita sauce hack from this chickpea fajita recipe. Or use whatever other fajita sauce you prefer or have in a bottle. You'll want around 1/2 a cup.
These are Sheetpan / Traybake Fajitas
Like a couple of my other fajita recipes (halloumi fajitas + chickpea fajitas if you're interested), these are roasted in the oven. You get your fajita vegetables all charred and fajiata-like before adding the black beans in just to warm them up.
I definitely prefer the workflow when I am roasting things and can use the hands-off time to clean as I go, prepare my toppings and set the table, and it means you aren't trying to add freshly rinsed beans to a hot wok which could turn into a sticky mess if you didn't have everything just so. (I would not.)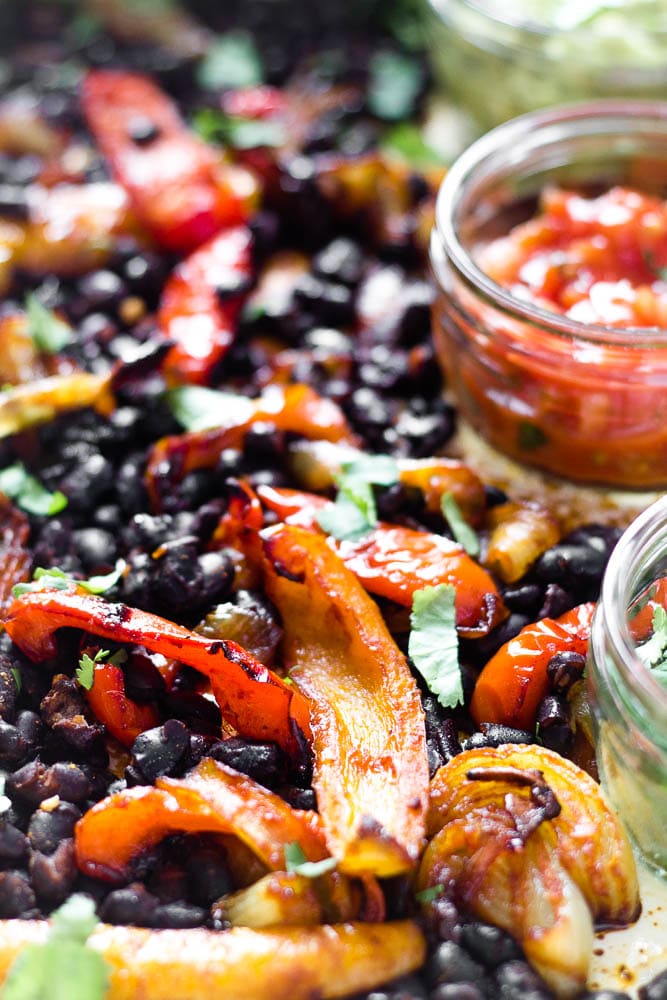 The Perfect Toppings
I have pictured these with just regular storebought guac and salsa which is fine. But if you feel like making something special, I highly recommend the fajitas with this peanut salsa and the coconut crema from this recipe.
It's a little more work to make two toppings from scratch, but if you have the time it's a great way to use it. The peanut and coconut flavors take it even more into the Asian fusion territory and it is just an outstanding vegan fajita setup.
Love fajitas? Try these chickpea fajitas or halloumi fajitas! If you have an air fryer, this sweet chili sauce also features in my air fryer veggie fajitas.
Love black beans? I have black bean soup and black bean kale taco recipes for you too.