Today I'm sharing a recipe for a gluten free lasagne, using cabbage instead of pasta noodles.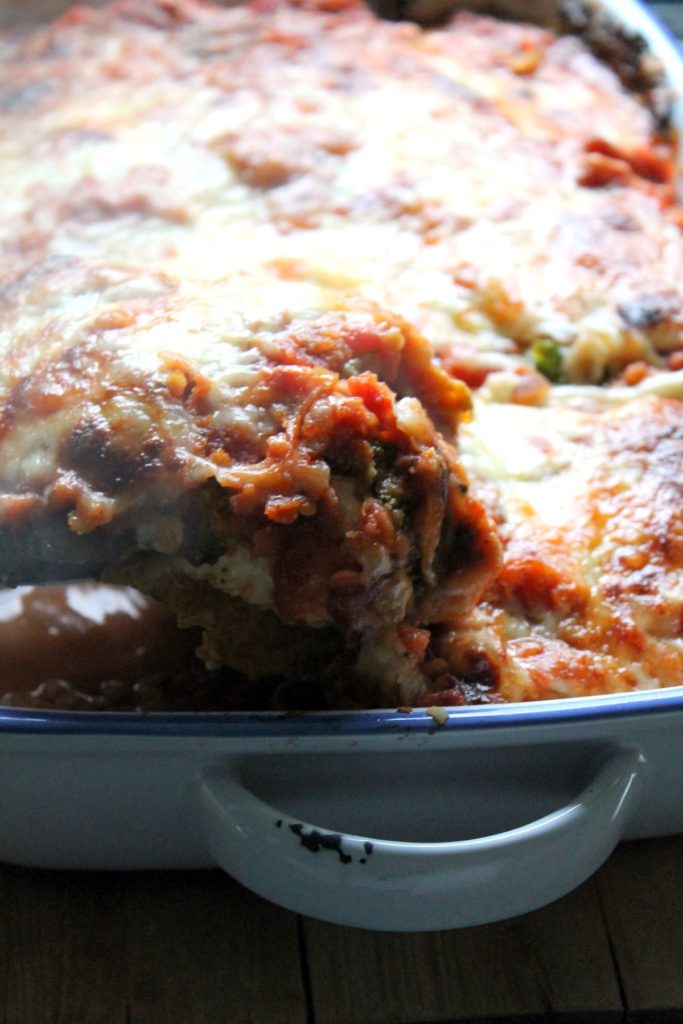 Bet you never thought you'd see the day that I actively removed a carb from my meal? Well I hope this is a nice surprise.
I don't personally have a problem with wheat or gluten, but so many people do, and I would like to start creating more gluten free recipes to share on Ciao Veggie. Not just for your sake, but for the sake of my gluten free friends and neighbors who come over for dinner! And for the sake of mine and Mr. Veggie's health, because we probably consume more wheat and gluten than we ought to, and even though we aren't intolerant, over-consumption is one way to get there!
I had the idea for this recipe when I found some recipes for stuffed cabbage casseroles. So if it sounds weird, remember it's not far off that idea, it's just different flavors we're playing with! There's a red lentil based vegetarian bolognese sauce, creamy ricotta, and lots of cheese.
Some of you will be like "OMG, I love veggies, so this looks awesome" (thanks guys!) But others aren't quite so in love with veggie food as a concept. And a big ol' pan of cabbage and lentils can come across a little too healthy, a little too vegetarian. I get it. If I saw this on a menu, it wouldn't be my first choice. I'd be like, "ugh, where's the pasta?" But then if I ordered it, I might be happily surprised. So, maybe that could be you tonight!
This is not a recipe where you're trying to hide your vegetables- you do need to like cabbage to enjoy this. It is braised in white wine before being added to the lasagne, so it gets nicely flavored, but it stays fairly chewy and leafy.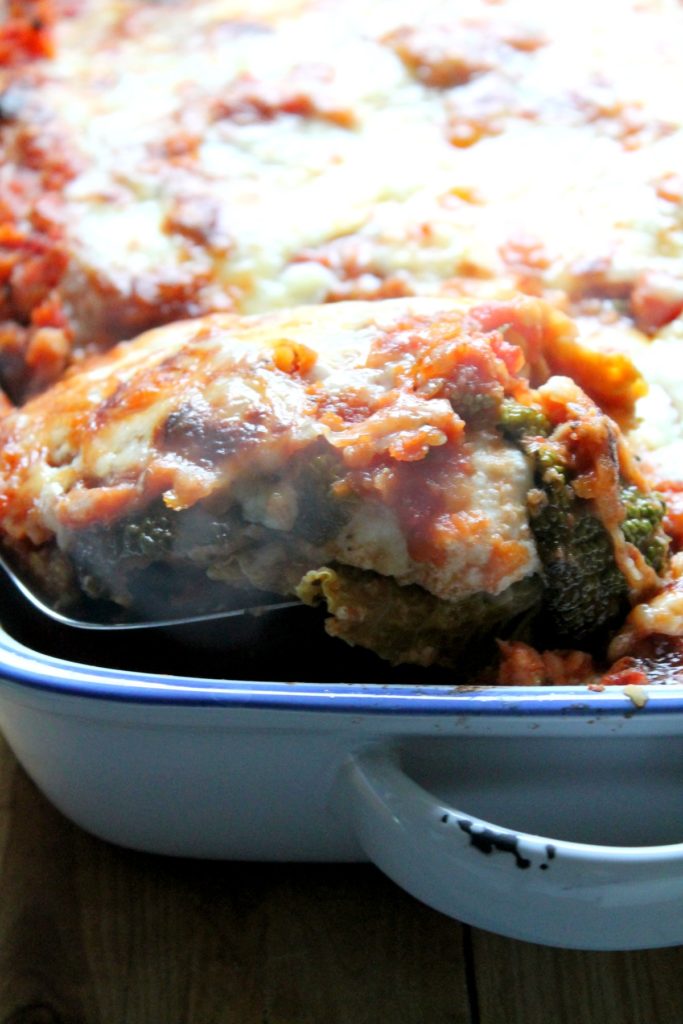 Bearing in mind that there's no pasta to soak up excess liquid, this lasagne can be made quite soupy and wet, as was the one pictured…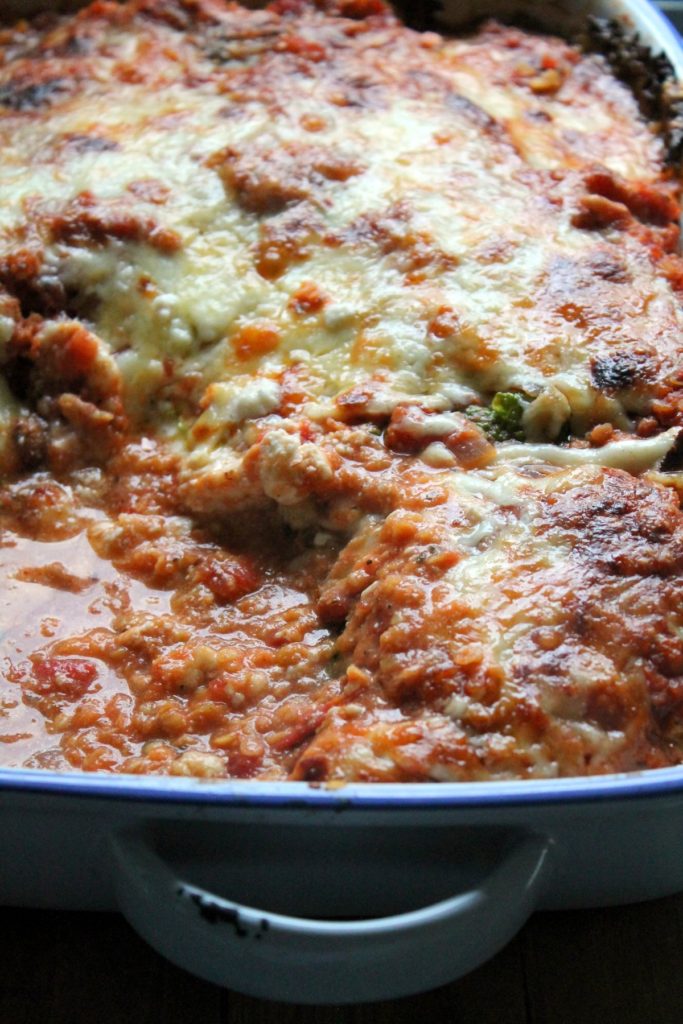 … But it can be made more firm too, if you reduce the water you add to the lentil sauce. Either way is fine, depending on your preference. It's good to keep it more soupy if you're going to save a lot of it in tupperware, but it does mean the portions you eat right away will be kind of messy!
Also, the ricotta cheese is really optional. This tastes just as good with just the lentil sauce and a lot of grated cheddar. If you do it this way, just make three identical layers of sauce topped with a few handfuls of cheese. Without the need for ricotta, you might find this is easier to conjure up with ingredients you already have in the fridge! (Ricotta is one of those ingredients that we never just have lying around.)
Hope you enjoy it!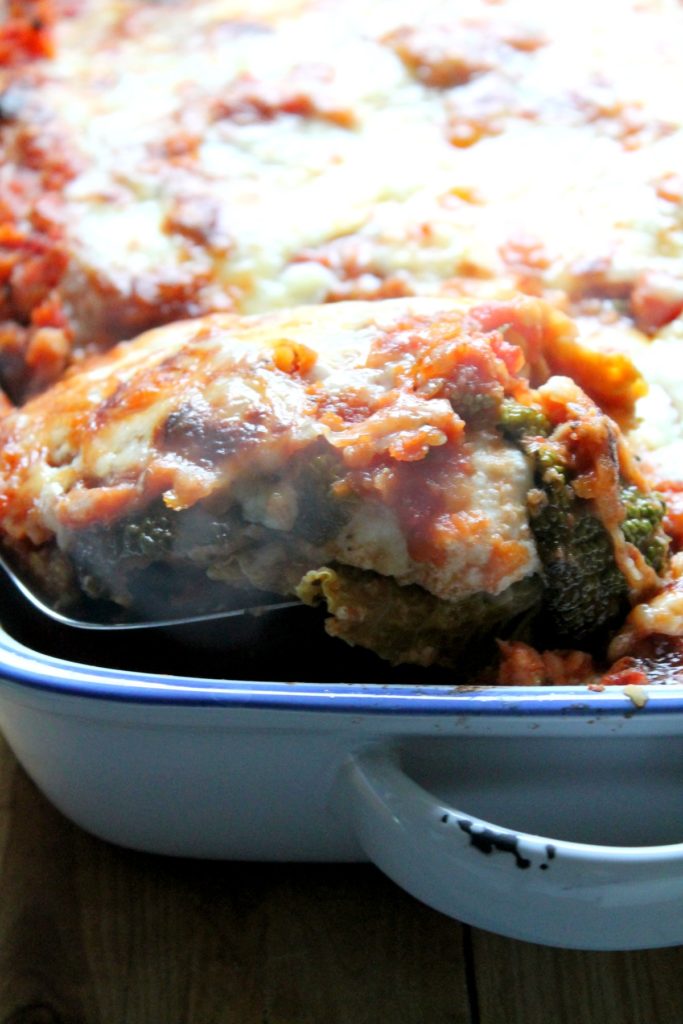 Print
cabbage & red lentil lasagne
Yield 6 slices
Ingredients
1 head of leafy cabbage (I used savoy cabbage)
Approx 1 small glass of white wine
Salt and pepper
500g of ricotta cheese
A few handfuls each of mozzarella and either cheddar, parmesan or another hard and flavorful cheese
Lentil sauce
3 400g (14oz) cans of chopped tomatoes
1 red onion, minced
6 cloves of garlic, minced
1 Tblsp of mixed Italian dried herbs
1 Tblsp of balsamic vinegar
1 cup / 200g of red lentils
Salt and pepper
Instructions
First, make the lentil sauce. In a large saucepan, soften the onions and garlic in olive oil until fragrant. Add the herbs, and then the canned tomatoes. Once bubbling, add the red lentils + up to another cup (240ml) of boiling water (use much less for a thicker, less soupy result). Bring to a simmer, add the balsamic vinegar and lots of salt and pepper, and then leave simmering for at least half an hour.
Meanwhile, prepare the cabbage. Tear off whole leaves. Rinse and pat dry. In a large wok or skillet, gently heat a glug of olive oil. Throw in 4-5 cabbage leaves, with a generous sprinkling of salt and pepper. Fry for about 30 seconds, and then throw in a little white wine (about 1-2 tablespoons worth at a time). Cover, and allow the wine to steam the cabbage leaves until they have softened. You don't want them to be fully cooked, just a little softened up, and infused with the flavor. Do this in batches until the entire head's worth of cabbage has been prepared.
Assemble your lasagne. First, pour a little lentil sauce into the bottom. Cover with one layer of cabbage leaves, and then spoon 1/2 of the remaining lentil sauce on top. Cover with another layer of cabbage leaves, and then spoon all of the ricotta cheese, and handfuls of the other cheeses on top. Cover with the final layer of cabbage leaves, and then the remaining lentil sauce. Cover with foil and bake for 25 minutes at 180C / 350F.
Remove from the oven and take off the foil. Cover the lasagne with a mix of mozzarella and grated cheddar (or whichever hard cheese you're using). Return to the oven and cook, uncovered, for another 20 minutes.
Use the grill (broiler) to brown the cheese if required.
Once finished, allow to stand for about 10-15 minutes before slicing and eating.