This simple, quick and healthy vegetarian kale curry recipe is perfect for busy weeknights! Kale tastes amazing in place of spinach for a palak paneer style dish full of sweet, aromatic spices and creamy coconut milk.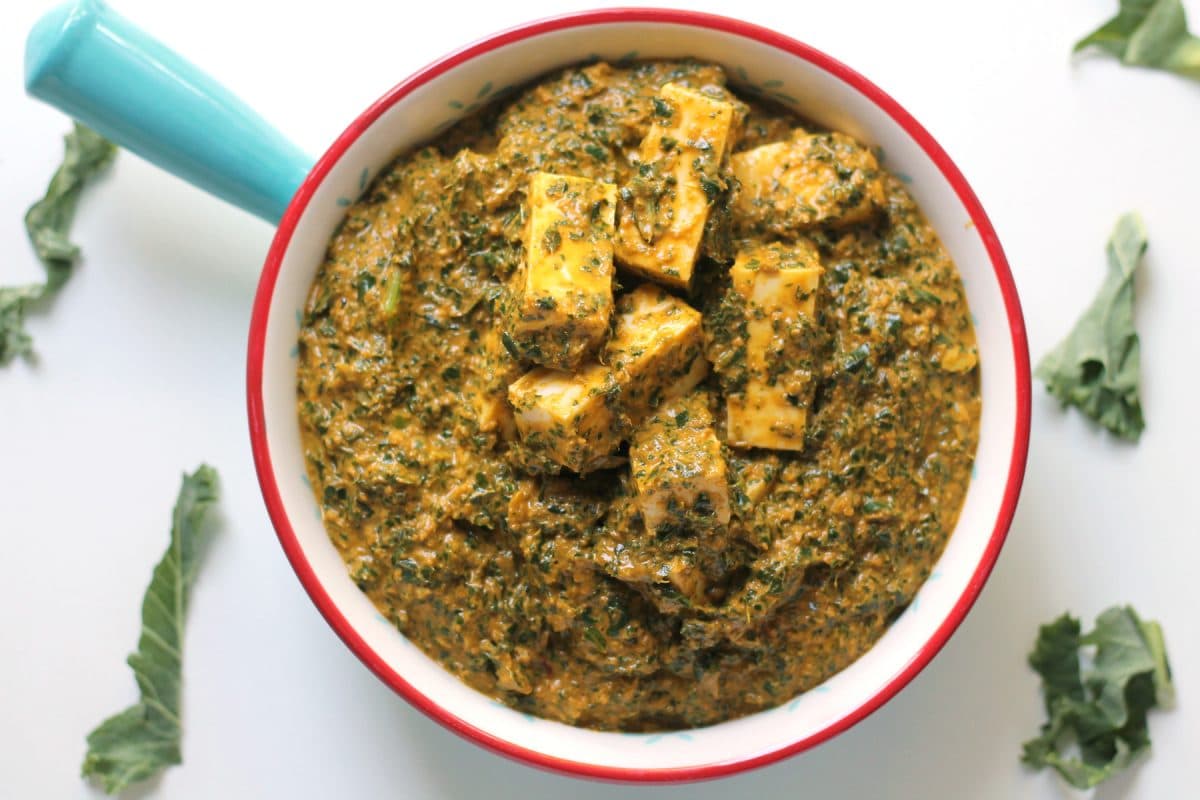 So here's something new that I've tried this summer: using kale instead of spinach in homemade curries! I've always been a fan of spinach based curries, whether the spinach is left whole or pureed, such as palak paneer or sag aloo.
But in an effort to mix up our greens, I started swapping in kale from time to time and you know what? I love love love it.
Using kale instead of spinach yields a very different texture. I like to puree it down to teeny tiny specks, but not completely liquify it, so there's some thickness and body to it.
Now, I love palak paneer with a super silky pureed sauce, but this kale paneer has an extra layer to it which I am thoroughly enjoying.
Like all of the curry style dishes on my blog, this is very mild, with the emphasis on fragrant spices and not heat. The sweet coconut milk in this dish helps to offset the bitterness of kale but it does still taste like kale. It's not for the haters.
While I won't suggest that all kids would like this, it is completely child friendly as there's not much salt or hot chili, and my toddler loves it. This kale curry and my palak paneer for babies are the only ways I've found to get a substantial amount of greens down her at once.
And the best part? It's easy. This all comes together in less than half an hour and still tastes amazing.
How to Make the Kale Curry Sauce
This is easy as can be, and everything cooks in one pan.
First you're going to cook up some onions, garlic and ginger, before adding the tomato paste and kale. You'll saute until all the kale is cooked before adding the coconut milk and pureeing the mixture in a blender.
If you use a deeper pan, you could also use an immersion blender to puree it in the same pot for maximum ease.
(You can probably skip the pureeing if you prefer to have whole kale leaves. I've never tried it that way, but I am sure it's just fine!)
Then you'll add the paneer, and away you go.
No Paneer? No problem.
I've had a few readers feed back that they used the base kale curry sauce with other ingredients – this is a great idea! Try mixed vegetables, potatoes, tofu, beans or anything else that floats your boat. If these options feel sad to you, and you have your heart set on cheese, try halloumi!
Kale Paneer Curry
This simple, quick and healthy vegetarian kale curry recipe is perfect for busy weeknights! Kale tastes amazing in place of spinach for a palak paneer style dish full of sweet, aromatic spices and creamy coconut milk.
Ingredients
½ medium onion, sliced
4 cloves garlic
2 tsp ginger
1 tsp cumin
1 tsp ground coriander
1 tsp tumeric
1 Tbsp garam masala
4 Tbsp tomato paste
30 g (2 Tbsp) salted butter
200 g (7 oz) chopped kale
1 can (1 can) full fat coconut milk, separated if possible*
4 Tbsp yogurt
450 g (16 oz) paneer cheese, sliced into cubes or strips
Optional – juice of 1 a lemon
Instructions
In a skillet or wide saucepan, heat a little vegetable oil and lightly saute the onion until softened. Add the garlic and ginger and saute for another few minutes until everything is cooked and fragrant.

Add half of the butter to the pan, followed by all of the spices, and cook until the butter is melted.

Add the tomato paste.

Now add about a third of the kale. Saute until the kale is wilted, and continue adding kale in batches. The pan may get dry as you do this, so scoop in some of the coconut water as you go to add moisture and help the kale to wilt. (If you have not separated your coconut milk, just use a couple tablespoons of water where necessary).

Once the kale is all cooked, add the coconut cream and mix through. Set aside the rest of the coconut water. (Or if your coconut milk is not separated, just add the whole can now).

Now add the entire mixture to a blender or food processor and pulse until the kale is almost pureed but still has some texture. Alternatively, if your dish is deep enough you can use an immersion blender to achieve this, which is much easier.

Return to the pan. Add more of the coconut water if you'd like a thinner mixture.

Add the paneer to the pan and heat on a low setting for about 5 minutes to ensure it's warmed through. (Alternatively, you could quickly pan fry the paneer before adding to the sauce – see notes.)

If you're adding the lemon juice, stir it through now.

Stir in the yogurt until it's incorporated and warmed, and then remove from the heat.

Serve with rice and/or naan bread.
Notes
Whether to pan fry the paneer is up to you. Pan frying adds a delicious crispy texture, so I love to do it when I have the time and energy. Adding it fresh leaves it softer, and I think it's particularly delicious when your paneer is homemade and has that slightly crumbly texture (whereas store bought paneer is often firmer with more "bite".) It also keeps better in the fridge if you don't fry it. If you do decide to pan fry, get your oil very hot in the pan before adding the paneer to prevent sticking. Be careful because the oil can "spit", especially with very fresh paneer. Fry quickly on each side until golden. Extra hungry? Adding a can of chickpeas would bulk this out to be more filling. Please note this is a very mild curry, feel free to add chili powder or a fresh chili to spice it up if you like!  If you prefer your curry to feel more greens-focused and have less of a tomato base, you can reduce the tomato to 2 Tbsp. 
Serving: 1g, Calories: 426kcal, Carbohydrates: 11g, Protein: 17g, Fat: 36g, Saturated Fat: 25g, Polyunsaturated Fat: 8g, Trans Fat: 1g, Cholesterol: 63mg, Sodium: 625mg, Fiber: 2g, Sugar: 5g