This simple, quick and healthy vegetarian kale curry recipe is perfect for busy weeknights! Kale tastes amazing in place of spinach for a palak paneer style dish full of sweet, aromatic spices and creamy coconut milk.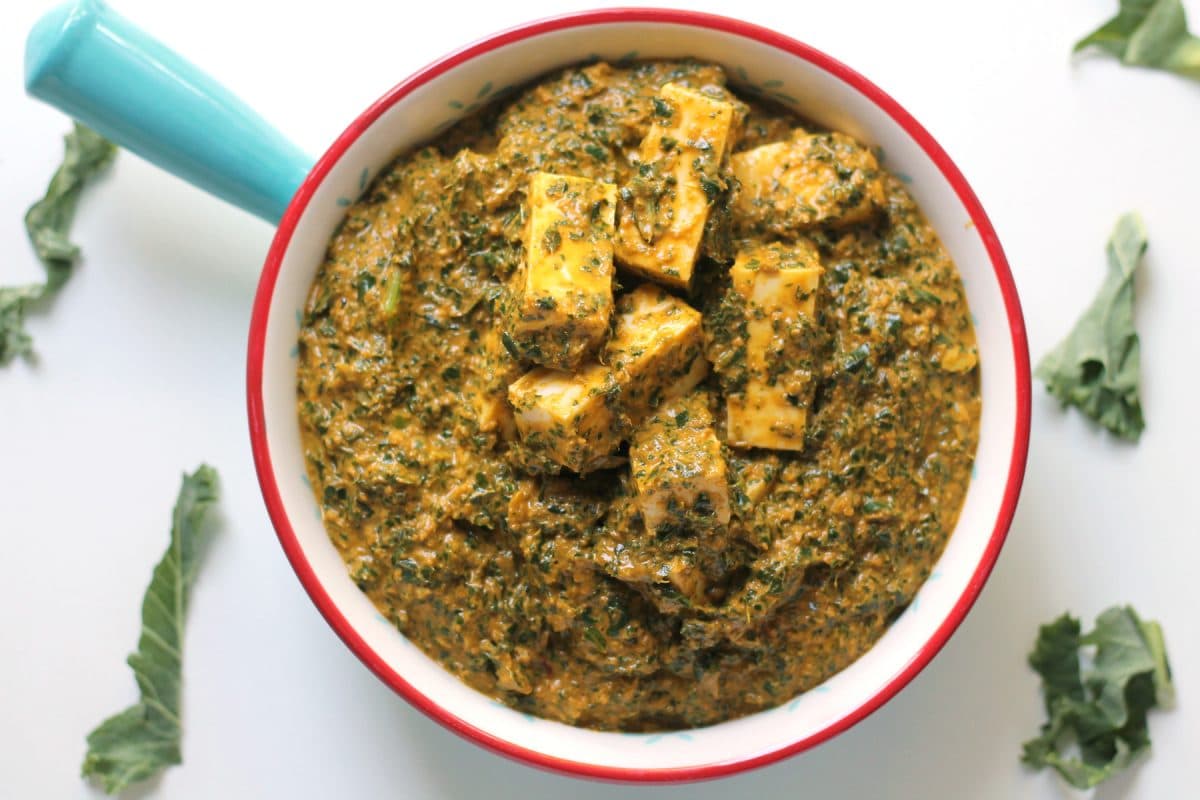 So here's something new that I've tried this summer: using kale instead of spinach in homemade curries! I've always been a fan of spinach based curries, whether the spinach is left whole or pureed, such as palak paneer or sag aloo.
But in an effort to mix up our greens, I started swapping in kale from time to time and you know what? I love love love it.
Using kale instead of spinach yields a very different texture. I like to puree it down to teeny tiny specks, but not completely liquify it, so there's some thickness and body to it.
Now, I love palak paneer with a super silky pureed sauce, but this kale paneer has an extra layer to it which I am thoroughly enjoying.
Like all of the curry style dishes on my blog, this is very mild, with the emphasis on fragrant spices and not heat. The sweet coconut milk in this dish helps to offset the bitterness of kale but it does still taste like kale. It's not for the haters.
While I won't suggest that all kids would like this, it is completely child friendly as there's not much salt or hot chili, and my toddler loves it. This kale curry and my palak paneer for babies are the only ways I've found to get a substantial amount of greens down her at once.
And the best part? It's easy. This all comes together in less than half an hour and still tastes amazing.
How to Make the Kale Curry Sauce
This is easy as can be, and everything cooks in one pan.
First you're going to cook up some onions, garlic and ginger, before adding the tomato paste and kale. You'll saute until all the kale is cooked before adding the coconut milk and pureeing the mixture in a blender.
If you use a deeper pan, you could also use an immersion blender to puree it in the same pot for maximum ease.
(You can probably skip the pureeing if you prefer to have whole kale leaves. I've never tried it that way, but I am sure it's just fine!)
Then  you'll add the paneer, and away you go.
No Paneer? No problem.
I've had a few readers feed back that they used the base kale curry sauce with other ingredients – this is a great idea! Try mixed vegetables, potatoes, tofu, beans or anything else that floats your boat.