Herby, lemony kale rice with feta cheese. A healthy and hearty side dish full of Mediterranean flavors that is easy to make and pairs well with a variety of different dishes. You can easily swap the herbs to make it Indian style!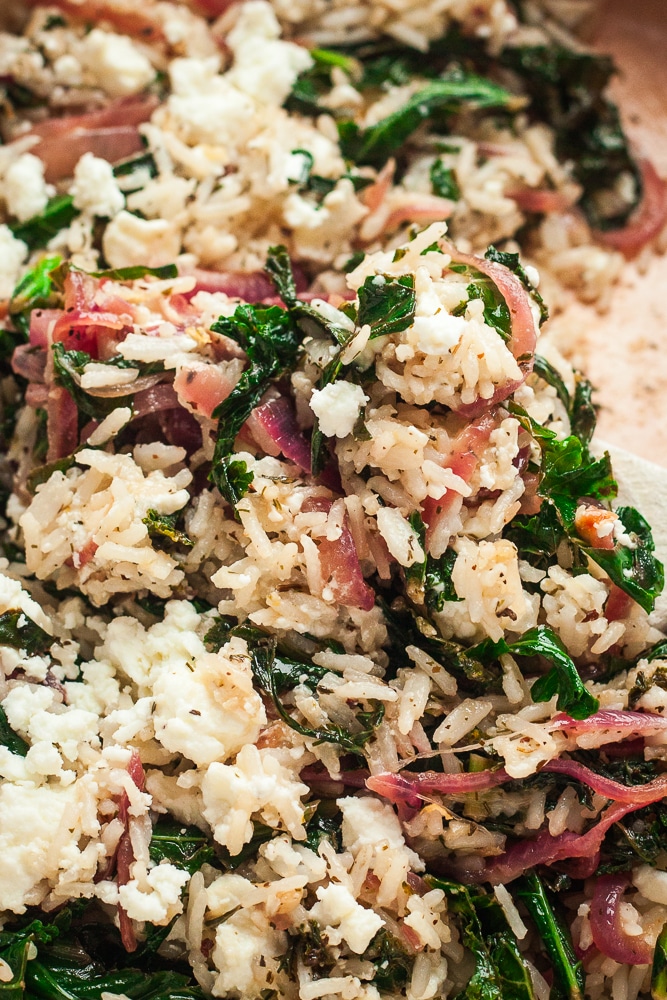 Introducing a Tasty Greek Inspired Kale Rice Recipe!
This tasty rice side dish is packed with good stuff! We have juicy lemony kale, sweet onions, feta cheese and lots of delicious herby flavors. This was inspired by the Greek spinach rice recipe Spanakorizo but… a lot is different. It's kale rather than spinach, and it's also got a more pilaf style texture because we're using long grain rice instead of medium grain. But the flavor profile is drawn from that recipe, which means this rice pairs really well with Greek / Mediterranean style dishes.
🛒 Ingredient Notes
Kale: I like to use curly kale for this, because it reduces a little more when it's cooked and I like how the texture ends up. You can use lacinato kale (cavolo nero) but I find that it holds its form a little more and the result is a bit more bulky.
Feta cheese: It doesn't need to be the most expensive stuff, although a quality feta does get a chance to shine here. A little less than a typical block is used for this recipe (you can use the rest for taco toppings another night?)
Onion: Cooked with a little sugar to enhance the sweetness. Red is my preference but white or brown are fine too.
Rice: I use white basmati rice for this recipe but I see no problem with using brown or another kind of long grain rice. Long grain rice makes this dish more fluffy like a pilaf, so if you swap in a medium or short grain rice you will get a different texture than what you see in my photos – it would end up more creamy and sticky.
Lemon: We will use half of the lemon's zest, and all of its juice.
Dried dill and dried mint: These herbs give a strong Mediterranean / Greek flavor. Reduce the amounts if you want it more subtle, or change the herbs entirely to match the dish with a different genre.
Garlic: And lots of it. Because OF COURSE.
Salted butter: I like to cook the onions and kale in butter, to enhance the flavors of the dish.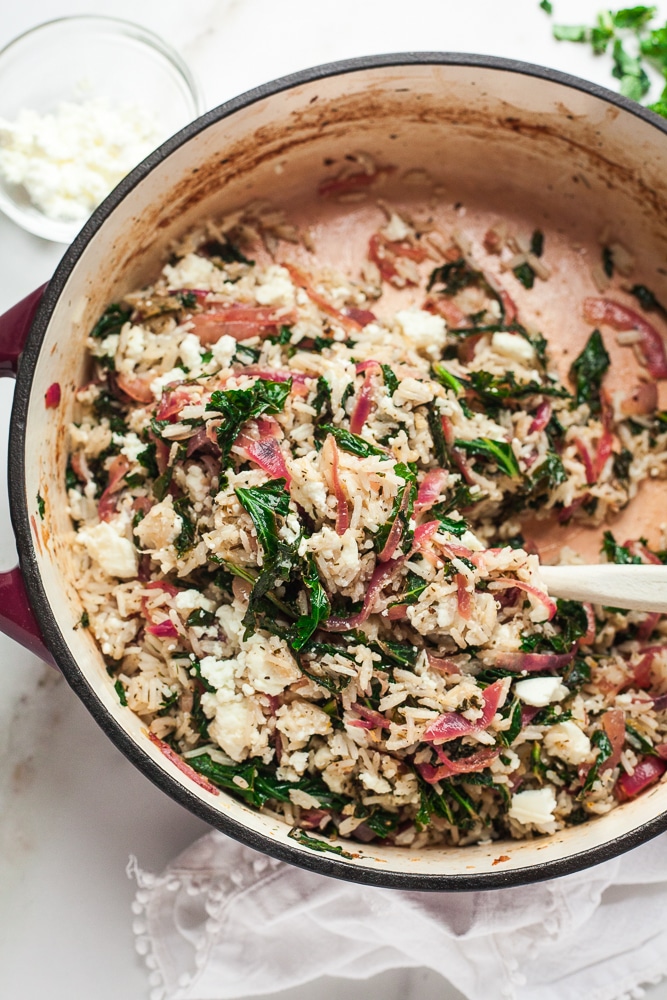 The Process is Simple, and takes around 45 minutes
Saute your onions, garlic, kale, and herbs and then toss in the cooked rice and feta – that's all there is to it! It takes a little time to come together but it's simple and just uses one saute pan + one saucepan.
Variations and Serving Suggestions
This is amazing with some Quick Roasted Heirloom Tomatoes and hummus for topping – this makes for a super simple, clean and easy to eat meal.
Fresh herbs are a great addition to this dish if you have them available. Parsley and mint leaves are ideal.
If you want to make this Indian style to serve with curry, you can simply leave out the dill and mint, and add some curry spices to shift it to the Indian side.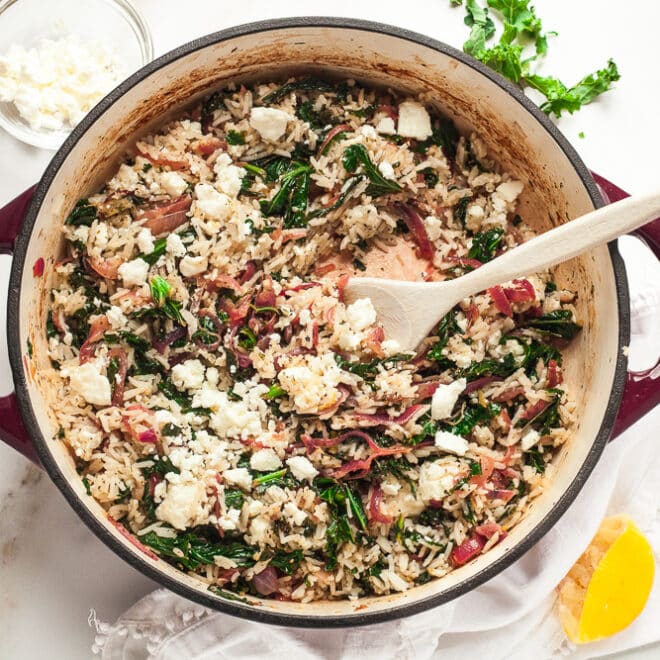 Kale Rice
Herby, lemony kale rice with feta cheese. A healthy and hearty side dish full of Mediterranean flavors that is easy to make and pairs well with a variety of different dishes. You can easily swap the herbs to make it Indian style!
Ingredients
3 tbsp (45 g) salted butter
1 tbsp olive oil
2 large red onions, thinly sliced
2 tsp sugar
2.5 cups (170 g) kale, chopped, with tough stems removed
1 cup dry white basmati rice
1 lemon, juice and 1/2 the zest
4 cloves garlic, crushed
1.5 tsp dill
1.5 tsp dried mint
5 oz (150 g) feta cheese, crumbled
Instructions
The very first thing to do is to get the onions cooking. Over a low heat, melt 1/3rd of the butter in a large saute pan or shallow casserole dish. Add the onions and sugar. Cover and leave them to soften while you get everything else gathered and prepped, you can check in and stir every once in a while. We aren't going to fully caramelize them, but a little head start will help bring out their natural sweetness as much as possible.

3 tbsp salted butter, 2 large red onions, 2 tsp sugar

Set your rice to cook according to package instructions.

1 cup dry white basmati rice

Once there is about 10 minutes left before the rice is ready, turn up the heat on the onions, add the olive oil and cook on a higher heat until they start to reduce and brown a little bit. They should be a bit sticky and soft.

1 tbsp olive oil

Add a handful of the kale to the pan with the onions and saute until it's reducing in size. Add another handful, and repeat until all of the kale is in the pan. It should be bright green.

2.5 cups kale

Turn the heat back down to low. Add the remaining butter and the garlic, dill, mint and lemon zest. Once the fragrance of the garlic is released, add the lemon juice and cook for a couple of minutes until it is well incorporated into the kale, which will be quite soft by now.

3 tbsp salted butter, 1 lemon, 4 cloves garlic, 1.5 tsp dill, 1.5 tsp dried mint

Once the rice is ready, add it to the pan and stir through. Add salt and pepper to taste.

Finally, remove from the heat and add the feta. We want the feta to stay in distinct pieces so once you add it to the pan, only mix enough to distribute it evenly through the rice and then stop. (If you'd actually prefer it melted through and creamy, feel free to keep mixing to achieve this texture.)

5 oz feta cheese

Serve.
Calories: 280kcal, Carbohydrates: 33g, Protein: 7g, Fat: 14g, Saturated Fat: 7g, Polyunsaturated Fat: 1g, Monounsaturated Fat: 4g, Trans Fat: 0.2g, Cholesterol: 36mg, Sodium: 333mg, Potassium: 218mg, Fiber: 2g, Sugar: 3g, Vitamin A: 3080IU, Vitamin C: 31mg, Calcium: 212mg, Iron: 1mg