Crispy, creamy smashed roasted potatoes get a sweet and spicy kick from honey harissa butter in this easy recipe! These potatoes are simple to make and full of amazing flavors to add a fun twist to your meal.
I will never be bored of potatoes. Cheap, filling and endlessly versatile, potatoes can bend to your every culinary whim, they can be whatever you need them to be on a given day. You really can't go wrong unless you're a carb dodger (and I think we've established that I am not!)
These potatoes are being treated very, very well today. We parboil them, smash them up a little (giving lots of surface area for crisping up + exposing the insides to allow the flavors in). We drown them in simple harissa honey butter which has a sweet, smoky and all round perfect flavor. Then we oven roast them until they're crispy on the edges, with the butter having seeped into the soft middle. And then – we add cheese.
Because we're feeling very extra.
My Top Ingredient & Recipe Tips
Your choice of potatoes (both size and type) will impact your cooking time here. The recipe was developed using British new potatoes, but any potatoes will be fine and will work, just remember that the cook time is a range and check in on your potatoes often as you get to the end point.
Harissa paste is a traditionally North African ingredient which is now fairly widely available worldwide, but if you're not able to track it down I can recommend you try this with any kind of chili based spice paste or sauce – a chipotle blend could be delicious too, just watch the quantities because if you're swapping in another type of chili paste I can't predict whether it's more or less concentrated / hot than harissa would be.
I am using one tablespoon of harissa for a fairly subtle kick. I've tried it with two tablespoons and it was hotter than I'd have liked, but delicious, so if you want something more "in your face", go ahead and increase the amount. I should also add that you don't need an expensive brand – the cheap store brand will do nicely for this recipe, which is not a remotely traditional use for harissa anyhow.
I used pecorino cheese for the batch photographed today. I love how the flavor works in this recipe, but it doesn't melt in the same way as a softer cheese. Parmesan or manchego would be great as well. If you want something more melty, a swiss cheese like gruyere is amazing. (With all of these European cheeses, if you're vegetarian you will need to look out for animal rennet as an ingredient and find a suitable alternative if necessary.)
My method involves parboiling the potatoes to get them soft enough to smash. I've always been a fan of boiling before roasting, and it's a quicker process overall, but you don't have to do it this way. You can start them cooking in the oven from the beginning if that suits your workflow more, the instructions are in the recipe card notes.
My batch photographed has some chives and fresh lemon for garnish, these are optional so please feel free to make the potatoes without them, but if available they are delicious additions!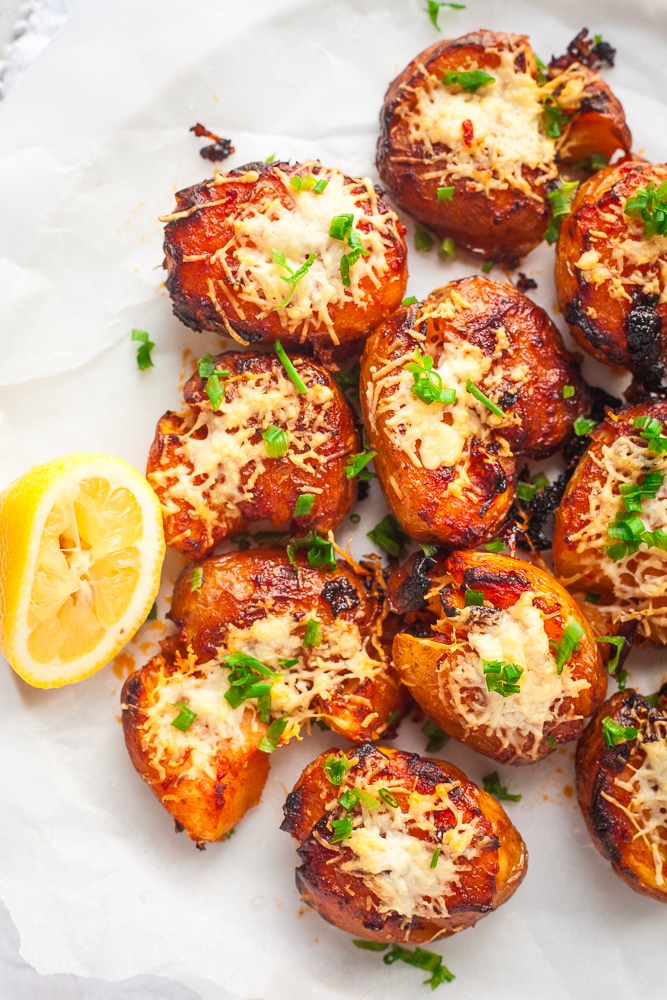 How to use up your harissa paste
This recipe only uses a little bit of the jar, so check out some of my other vegetarian recipes which call for harissa paste…
Potato lovers, I've got you covered
Roasted Cheesy Harissa Potatoes
Crispy, creamy smashed roasted potatoes with a smoky sweet kick from the honey harissa butter. These potatoes are easy to make and full of amazing flavors to add a fun twist to your meal.
Ingredients
1.5 lbs (680 g) baby potatoes
salt and pepper, to taste
⅓ cup (40 g) grated cheese, see notes
Harissa Butter
⅓ cup (80 g) salted butter
1 tbsp harissa paste
1 tbsp honey
¼ tsp garlic powder, optional
Instructions
Preheat the oven to 200C / 390F

Boil the potatoes (whole, with the skins on) for 10-12 minutes until they're just tender. A knife should go through them smoothly, but don't leave them any longer than that. Once ready, drain and place on a baking tray lined with parchment paper.

1.5 lbs baby potatoes

Meanwhile, combine all of the ingredients for the harissa butter in a small saucepan over a very low heat. Allow the butter to melt, stirring regularly, until it's all incorporated. Take off the heat and set aside.

1/3 cup salted butter, 1 tbsp harissa paste, 1 tbsp honey, 1/4 tsp garlic powder

Use a heavy glass, bowl or potato masher to press each potato until they smush up a little (a glass ramekin is my favorite tool for this job!) You don't want them to fully break, but you want them misshapen.

Pour the harissa butter mixture over all of the potatoes, making sure they are all well covered. Add salt and pepper to taste.

salt and pepper

Place in the oven for 25-30 minutes, until browned and crispy. Remove from the oven and add cheese to the top of every potato. Place back in the oven for another 5 minutes until melted.

1/3 cup grated cheese

Serve immediately.
Notes
Cheese: The recipe photographed is with pecorino – parmesan or manchego would be great as well if you want to use a hard, salty cheese. It's also great with more melty cheeses such as gruyere. (With all of these European cheeses, if you're vegetarian you will need to look out for animal rennet as an ingredient and find a suitable alternative if necessary.)
Calories: 357kcal, Carbohydrates: 35g, Protein: 9g, Fat: 21g, Saturated Fat: 13g, Polyunsaturated Fat: 1g, Monounsaturated Fat: 6g, Trans Fat: 1g, Cholesterol: 63mg, Sodium: 344mg, Potassium: 763mg, Fiber: 4g, Sugar: 7g, Vitamin A: 613IU, Vitamin C: 34mg, Calcium: 164mg, Iron: 1mg