Lentil & Kale Quesadillas
This is a healthy, easy vegetarian quesadilla recipe with a difference! Smoky lentils and wine-infused kale pair with melted provolone cheese for a flavor combo unlike any vegetarian quesadilla you've had before. Topped off with creamy avocado, this makes a delicious lunch or dinner.
Quesadillas are such an easy quick meal, so I am always looking for new vegetarian quesadilla ideas. Things that go beyond the beans and cheese (much as I love those!) and pack in some veggies too.
So check this out. This extra healthy recipe has got me eating lentils and kale and being very happy about it.
Partly because we are bringing so many of my favourite ingredients into the mix. Our lentils are cooked in smoked paprika. The kale is cooked in wine and garlic. The cheese is not just any cheese, but melty provolone cheese from the Italian deli (of course you can use any decent melty cheese you have to hand- I'd love to try this with swiss or havarti, but just plain cheddar would be A-OK too).
Since there is so much going on in the filling, you don't need a huge range of toppings or dips for these quesadillas. I just went with some very plain guacamole.
To be honest I have no idea where this quesadilla recipe idea came from or why I decided to mix all this stuff together. It's just a mash up of Mediterranean flavors masquerading as a Mexican dish, and I like it that way.
If you like the idea of Mexican spiced lentils, be sure to check out my lentil tacos and lentil nachos!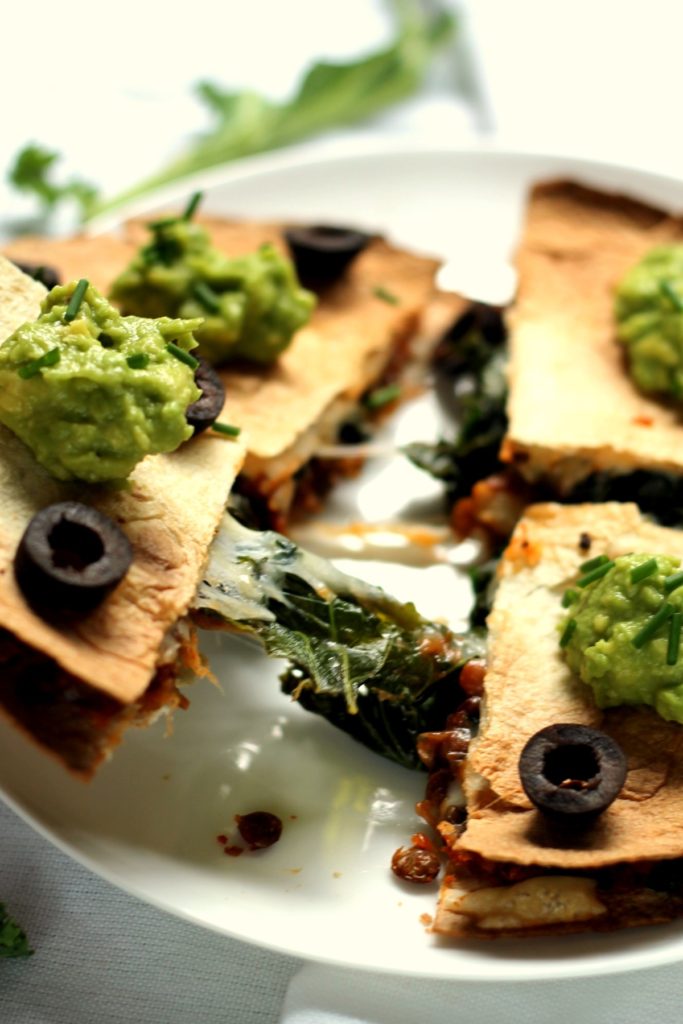 If you have ready cooked lentils from a previous evening's dinner or from a can or pouch, these quesadillas can be ready in just over 30 minutes! Bon appetit.