A baby breakfast puree with the delicious tropical flavors of banana and coconut. This recipe uses ground oats or oat flour for a perfectly smooth texture. Oats and coconut milk are decent sources of iron for vegetarian and vegan babies. This recipe is also the perfect filling for a breakfast squeeze pouch for older babies and toddlers.
Every baby has one food that they will reliably eat, and when Odette was little, it seemed to be banana. I think this is a common "safe" food for little ones! In this puree recipe it's combined with oat flour, pineapple and coconut to make a tropical inspired breakfast!
When looking for vegetarian iron rich first foods for your baby, we tend to focus on green vegetables, beans and pulses – but don't overlook the humble oat! Oats are a decent iron source, as well as all the other nutritional benefits they provide. And adding them into smooth baby food is easy as can be, if you have a bag of oat flour to hand.
Coconut milk is also a modest source of iron, so as well as being a key source of yumminess here it allows us to double up on the iron sources!
To get the most from the iron content of the oats and coconut milk, we need to add a source of Vitamin C to increase absorption. This is where the pineapple comes in! The inclusion of pineapple makes the iron more bio-available to your baby.
What is Oat Flour?
Oat flour is just very finely ground oats. You can either buy a bag from the shop (I use Bob's Red Mill brand), or make your own with rolled oats.
Can I freeze this?
Yes! It can be frozen for up to 6 months.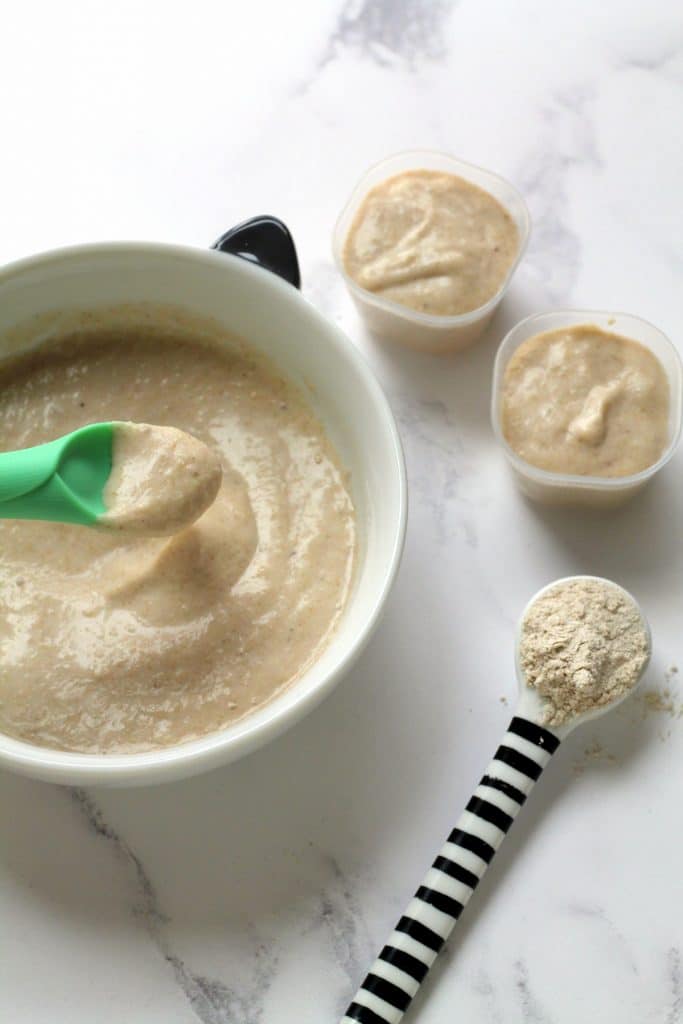 More iron rich baby food recipes