A cheesy, comforting spaghetti bake made easily in your air fryer! If your air fryer can fit a cake pan in it, this baked spaghetti will work perfectly for you! Make it with a freshly cooked batch of spaghetti or with leftover spaghetti, this is a flexible recipe that be made to suit your tastes.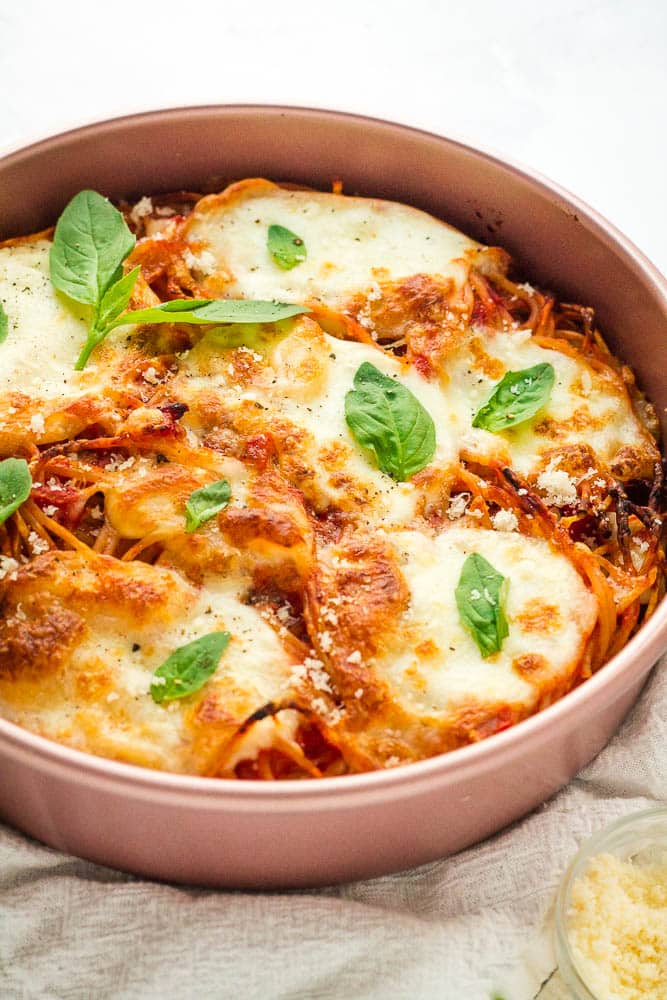 Making baked spaghetti in the air fryer has definitely confirmed that my decision to buy a larger air fryer was a good one. If your air fryer can fit an 8 inch (20cm) cake pan, you are in luck today!
For those who are new to this idea, baking spaghetti is a brilliant way to bring some of your favorite elements of a pasta bake (cheesy topping! layers!) to a bowl of spaghetti and it's a really fun dish to play around with.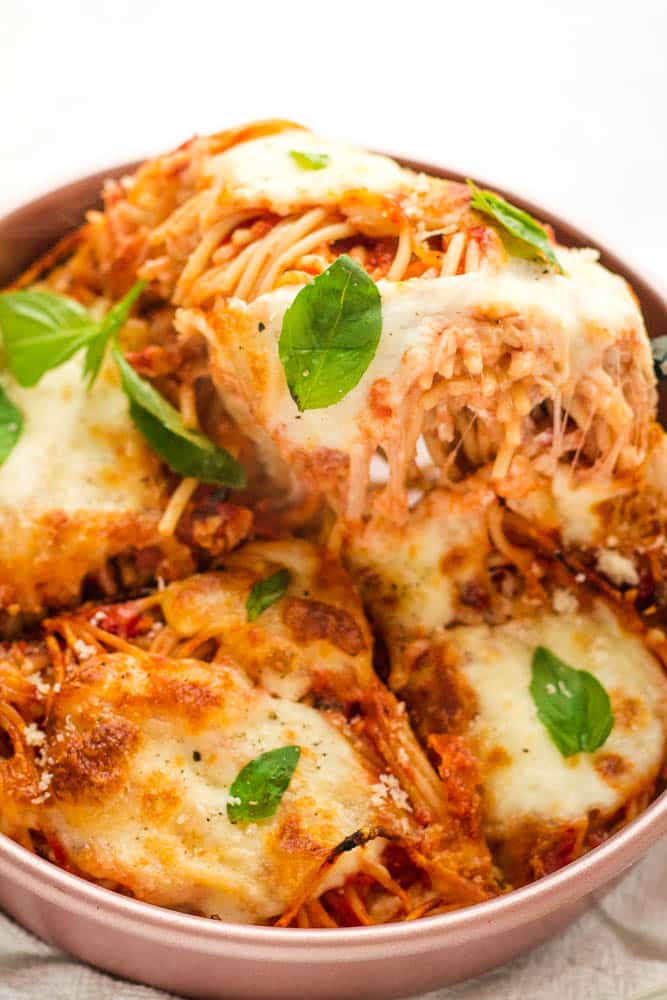 Baked spaghetti can vary in texture. On the one hand, you get spaghetti pies which "set", hold themselves together and can be sliced into – that sort of dish lends itself more to traditional ovens which can bake low and slow. What we are doing here is a saucy spaghetti that stays mostly "sloppy" in the bowl.
We have layers of soft ricotta, a delightful cheesy topping with crispy exposed spaghetti bits. It plays more to the strengths of the air fryer's strong convection. It gives us that external texture really quickly while heating the inside enough for the layers to warm through.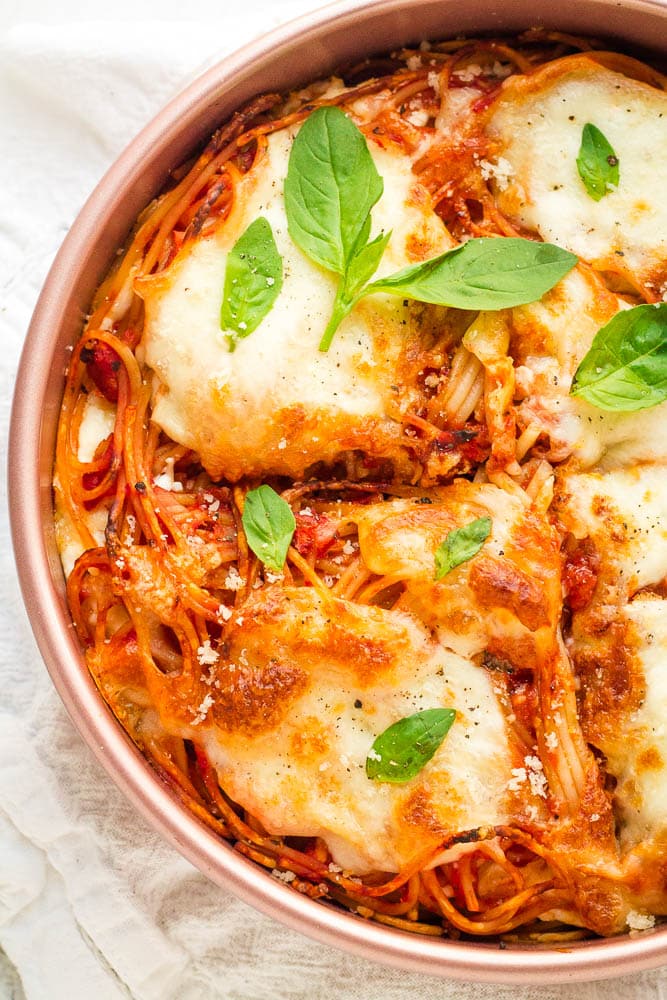 This can be made from the leftover spaghetti in the fridge
My recipe is written assuming you're cooking the spaghetti fresh, but you don't have to! If you have cold leftover spaghetti in the fridge then this is a brilliant way to use it up. You actually would have a firmer, more "set" spaghetti bake with leftover spaghetti because it's pretty starchy and sticky after being stored.
You would benefit from having a little extra sauce to add to the spaghetti if you can, but that's not a deal breaker.
If you're cooking this with leftover spaghetti, note that you will want to pre-cook it for 10 minutes before adding the cheese, all of the details for how to adapt the recipe are in the printable recipe card.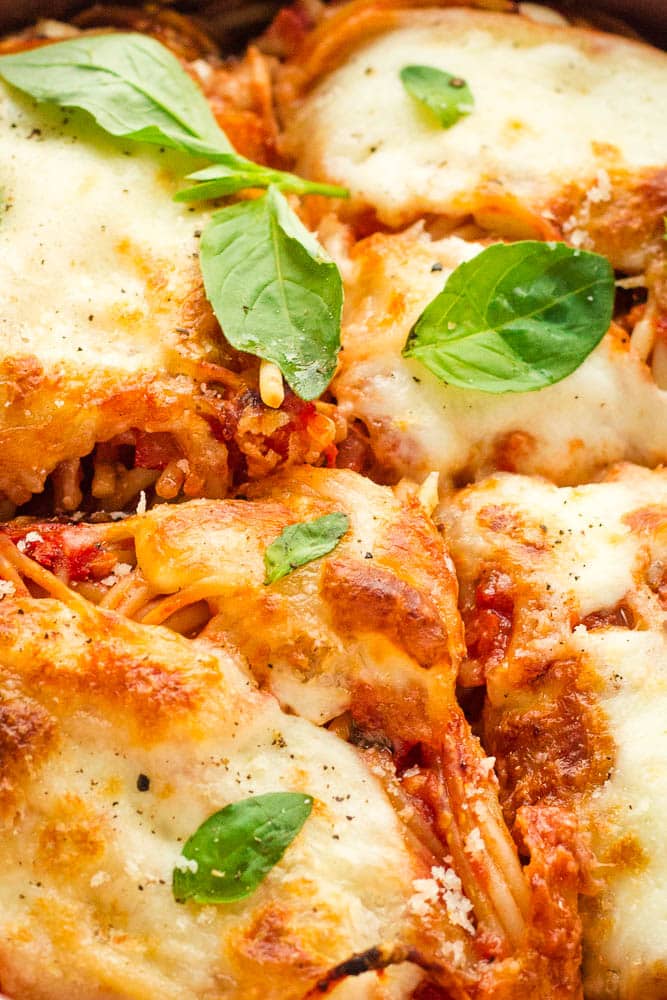 What you need to make this recipe
A large air fryer: You need something that fits a pan in it. I made this in an Instant Vortex 5.7 litre model which was perfect.
8 inch (20cm) cake pan: – I like to use my round cake pan because it's on the deeper side. Some people get glass baking dishes to fit inside their air fryers which is great too. It's no big deal if your pan isn't the exact same size as this, it will just mean you may need to adjust the quantities a little, or that the layering won't be quite perfect. No big deal.
Ideally, a silicone liner for the bottom of your air fryer – this will protect the nonstick coating when you're using metal pans in there.
Ideally, a set of silicone pot holders to lift the hot pan out with: If it's a tight fit in your air fryer basket, it can be hard to get the hot pan out. The silicone pot holders are great because it doesn't matter if they end up right against the food.
Just six ingredients!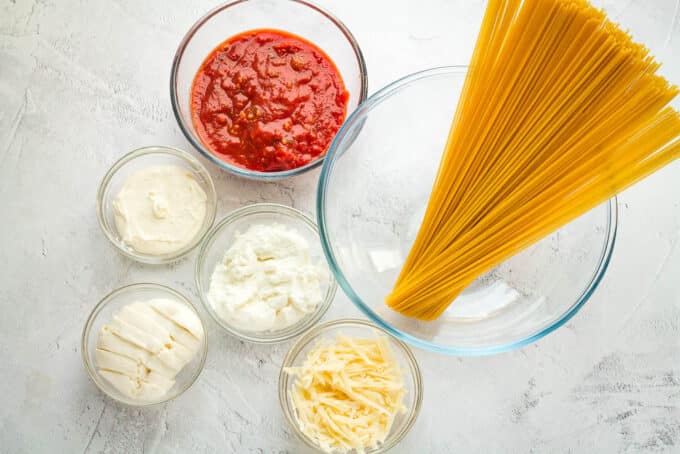 I used a jarred tomato pasta sauce for this recipe and this is the major time saver.
For the creamy layers, I like a mix of ricotta and cream cheese to get the texture right. I tried both on their own and they're fine, but the texture using both is my fave.
I also use some parmesan style cheese to boost the flavor, although this really isn't necessary, especially if you have a good flavorful sauce. It might be more important if you're using leftover spaghetti and it's on the dry side.
I prefer to use a soft ball of mozzarella (the kind stored in water) rather than grated for the topping here. I prefer the softer texture. But also, the cooking time for soft mozzarella is a lot longer, so you can assemble the whole bake in one go. Pre grated mozzarella cooks really fast, so you'd need to pre cook the spaghetti bake for 10 minutes and then go in and add the cheese.
Your choice of spaghetti doesn't matter much here, the cheap stuff actually works pretty well for baking so it's not the time to worry about getting the good stuff.
On a budget? If you're in the UK, all of these ingredients can be sourced pretty cheap from Aldi or the discount supermarkets! If you're in the US, Canada or Australia then I appreciate the cheeses can be on the pricier side for you but feel free to make the relevant swaps if you need to (shredded mozzarella for example).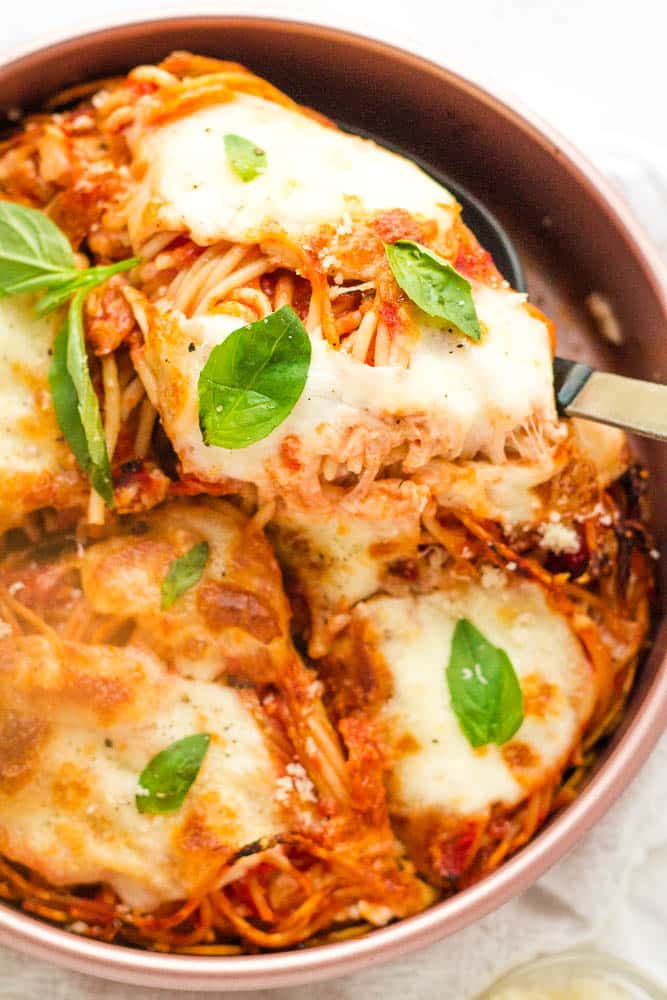 Air Fryers can make baked spaghetti a 30 minute meal
So this is assuming you are not making a sauce from scratch, and have a jar or some leftover homemade sauce ready to go.
You will start the spaghetti boiling straight away. While it cooks, you mix the ricotta and cream cheese together, grate / slice your mozzarella and parmesan (if using) and preheat the air fryer.
You mix the pasta sauce into the spaghetti and get straight to work layering the bake, then it goes into the preheated air fryer for 12-15 minutes. Easy!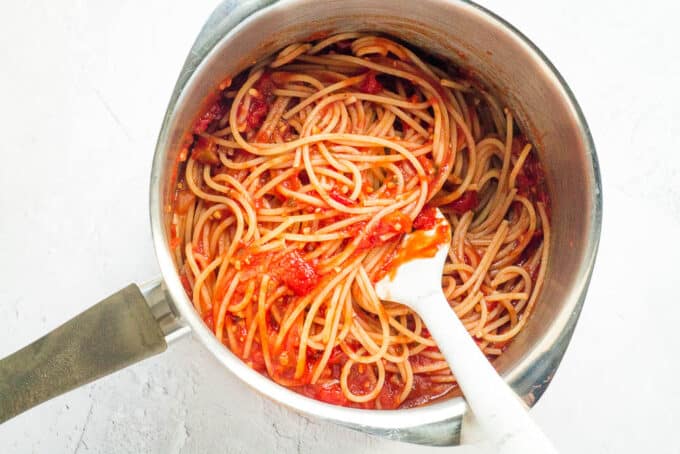 Make the recipe work for you!
This is really flexible and can be made in so many different ways.
I used a plain tomato sauce but a bolognese style sauce would slot in well. (I have recipes for lentil bolognese or roasted veggie bolognese which would work very nicely.)
Feel free to just add in some extra "stuff". You can see in the photos that using an 8 inch cake pan there is still a little room to play with for adding things. Beans, lentils, veggies, spinach, basil, whatever works for you.
No spaghetti? It can be made with angel hair or bucatini too! Angel hair would actually cut the cooking time down even further.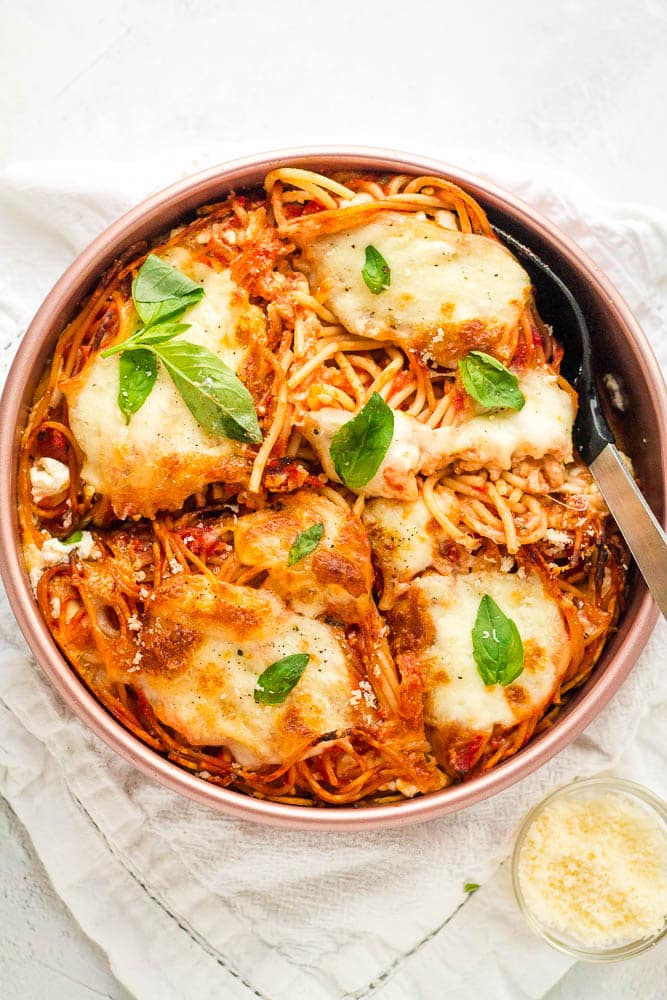 Looking for Air Fryer Dinners?
I have lots of air fryer ideas for you right here, including these popular recipes: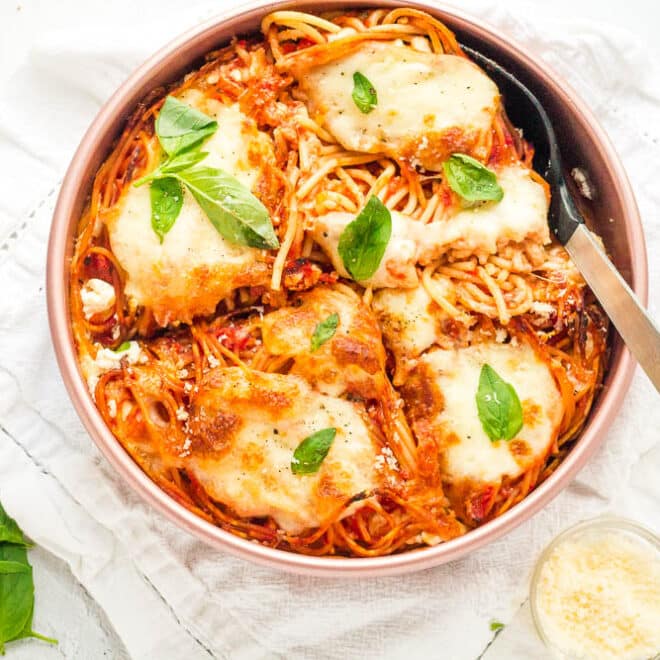 Air Fryer Baked Spaghetti
A cheesy, comforting spaghetti bake made easily in your air fryer! If your air fryer can fit a cake pan in it, this baked spaghetti will work perfectly for you! Make it with a freshly cooked batch of spaghetti or with leftover spaghetti, this is a flexible recipe that be made to suit your tastes.
Ingredients
9 oz (250 g) dry spaghetti
1 cup (240 ml) tomato pasta sauce
4 oz (125 g) ball of mozzarella
½ cup (125 g) ricotta
¼ cup (4 tbsp) cream cheese
⅓ cup (35 g) parmesan or vegetarian hard cheese, grated
Instructions
If you're making the pasta fresh – Boil your pasta according to package instructions, drain, return to the pan and mix in the tomato sauce.

While it's cooking, whisk together the ricotta and cream cheese in a bowl.

Once the spaghetti is ready, add half of it to the cake pan.

Spread your ricotta – cream cheese mix over the top. (If you're only using cream cheese it won't be very spreadable but you can just add dollops of it)

Add half of the parmesan over the top, if using.

Pour the remaining spaghetti over the top.

Add the remaining parmesan and the mozzarella slices.

Place carefully in a preheated the air fryer basket, ideally on top of a silicone liner mat.

Air fry 320F (160C) for 15 minutes, or until the cheese on top is bubbling and browned.
Calories: 472kcal, Carbohydrates: 53g, Protein: 23g, Fat: 19g, Saturated Fat: 11g, Polyunsaturated Fat: 1g, Monounsaturated Fat: 5g, Cholesterol: 58mg, Sodium: 676mg, Potassium: 404mg, Fiber: 3g, Sugar: 5g, Vitamin A: 849IU, Vitamin C: 4mg, Calcium: 341mg, Iron: 2mg