Making breakfast potatoes in the air fryer could not be simpler, and you will love how much effort it saves you! These potatoes are deliciously spiced with peppers and onions that cook until they are caramelized.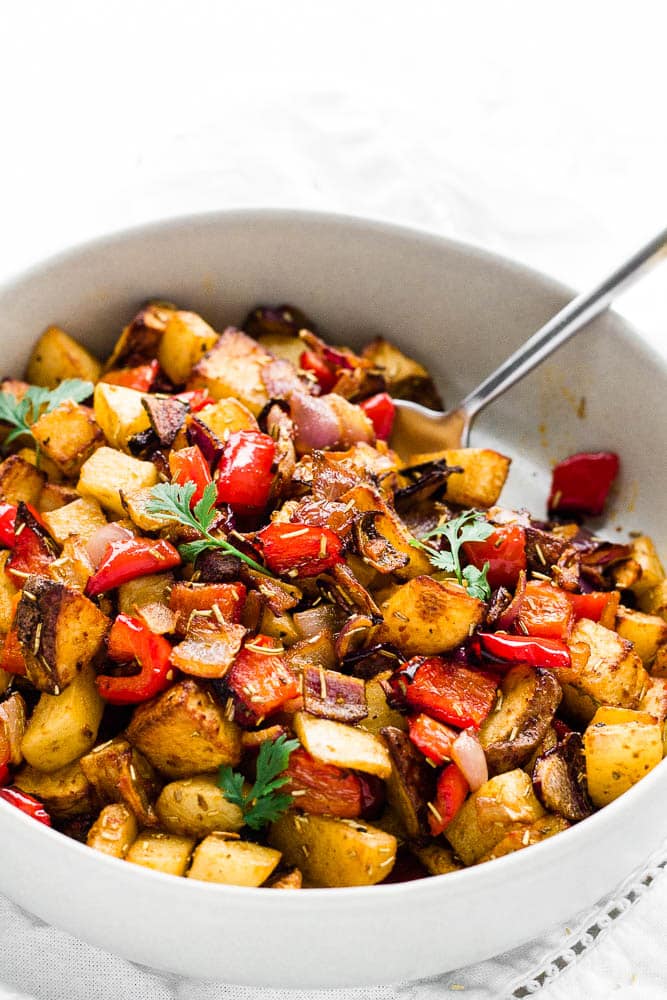 So, we can all agree that breakfast potatoes are awesome but is there anything worse than actually cooking them? Trying to get them cooked all the way through, keeping them crispy not soggy, this mission is well beyond my capabilities at breakfast / brunch time. I will just… never, ever make them.
The air fryer really does rescue the day with this one. Hands off, except for some drawer shaking, and definitely healthier because I am not constantly adding more oil to the pan trying to make sure nothing sticks.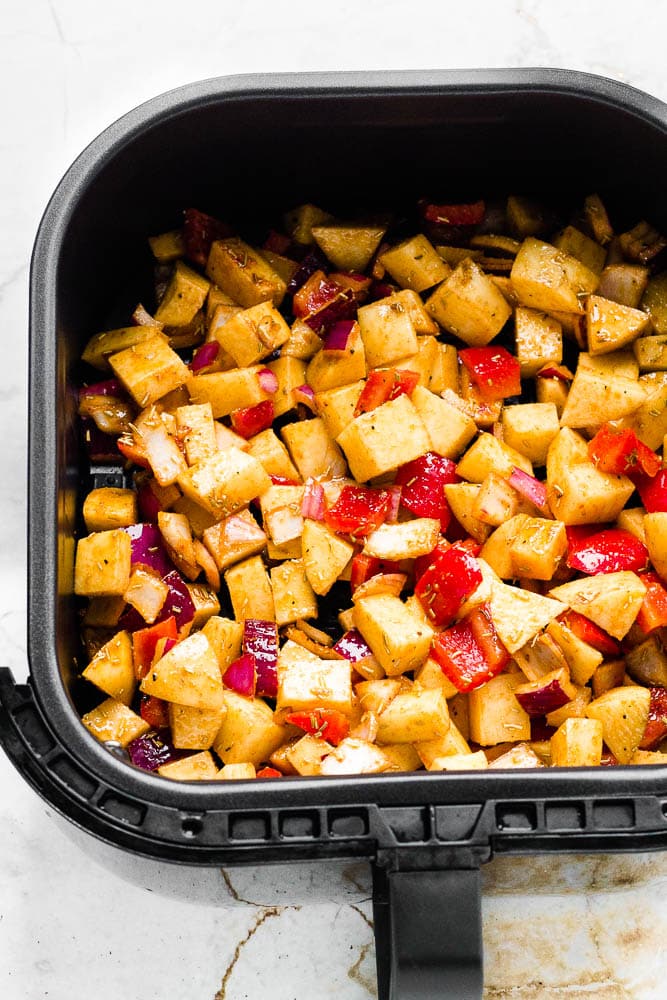 What I love most about this recipe is the inclusion of the onions and peppers which get super melty and caramelized while cooking alongside the potatoes.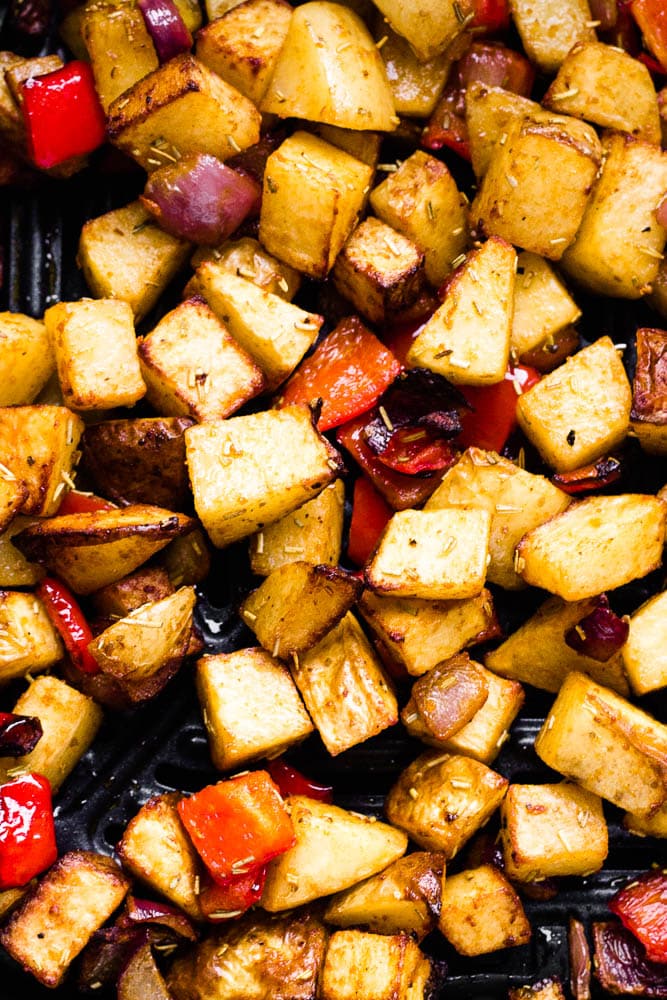 These potatoes can be made in any style or size of air fryer, with no accessories needed. I've tested them in a large air fryer with minimal overlap in the basket, as well as a small air fryer where they stack fairly high, and both work just fine!
Ingredient Notes
This is a pretty flexible one: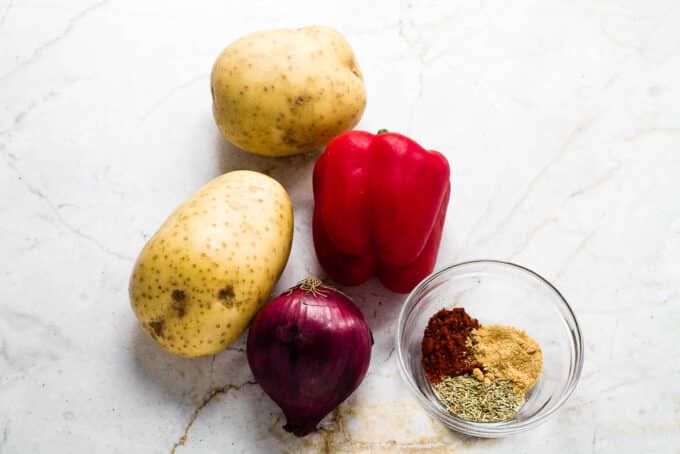 Potatoes: I use Maris Pipers, which are a good all-rounder kind of potato in the UK, but potato varieties vary around the world. In the US, a russet potato would work well. You can really use any potato in this recipe and have success, but sometimes the cook time will be longer for some varieties.
Peppers and onions: Any pepper, any onion will work just fine here. Use what you have, or what you like, and feel free to mix up the quantities. Adding a second bell pepper would be absolutely fine for example, if you have a red and a green wanting to be used up.
Seasonings: I am going for rosemary, garlic powder and smoked paprika because they're just my faves.
Oil: I use olive oil which holds up well at this heat. You can use anything you like. Since we are pre-coating the potatoes, peppers and onions in oil, you don't need a spray, but a spray oil would be a handy way to refresh the oil part way through cooking if you feel like the potatoes are getting too dry.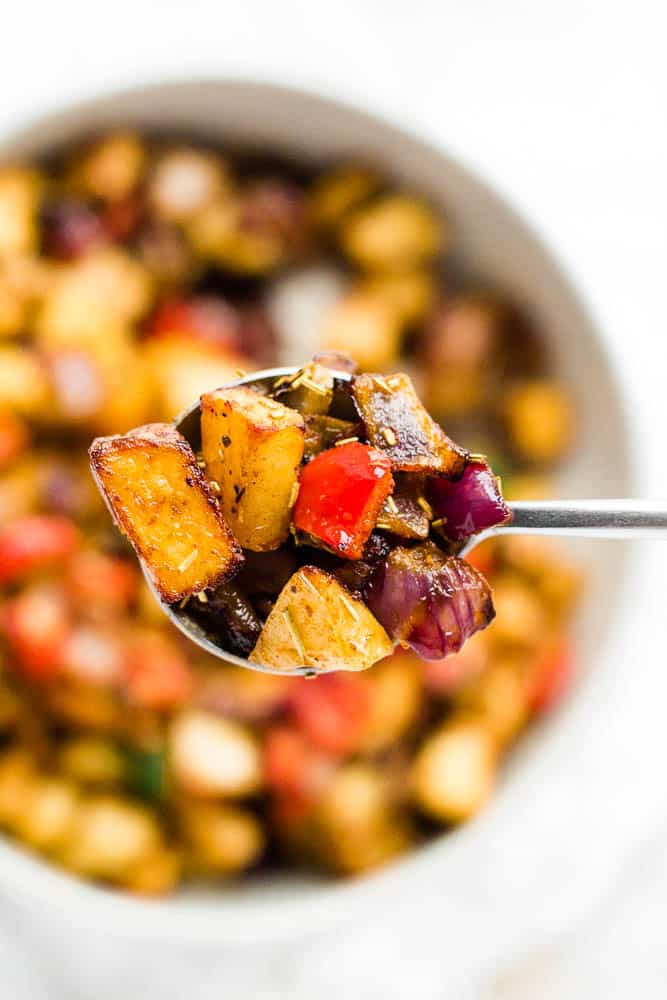 Top Tips
The main thing to say about any air fryer recipe is that different models, with their different sizes, basket styles and other factors, can give different results. So the first time you make this, just keep an eye on things.
The cook time I have given is 20-25 minutes and it will depend on the size you have chopped your potatoes as well as the type. You could go under or over that range if you chop your potatoes to a very different size.
You want to shake your basket a few times during cooking and just pay attention to how dry the potatoes are getting. You may want to drizzle or spray with additional oil. Some of this will depend on the air fryer you use and how much oil drips away (my Instant Vortex holds onto a little more oil than my old Philips Viva which has a fine grate for a cooking basket). Also, depending on your model, some bits of onion and pepper could fall through the bottom of the cooking basket so be sure to check for these!
I add the potatoes and veggies in at the same time. Some recipes would suggest you add the onions and peppers for just the last 10 minutes of cooking time. I've never found that necessary because I enjoy the extra crispy finish of very well done veggies. But this is personal preference so feel free to add them in stages if you think that is best, and certainly add them in stages if you go for much larger chunks of potato.
Other Air Fryer Recipes to Master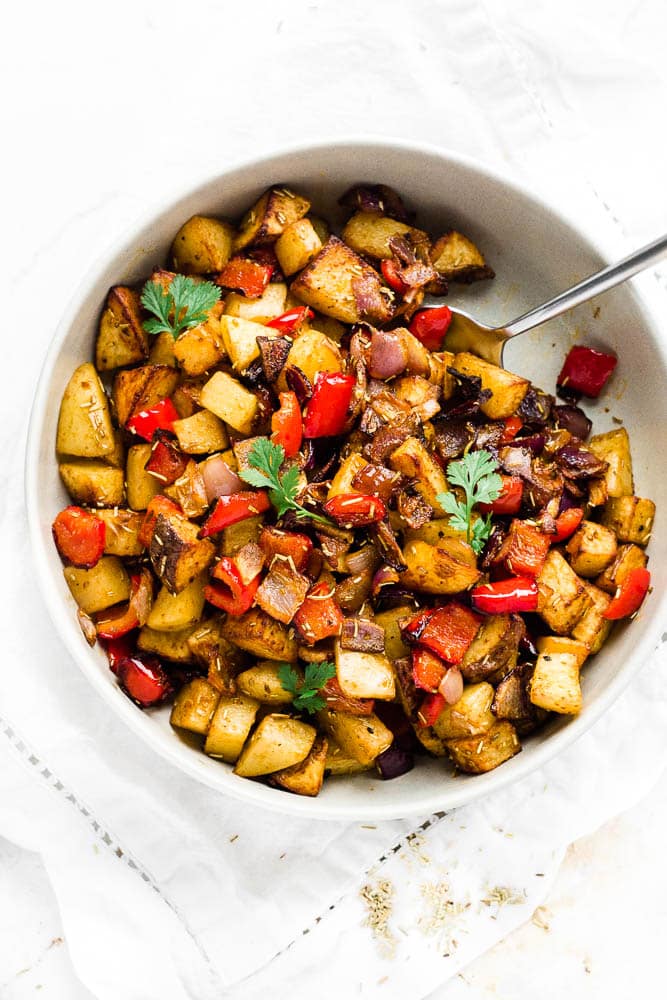 Variations and Other Ideas
If you're using a fairly large air fryer, don't hesitate to push the hash over to one side of the pan and cook some vegetarian sausages or other breakfast items alongside!
Mushrooms would be a delicious addition, and I would add the slices of mushrooms right alongside the other ingredients.
This recipe could be made with sweet potatoes, but the cook time would be less so just check in at the halfway point and see what you think.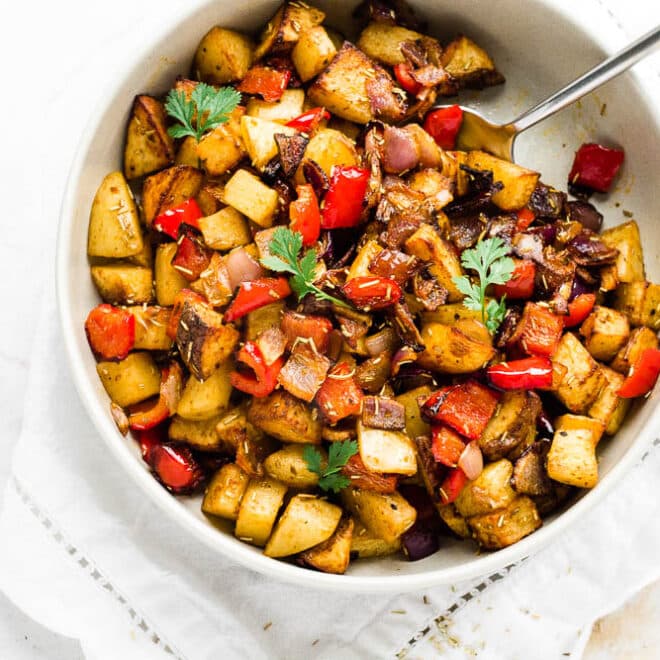 Air Fryer Breakfast Potatoes with Onions & Peppers
Making breakfast potatoes in the air fryer could not be simpler, and you will love how much effort it saves you! These potatoes are deliciously spiced with peppers and onions that cook until they are caramelized.
Ingredients
2 medium potatoes, chopped
1 bell pepper, chopped
1 small onion, chopped
2 tsps dried rosemary
1 tsp garlic powder
1 tsp smoked paprika
3 Tbsp olive oil
salt and pepper, to taste
Instructions
Preheat the air fryer to 180C / 360F.

In a large mixing bowl, add all ingredients and toss together to ensure that the potatoes and veggies are all nicely coated in seasoning.

Add directly into the air fryer basket and cook for 20-25 minutes, shaking 2-3 times during the cooking process, until the potatoes are soft in the middle.
Calories: 187kcal, Carbohydrates: 21g, Protein: 3g, Fat: 11g, Saturated Fat: 2g, Polyunsaturated Fat: 1g, Monounsaturated Fat: 8g, Sodium: 8mg, Potassium: 498mg, Fiber: 3g, Sugar: 2g, Vitamin A: 252IU, Vitamin C: 22mg, Calcium: 20mg, Iron: 1mg