Juicy, flavorful portobello mushroom burgers are a breeze to make in your air fryer! With a delicious garlicky marinade and melted cheese, these are incredibly satisfying vegetarian burgers.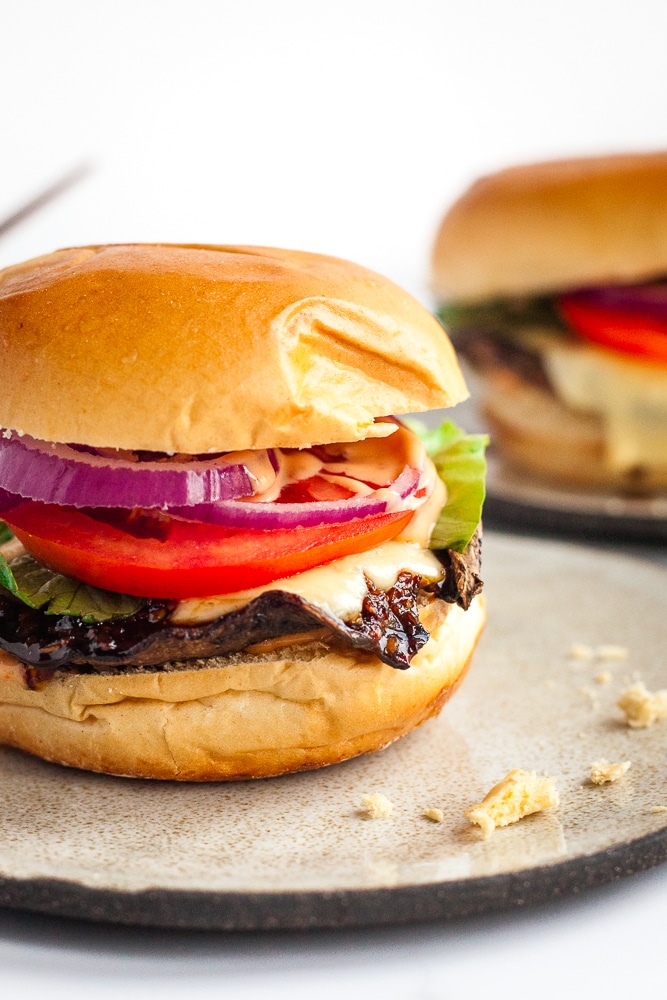 While I can't deny the brilliance of modern veggie burgers, I think a well made portobello mushroom burger can be even better. They're juicy, chewy, and the right marinade will give them a really deep umami flavor. They are easy to serve to people with allergies, or to people who don't like the idea of "fake" meat products… though if you're dealing with a 'shroom hater I can't help you there.
(Well, actually, I can – make these Halloumi Burgers instead!)
My portobello burger recipe has really big flavor, with loads of garlic, a balsamic soy marinade, melted cheese and a flavorful sauce. As you can see in the photos, the mushroom burger isn't very bulky – it shrinks down when it cooks and it doesn't take up as much space as a real burger. But by cramming lots of strong flavor in there, and keeping it really juicy (enough for it to be drippy), it definitely holds it own.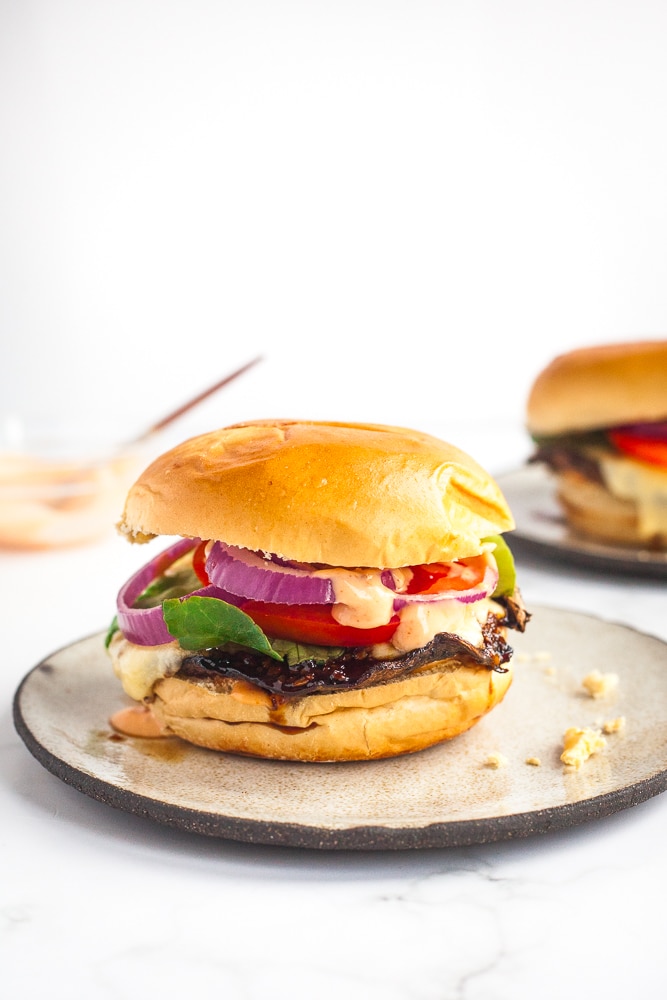 Making these burgers in the air fryer is as simple as can be. There's no need to fire up the grill, no mess from pan frying, and it's a hands off process that makes burger night so easy. If you have a dual zone air fryer, you can even prepare your fries at the same time.
Ingredients & Toppings: What You Need to Know
Keep scrolling for the full printable recipe, but I'm just going to take a moment to show you how I like to build my mushroom burgers and give you some options!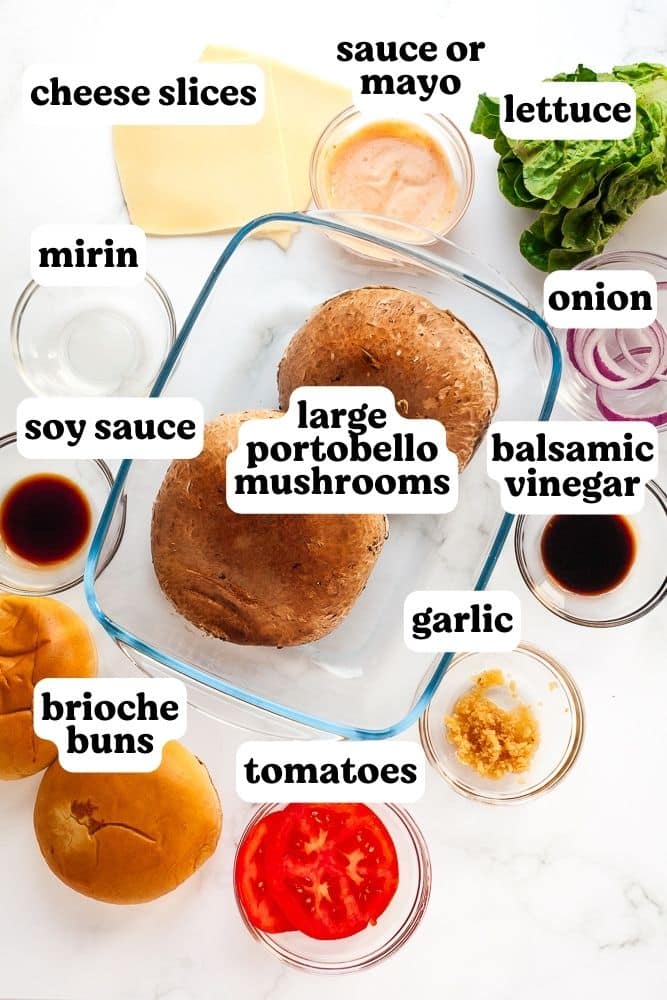 You want the largest portobello mushrooms you can get your hands on. Note that they will reduce in size in the air fryer, so you want them bigger than the buns to start with.
The marinade is made from balsamic vinegar, soy sauce or tamari and mirin. Not only does the marinade keep the mushroom extra juicy, it really helps to enhance its flavor. If you don't have any mirin, you could use sherry, sake or just swap in a sweetener such as honey or maple syrup.
I also use an entire tablespoon of chopped garlic. For this recipe I actually prefer to use the ready chopped garlic that comes in a jar (no one is more shocked by this than me!). The one I use is stored in vinegar and has a slightly tangy to edge to it which works well here. But obviously, using fresh garlic is never wrong.
I add sliced cheese to the burger for the last couple minutes of cooking time so that it melts on. I've used gouda but it can be anything – a smoked cheese slice would be epic. If you want this burger to be vegan, go ahead and choose a vegan cheese that you enjoy – these days there are some pretty convincing non-dairy cheese slices for burgers on the market!
For the mayo sauce, I am going to give you some options. You want about 2 tablespoons of mayo and then I highly recommend that you just mix in 1-2 teaspoons of harissa, sweet chili sauce or pesto. OR a few drops of truffle oil. I've made it all of these ways, and they all work. Alternatively, if you have a sauce you like and it's sitting in your fridge – go for it.
I love a brioche bun for these burgers, but you can use anything.
We round off our toppings with the classic lettuce, tomato and onion. You can go fancy with a mound of arugula (rocket) if you prefer.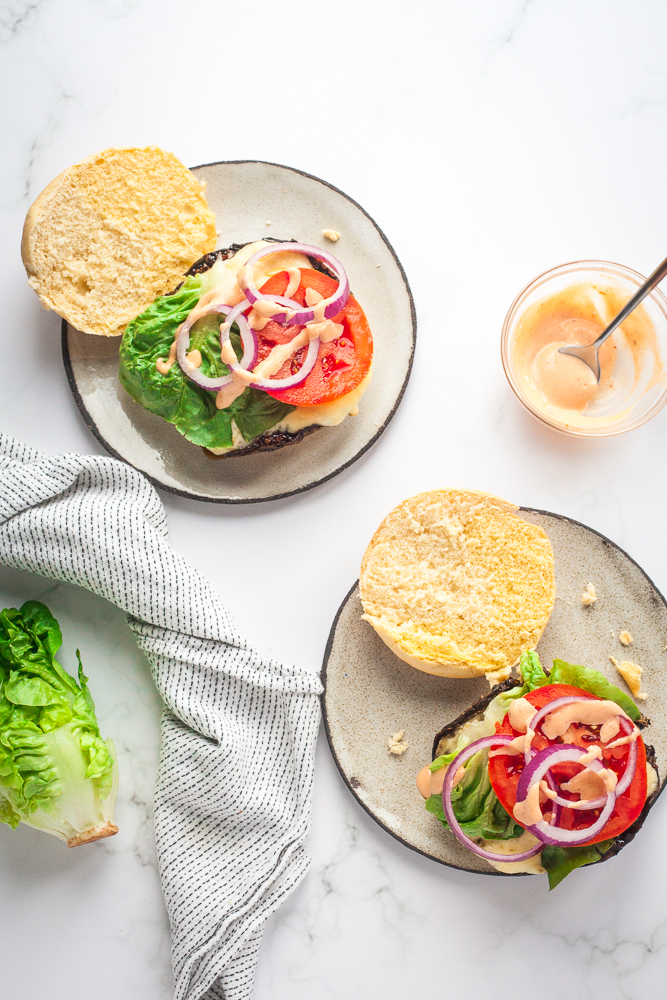 Air Frying Portobello Mushrooms: Top Tips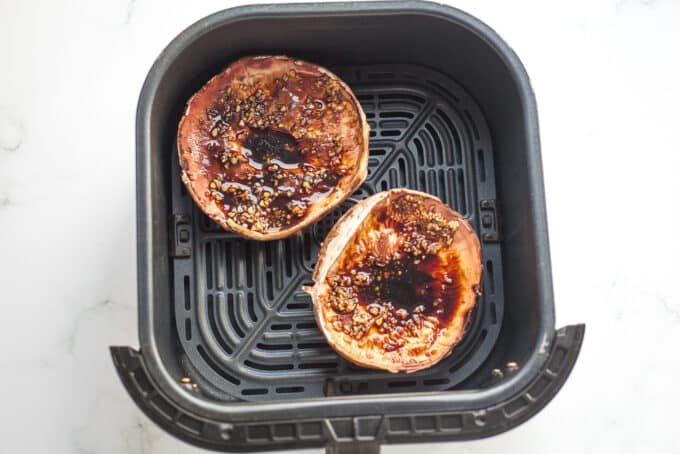 I tested this recipe in an Instant Vortex. Lately, so many air fryers of varying sizes and style are coming to the market, you should always expect variation in cook times to be possible. Use mine as a guide and check in regularly. The size of your mushrooms will cause variation too.
If you're wondering whether you need to flip your mushroom burgers during their cooking time – it's a NOPE. We don't want the marinade dripping off! The air fryer is designed to cook things evenly, so don't worry about it.
Definitely do not use a liner for your air fryer basket. The mushrooms will leach out so much liquid during their cooking time, if it's not able to drip down through the grates the mushrooms will just kind of boil in their own juices… it won't be great.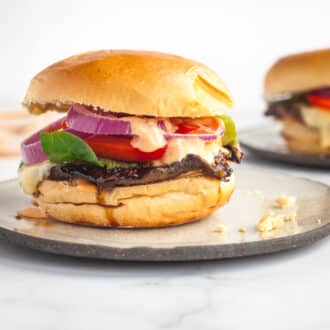 Air Fryer Portobello Mushroom Burgers
Juicy, flavorful portobello mushroom burgers are a breeze to make in your air fryer! With a delicious garlicky marinade and melted cheese, these are incredibly satisfying vegetarian burgers.
Ingredients
2 portobello mushrooms
olive oil, for brushing
1 tbsp balsamic vinegar
1 tbsp soy sauce
2 tsp mirin
1 tbsp chopped garlic
2 slices cheese
For serving
2 burger buns
2 lettuce leaves
2-4 tomato slices
4-6 red onion slices
2 tbsp mayonnaise , add some harissa, sweet chili sauce or pesto for flavor
Instructions
Preheat the air fryer to 390F / 200C while you prepare the mushrooms.

Remove the stem and scrape the gills from your mushroom caps.

2 portobello mushrooms

Turn over and lightly brush the bottoms with olive oil oil.

olive oil

Turn back over and sprinkle the garlic over each cap.

1 tbsp chopped garlic

Whisk together the balsamic vinegar, soy sauce and mirin. Pour that over each cap.

1 tbsp balsamic vinegar, 1 tbsp soy sauce, 2 tsp mirin

Place in the air fryer, cap side up, and cook for 7-8 minutes, or until the mushrooms are reduced and browned.

Add a slice of cheese to the top of each and air fry for an additional 2-3 minutes until the cheese is melted.

2 slices cheese

Place each mushroom on a bun, add toppings and sauce. Serve immediately.

2 burger buns, 2 lettuce leaves, 2-4 tomato slices, 4-6 red onion slices, 2 tbsp mayonnaise
Calories: 413kcal, Carbohydrates: 35g, Protein: 15g, Fat: 24g, Saturated Fat: 8g, Polyunsaturated Fat: 8g, Monounsaturated Fat: 6g, Trans Fat: 0.03g, Cholesterol: 34mg, Sodium: 1045mg, Potassium: 578mg, Fiber: 3g, Sugar: 10g, Vitamin A: 2293IU, Vitamin C: 12mg, Calcium: 293mg, Iron: 3mg