This tasty broccoli pasta benefits from handfuls of melty gruyere cheese! You will love the simplicity of this recipe and how it makes a delicious meal from very few ingredients.
Gruyere cheese lovers, this is your lucky day! Today we're going to make a meal of it, combining it with pasta and lemony garlicky broccoli, for an easy 30 minute meal.
Gruyere is just fabulous, with its delightful melting qualities and its nutty umami flavor. And while it can be bit of a splurge item, this recipe will absolutely make the most of it, letting you enjoy it to the full. And the remaining ingredients can be very inexpensive, bringing down the cost per serving.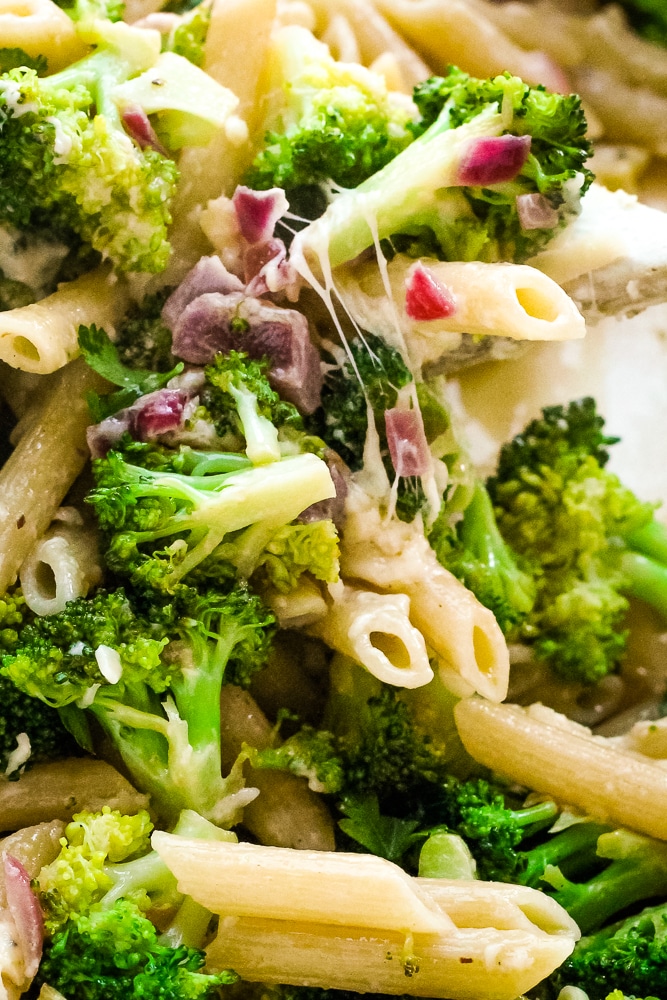 Broccoli pairs well with gruyere (with any cheese, to be fair) and in this recipe I have kept the ratio fairly high, so it's not tooooo much of a refined carb overload and we get some of the bulk from this super nutritious vegetable.
This is an 8 Ingredient Meal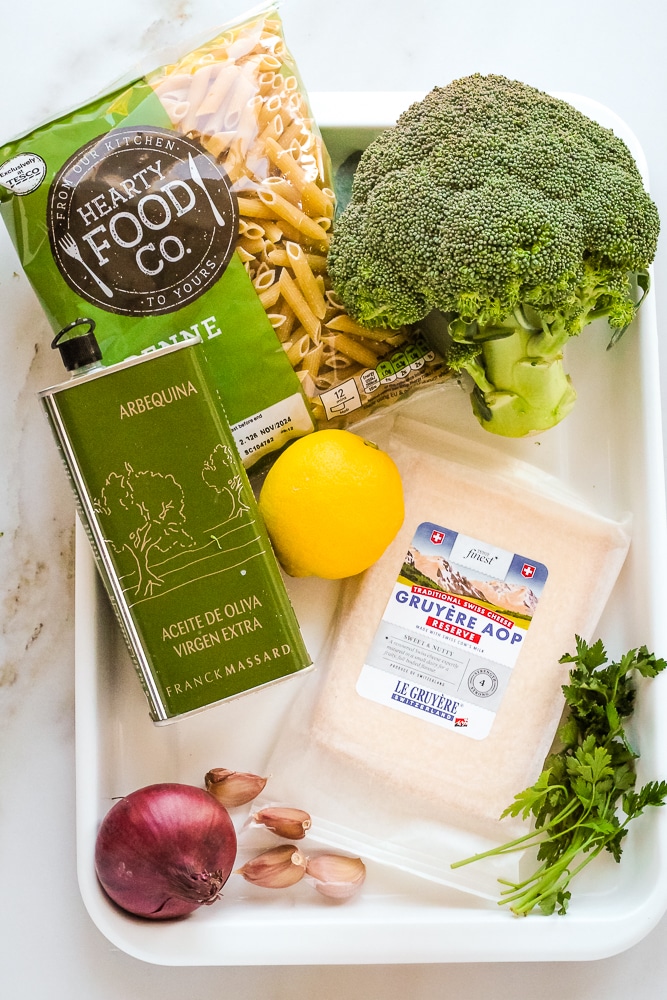 Eight is a good number! Not enough to overwhelm, not so little that you can't make something incredibly tasty from scratch.
Your shopping notes:
Broccoli : You just want one medium sized head of broccoli and you will use the florets. If you're buying ready chopped broccoli, you want around 3 cups of florets.
Red onion: or shallots.
Garlic: I'm saying 4 cloves, but you do what you think is right.
Lemon: The juice of a lemon really brightens up the broccoli and is nice squeezed over the top of the pasta too. Lemon lovers could also grate a little zest into the end dish.
Gruyere: feel free to try this with Comte or another Swiss cheese, but if you're using something more mild such as Edam or Emmental you may want to add some parmesan style cheese as well just to make sure it has enough flavor.
Parsley: An optional garnish for those who love to add fresh herbs, but not a deal breaker.
Extra virgin olive oil: I am fairly heavy handed with the olive oil here, because there is no traditional sauce.
Pasta: I've gone for penne but this works well with any short pasta shape. Farfalle, conchiglie, rigatoni, all good.
This is a 30 minute stovetop meal
So long as you have everything prepped before you start cooking, the broccoli can be cooked at the same as the pasta, making this a fairly quick dinner to put together, about 30 minutes of active time.
While the pasta boils you'll saute your onion and garlic, then add your broccoli, then add the cooked pasta and the gruyere cheese. Mix it all together and it's ready to serve.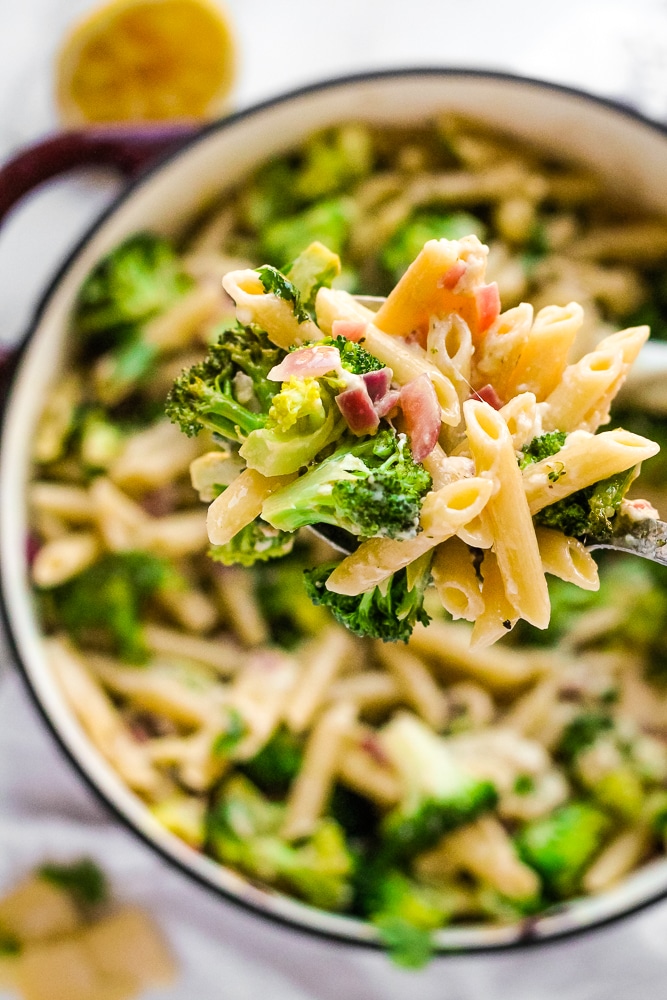 More Recipes with Gruyere
Broccoli Gruyere Pasta
This tasty broccoli pasta benefits from handfuls of melty gruyere cheese! You will love the simplicity of this recipe and how it makes a delicious meal from very few ingredients.
Ingredients
9 oz (250 g) dry pasta, short shapes such as penne, farfalle, conchiligle work best
1 head broccoli, florets
1 red onion, finely diced
2 cloves garlic
7 oz (200 g) gruyere cheese, grated
1 lemon
olive oil, for cooking – see notes
salt and pepper, to taste
1 handful parsley, for garnish – optional
Instructions
Start boiling your pasta according to package instructions.

Meanwhile, heat a layer of olive oil in a wide pan (either a large casserole dish or deep frying pan work well). Saute the onion until it's just starting to soften. Add the garlic and saute just for a few moments, until the fragrance is starting to come out.

Add the broccoli florets to the pan alongside another pour of olive oil to ensure the pan does not get dry. Saute until they are starting to soften and then squeeze in the lemon juice, stirring until it's been absorbed into the broccoli florets. The broccoli should be bright green and fairly soft but al dente. You can keep cooking a little longer if you'd prefer much softer broccoli.

When the pasta is ready, drain it and add to the pan with the broccoli.

Remove from the heat and add the gruyere. Mix through and it should start to melt through the pasta (if it doesn't, put a very low heat back on). Add additional olive oil if desired, salt and pepper to taste.

Finally add a handful of parsley (if using) and squeeze out any additional lemon juice you can over the top of the pasta. You can also add a few pinches of lemon zest if you wish. Serve!
Notes
Olive oil quantity – this will vary depending on how heavy handed you are. I tend not to measure the oil, and just add as much as I want to stop it feeling dry, but no more. The nutritional information is based on using 1/3rd of a cup of olive oil (80ml). You could easily use less, but you may wish to add some pasta cooking water to the final dish to stop it being too dry. 
Calories: 638kcal, Carbohydrates: 56g, Protein: 25g, Fat: 35g, Saturated Fat: 12g, Polyunsaturated Fat: 3g, Monounsaturated Fat: 18g, Cholesterol: 55mg, Sodium: 383mg, Potassium: 458mg, Fiber: 4g, Sugar: 4g, Vitamin A: 981IU, Vitamin C: 68mg, Calcium: 558mg, Iron: 2mg