This easy paneer curry is quick and flavorful, using simple supermarket ingredients to create a delicious protein packed vegetarian dinner! This is a adaptable recipe that you can fit to your own spice preferences, make it vegan with tofu, or change around the beans – it's delicious every time!
This recipe was re-written and re-published in November 2023. You can find details of the changes to the recipe, and a link to the original recipe here.
Introducing my favorite easy curry recipe
File this one under "weeknight dinner winner" because it's the meal you deserve after a long day, but it's not too labor intensive for you. You're chopping, you're opening cans, you're pan frying, you're simmering… but the timelines and ingredients are flexible and no real precision is required..
I love this curry with pan fried paneer and kidney beans, but as long as you have a protein of some kind and a can of beans, you can make it what you want. The sauce is dairy free, so by using tofu or vegan chicken chunks, this can easily be vegan too.
Ingredient Tips & Substitutions
Paneer Cheese: I love this firm, fry-able cheese in Indian cuisine, though depending on where you are in the world it may not be an easy supermarket staple for you. If that is the case, you can use another vegetarian protein such as tofu (pressed and marinaded), halloumi, or meatless chicken style pieces. I pan fry the paneer before adding it to the curry, and it's definitely better to do this but you don't have to.
Kidneys beans: A can of kidney beans is my fave here. I love the texture of them in curry, firm enough not to melt into the sauce but creamy enough to be, well, creamy. You can of course use another bean if you wish.
Coconut milk: Ideally not the light stuff, but it won't be a deal breaker. Your curry will just be a little runnier.
Onion, garlic and ginger: Because of course. This is quite heavy on the ginger, so feel free to reduce it to 1-2 teaspoons if you don't want it too gingery.
Tomato paste (known as tomato puree in the UK): Adds a tomato base and acts as a thickener for the sauce. I add some sugar to the sauce to counter the acidity these might bring. If you want to use a can of tomatoes instead, feel free, this will yield more sauce and the sauce will be runnier, but it works OK.
Vegetable broth / stock: This adds some nice background flavor to the sauce.
Curry powder and garam masala: Our main spices. I like a sweet curry powder here and I am using a kashmini blend, but you can use whatever you want.
Cumin seeds and fennel seeds. These weren't in my original version of this recipe, so if you don't want to use them, you certainly don't have to, but it is undoubtedly better with them in. Once you get used to crushing some seeds when you get started on a curry, you can't really dial it back.
Chili powder and smoked paprika for smokiness and heat. The ratios are up to you, I am going for 1 teaspoon of smoked paprika and 1/2 teaspoon of chili powder because my chili powder is pretty hot. If yours is milder, swap the ratios or skip the smoked paprika and use 1.5 teaspoons of chili powder. You can also leave this out for a super mild sauce.
A squeeze of fresh lemon juice at the end is a lovely addition, brightening up the flavor. Some chopped cilantro (fresh coriander) also makes a lovely topping, or can be mixed into the sauce at the end for a more infused flavor.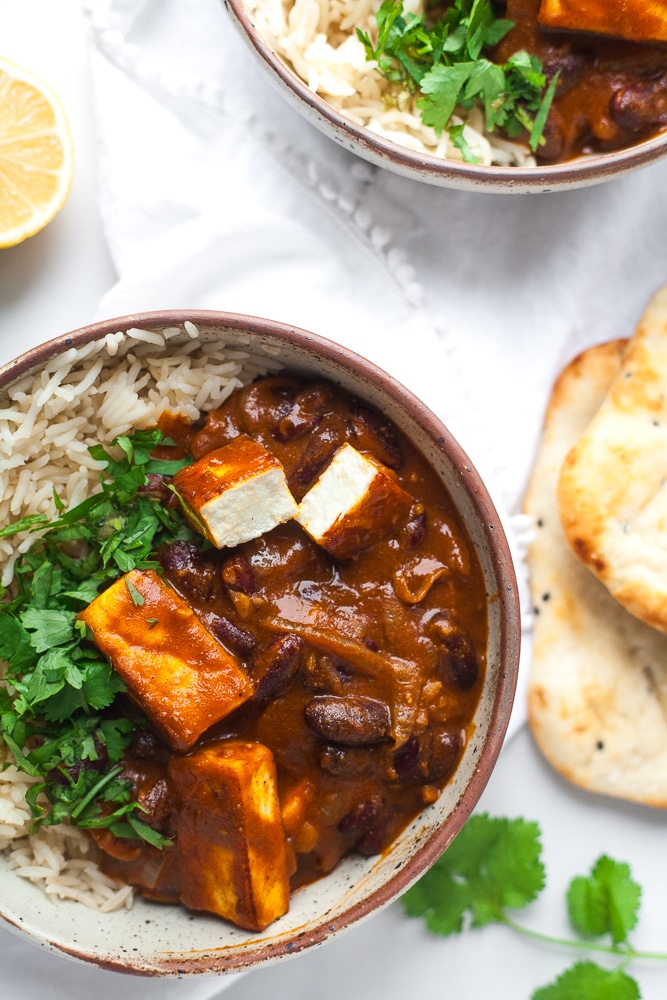 On Pan Frying Paneer
You can throw your paneer in straight from the package if you like a soft, squidgy paneer. But for me… paneer was just made to be fried. Like halloumi, it's a cheese that doesn't melt and gets crispy on the outside and is delightful. Some tips:
Paneer likes to spit oil at you when you're frying it so just… keep your distance as best you can and watch for it.
You want to pan fry for 1-2 minutes per side. But you don't have to be super precise about hitting every side of every chunk of paneer. Just keep them moving and accept that some sides will stay soft and some sides will get over crispy, and it's really just fine.
If this sounds like a terrible time to you, and you have an air fryer in the cupboard, well you're in luck because air frying paneer is easy. Just toss the cubes in olive oil to coat, then air fry for up to 10 minutes at 200C / 390F, making sure to shake the basket a few times.
Serving Suggestion
Nine times out of ten, I would be pairing this with some microwave rice and calling it a day. But if you're looking to spend a little extra time making your curry night just perfect, I would highly recommend a Lemon Cashew Rice and my Best Easy Dal Recipe to go alongside.
More Fun with Paneer
Paneer is much loved around here, and is endlessly versatile! If you are a fan of paneer, check out these other ways to use it that you may never have thought of: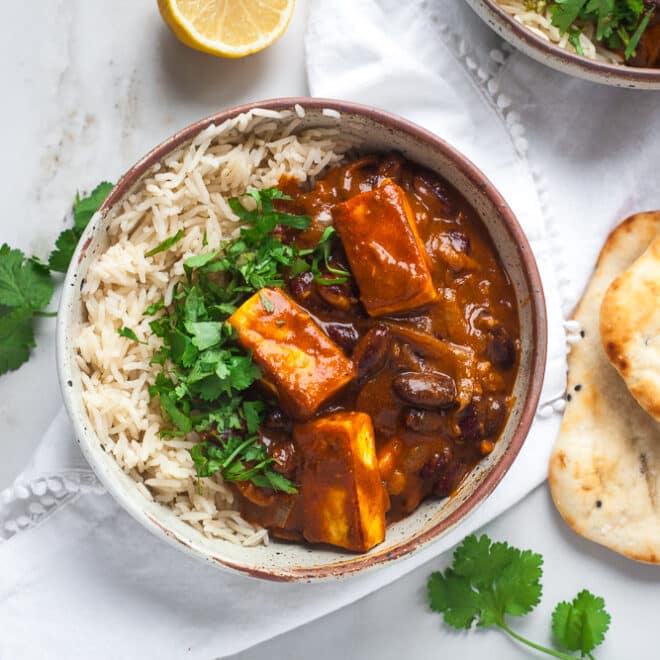 Paneer, Kidney Bean & Coconut Curry
This easy paneer curry is quick and flavorful, using simple supermarket ingredients to create a delicious protein packed vegetarian dinner! This is a adaptable recipe that you can fit to your own spice preferences, make it vegan with tofu, or change around the beans – it's delicious every time!
Ingredients
1 small onion, sliced
3 cloves garlic, minced
1 Tbsp ginger, minced
½ tsp fennel seeds, lightly crushed
½ tsp cumin seeds, lightly crushed
1 tsp smoked paprika
½ tsp chili powder or cayenne, optional – leave this out to keep the curry mild
2 Tbsp curry powder
1 Tbsp garam masala
3 tbsp tomato paste , known as tomato puree in the UK
1 tsp sugar
14 oz (400 g) canned coconut milk
14 oz (400 g) canned kidney beans, drained
1 cup (240 ml) vegetable broth
8 oz (225 g) paneer cheese, cubed
½ lemon
1 small bunch cilantro, chopped
Instructions
In a large, deep saucepan or skillet, heat a layer of olive oil or butter and saute your onions over a low heat for around 10 minutes, until they are starting to brown and caramelise.

1 small onion

Add the garlic, ginger, fennel seeds and cumin seeds to the pan and saute for another couple of minutes until all of the fragrances have come out.

3 cloves garlic, 1 Tbsp ginger, 1/2 tsp fennel seeds, 1/2 tsp cumin seeds

Add the curry powder, garam masala, smoked paprika and chili powder (if using). Mix through for a few seconds until fragrant, and then immediately move on to the next step – we don't want the spices to burn.

1/2 tsp chili powder or cayenne, 2 Tbsp curry powder, 1 Tbsp garam masala, 1 tsp smoked paprika

Add the tomato paste and sugar, then stir to get all of the spices mixed in with the tomato paste. You may want to add another splash of oil or pat of butter at this point if the pan seems dry.

3 tbsp tomato paste, 1 tsp sugar

Add the coconut milk and vegetable broth to the pan, stirring constantly until a consistent sauce has formed. Sometimes the tomato paste may be a little lumpy here – if this happens, you can mix briefly with a whisk to ensure it all emulsifies nicely.

14 oz canned coconut milk, 1 cup vegetable broth

Add the kidney beans to the pan and allow the sauce to simmer for around 15 minutes, until it's reduced and thickened to your liking. You can use a wooden spoon to mash some of the beans into the sauce if you wish, but it's not essential. In the batch photographed I left them all whole.

14 oz canned kidney beans

Once you're happy with your sauce, remove it from the heat and let it sit while you pan fry your paneer. Heat a thin layer of oil in a frying or grill pan, then fry for 1-2 minutes on each side until golden. Pan frying is optional – you can put the paneer in straight from the packet if you wish.

8 oz paneer cheese

Add the paneer to the sauce, squeeze in the lemon juice and mix it all together.

1/2 lemon

Serve immediately, with rice and/or naan, and chopped cilantro (fresh coriander) for topping.

1 small bunch cilantro
Notes
If you have the time, go ahead and cook this curry for a longer period of time. It will always taste a little better with more cooking time. This is a very MILD recipe. The dominant flavors are tomato and coconut, with just a hint of those beautiful spices. To build up your flavor and/or heat, just add more of the spices, use hot curry powder if preferred (maybe double or triple the amount), add chili powder or minced fresh chili. Tomato paste is known as tomato puree in the UK. If you'd like less tomato and more coconut flavour, leave out the canned tomatoes and just use the paste.
Calories: 520kcal, Carbohydrates: 31g, Protein: 17g, Fat: 39g, Saturated Fat: 30g, Polyunsaturated Fat: 1g, Monounsaturated Fat: 1g, Cholesterol: 37mg, Sodium: 619mg, Potassium: 763mg, Fiber: 10g, Sugar: 9g, Vitamin A: 723IU, Vitamin C: 11mg, Calcium: 352mg, Iron: 5mg
2018 —> 2023 Update
Click here for a printable version of the original 2018 recipe.
I've pivoted away from this being intended as a super mild child friendly curry and adapted it more to my current tastes, while retaining its easy method. The main changes to the recipe are:
Big increase in spices! Including the addition of chili powder for heat, fennel and cumin seeds, and a boost to the curry powder and garam masala.
Instead of canned tomatoes, we use a little more tomato paste and then add some vegetable stock to the sauce for extra flavor. It's a little less tomato-heavy but I prefer this smooth creamy sauce.