A deliciously spiced pan of eggs in a rich tomato sauce, with the addition of fried halloumi. We take a classic easy vegetarian recipe and add a twist or two! If you love Middle Eastern flavors, you will love what we've done with this Shakshuka recipe.
So my take on Shakshuka features halloumi, is anyone surprised?
Didn't think so. We love the squeaky cheese oh so much, and it fits in perfectly here.
Shakshuka has you covered for breakfast, brunch or dinner, and is the kind of thing you will often find yourself having all the ingredients on hand for, without needing to make special plans. So it's an important recipe to master for any vegetarian cook.
And once you know it, there are many, many spins you can put on it. And this is mine!
This recipe takes inspiration from Shakshuka but it does break with tradition in many ways, not just the addition of halloumi to the top but a few other fun additions which, while optional, make it unique. Let's discuss.
Ingredient Notes
Consider these ingredients essential:
Eggs
Bell peppers (red, yellow or orange)
A can of diced or chopped tomatoes (just one can – I do make this a little less saucy than some other recipes – but get the highest quality tomatoes in your budget)
Spices! Cumin seeds, smoked paprika and allspice. We use a pretty high ratio of spices to sauce, to make it really tasty.
Halloumi. You wouldn't be here otherwise!
Fresh chopped coriander (cilantro). Adds a freshness that you will appreciate.
Those on their own will make a decent halloumi shakshuka, but for me this really took shape when extra toppings got involved.
I know that some of you are here right now because you have eggs and halloumi in your fridge and can't necessarily go shopping for extra random ingredients, and that is fine. Ignore the remaining ingredients if you must, though you may find you already have them anyway. We'll call them optional, but highly recommended:
Dukkah (an Egyptian blend of spices and nuts) for sprinkling on top. This stuff is really good. Helps make every bite a little different. You can buy it in larger supermarkets or it's surprisingly easy to make.
Pomegranate molasses, for drizzling on the halloumi. Adds a sweet richness.
Lime, for zesting and squeezing.
A few mint leaves to put on top alongside the coriander (cilantro).
The Best Way to Add Halloumi to Shakshuka
I am a fan of grilling halloumi as a topping to dishes (which was the method used in my Smoky Tomato & Halloumi Bake as well as my Halloumi Tray Bake with Pesto Rice & Roasted Vegetables) which can keep everything nice and contained to one pot. But that just doesn't work here, because you don't want the eggs under the broiler. So we have to accept the cleaning of two dishes today and just fry the halloumi in a seperate pan, then add it to the top.
It is what it is.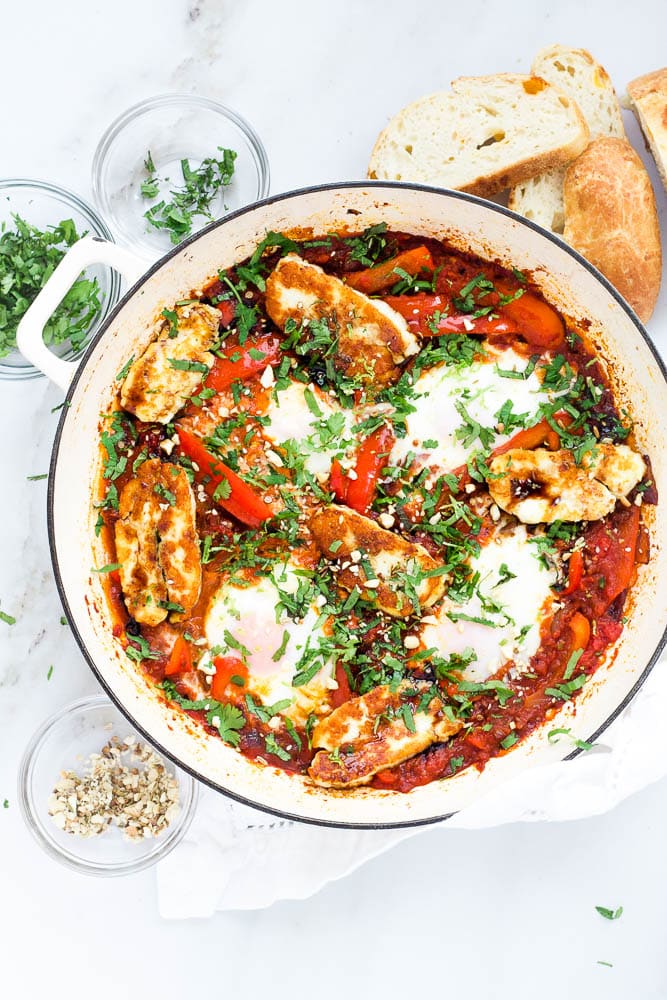 Serving Suggestions:
Shakshuka always pairs well with a big loaf of fresh bread, but I have some other thoughts:
If you want to make this a gluten free option you could try baked potatoes or sweet potatoes.
For a low carb option, you could just use double the amount of halloumi and you would be all set. Since it isn't super saucy anyway, the extra halloumi should give you enough surface area to use up that sauce without having lots of extra forkfuls of plain sauce.
It could pair well with a grain salad, try this Green Olive Grain Salad or even The Jennifer Aniston Salad Recipe.
If it's summer tomato season, don't hesitate to add some halved cherry tomatoes to the mix to give it a sweet, summery vibe. You'd put them in before adding the canned tomatoes, and just cook them 1-2 minutes to soften them up before adding the canned ones.
Halloumi Shakshuka
A deliciously spiced pan of eggs in a rich tomato sauce, with the addition of fried halloumi. We take a classic easy vegetarian recipe and add a twist or two! If you love Middle Eastern flavors, you will love what we've done with this Shakshuka recipe.
Ingredients
1 red onion, minced
2 red peppers, sliced
4 cloves garlic, crushed
2 tsp cumin seeds
1 Tbsp smoked paprika
¼ tsp allspice
400 g (14 oz) can of chopped tomatoes
4 eggs
6 slices halloumi cheese
1 handful fresh coriander (cilantro), chopped
6-8 mint leaves, chopped
1 Tbsp dukkah
pomegranate molasses, for drizzling
0.5 lime, zested and juiced
Instructions
Heat olive oil in a large, deep frying pan or casserole dish and saute the onions and peppers until soft. You can keep the peppers fairly distinct (as I have done in the photos) or cook for a while to get them melty and caramelized. The latter is tastier, but more time consuming. If you find the vegetables are sticking to the pan, deglaze with a little water or red wine.

1 red onion, 2 red peppers

Add the cumin seeds and garlic, and stir through the pan. Add the smoked paprika and allspice.

4 cloves garlic, 2 tsp cumin seeds, 1 Tbsp smoked paprika, 1/4 tsp allspice

Once the spices are mixed in well, add the tomatoes. Bring to a simmer. You can leave to cook for a while (this will allow the flavors to develop more) but if you're in a hurry, feel free to carry on with the recipe without delay.

400 g can of chopped tomatoes

Use a spatula or wooden spoon to push sauce aside and create four wells within the sauce.

Crack the eggs inside the well. Cover the pan if you have a lid for it, and let it simmer on a very gentle heat for 5-8 minutes.

4 eggs

Meanwhile, cook the halloumi. Heat oil in another frying pan and fry the halloumi slices until golden on each side, usually 1-2 minutes per side.

6 slices halloumi cheese

The shakshuka is ready once the eggs are cooked. The best way to test this is to gently press on the egg whites with a spatula, and once they are firm and set, you're good to go. Take off the heat straight away because you don't want to overcook the eggs.

Arrange the halloumi slices over the shakshuka.

Now sprinkle the fresh herbs and dukkah over the top.

1 handful fresh coriander (cilantro), 6-8 mint leaves, 1 Tbsp dukkah

Drizzle a little pomegranate molasses on top of the halloumi slices.

pomegranate molasses

Finish it off with a little zest of lime, and squeeze some juice over the top.

0.5 lime

Serve immediately.
Notes
Add a pinch or two of chili flakes if you'd like some heat in the sauce.
Calories: 479kcal, Carbohydrates: 36g, Protein: 31g, Fat: 26g, Saturated Fat: 14g, Polyunsaturated Fat: 3g, Monounsaturated Fat: 7g, Trans Fat: 0.04g, Cholesterol: 327mg, Sodium: 1154mg, Potassium: 1215mg, Fiber: 10g, Sugar: 18g, Vitamin A: 6519IU, Vitamin C: 183mg, Calcium: 815mg, Iron: 7mg