These crispy air fried potatoes from a can are quick to make (no parboiling!), made from cheap ingredients and endlessly versatile.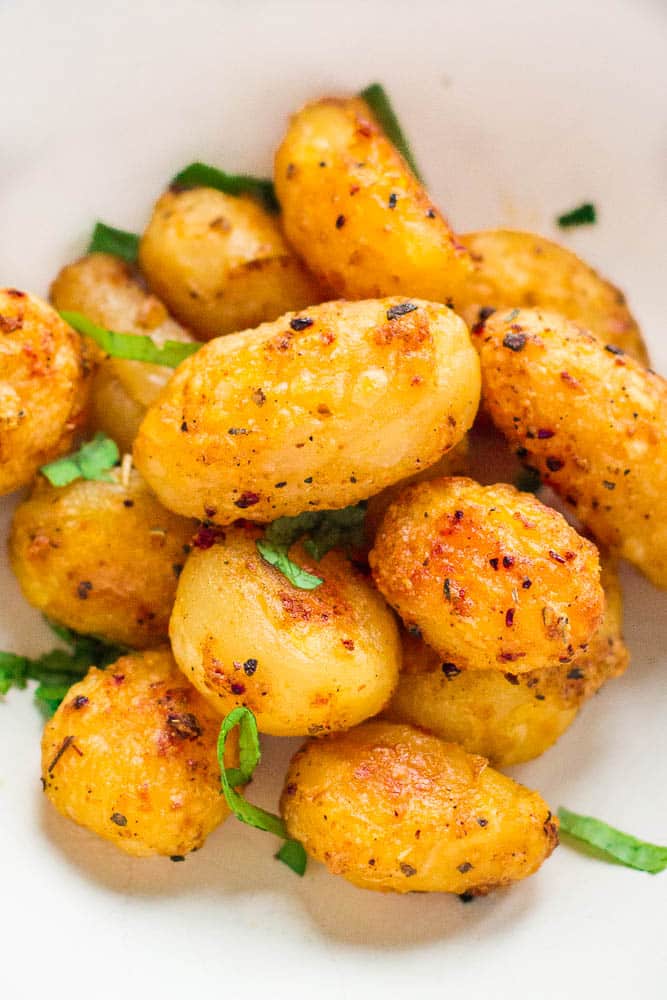 Lately I've seen the idea of air frying canned potatoes all over my social media, and the approach has lots of fans. Never one to ignore an air fryer trend, I decided it needed to be tried and mastered here.
Conclusion: All in all, this is a worthwhile dish to prepare when you're short on time and craving some crispy potatoes… but don't just dump them in and press START. You want your potatoes well seasoned, preferably floured, and you want to consider the surface you cook them on.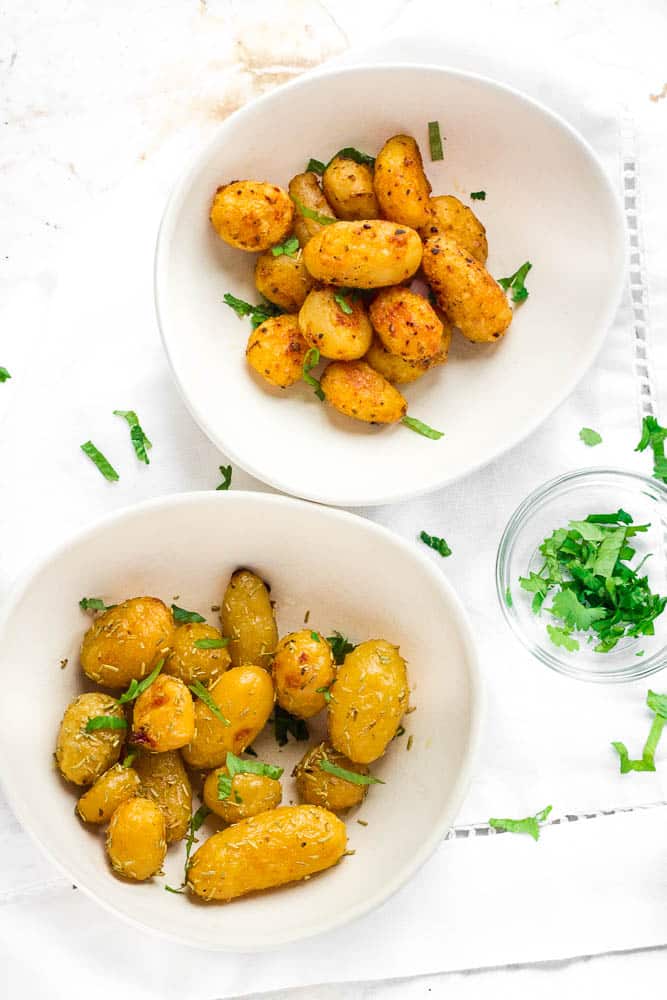 Why use canned potatoes?
Commercially canned potatoes aren't as tasty as freshly parboiled potatoes, I won't pretend they are. The texture is different and they can retain slightly more moisture than you're expecting from the inside of a potato. It was an adjustment for me, as someone who roasts and fries a lot of taters.
So it's a compromise, but the benefits are that they are inexpensive and save you time. No boiling! Your potatoes are already cooked so you're just needing to crisp them up. You are only turning on your air fryer, saving on electricity too.
I also have to consider the possibility that some of you wonderful humans are actually Bosses who have actually canned your own potatoes. You are the winners in this scenario.
This recipe works with any whole canned potatoes. The ones I have used are new potatoes and they are tiny, so I leave them whole. With larger potatoes I preferred to halve them. If you have canned potatoes that are cut into large pieces, that should be good too!
Flavoring your potatoes
In my experience, canned potatoes benefit a lot from being flavored so see what you have to work with.
My two favorite directions for these are
Dried rosemary + garlic powder
Cajun or taco seasoning
And lots of salt and pepper is always a good move too.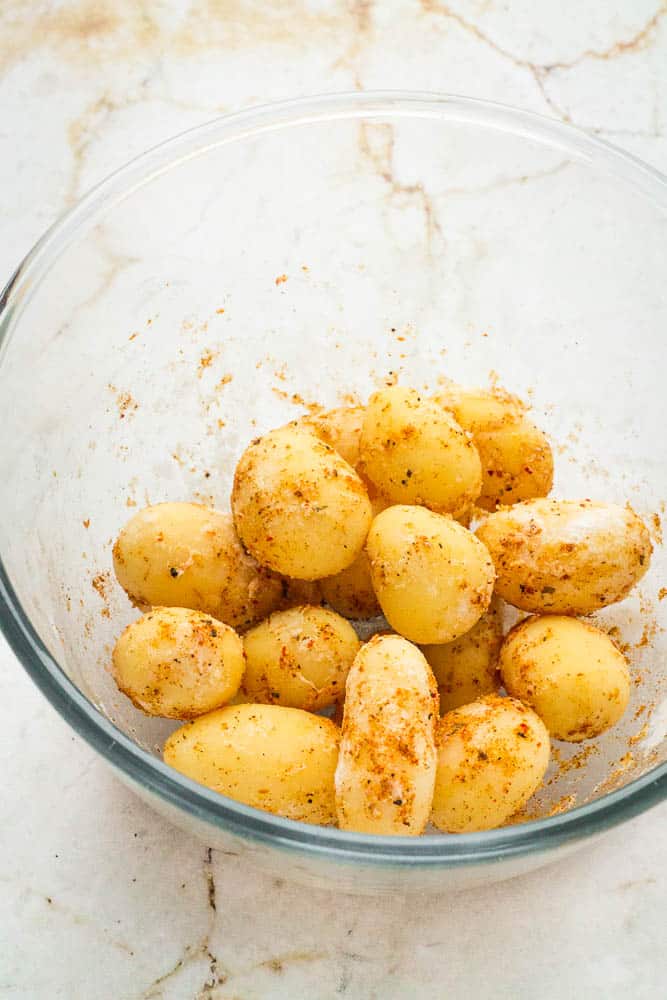 Make them extra crispy by flouring the potatoes
I personally prefer to dust the potatoes with flour before cooking. This makes them noticeably crispier and crunchier, as you can see here: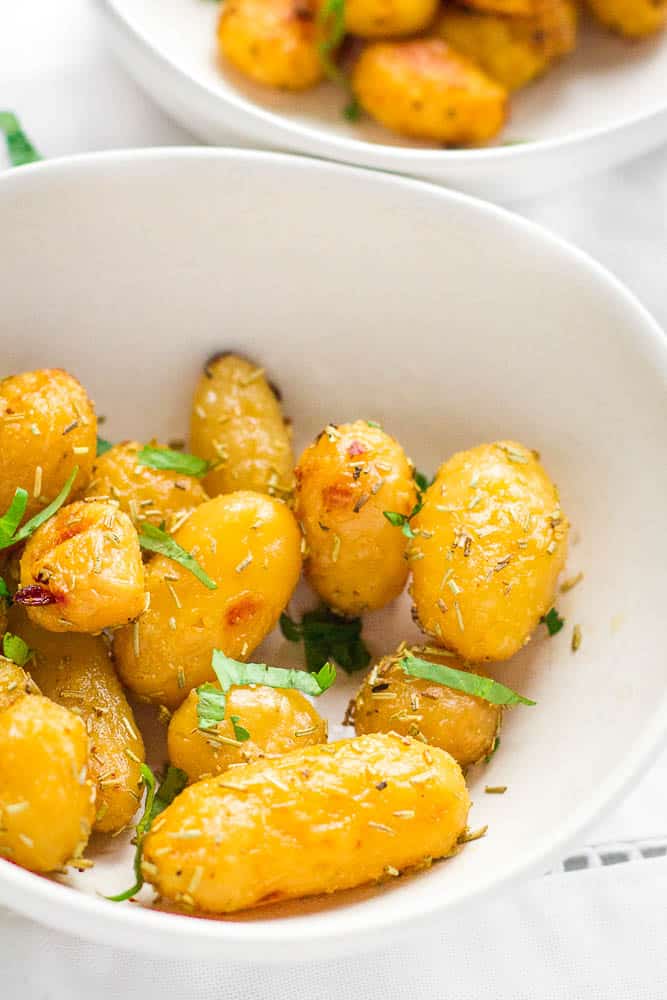 That said, your reason for air frying might be to reduce your oil consumption and flouring your potatoes makes them hold onto more oil – so that is your choice to make. Unfloured potatoes are still good, they still brown and form a little crispy layer, it's just not as pronounced.
Placing them directly on the air fryer basket versus using a small pan
Another decision to make is whether to place the potatoes directly onto the air fryer basket, or whether to use a small pan to cook them on. In my photo you can see I did half in the pan and half out.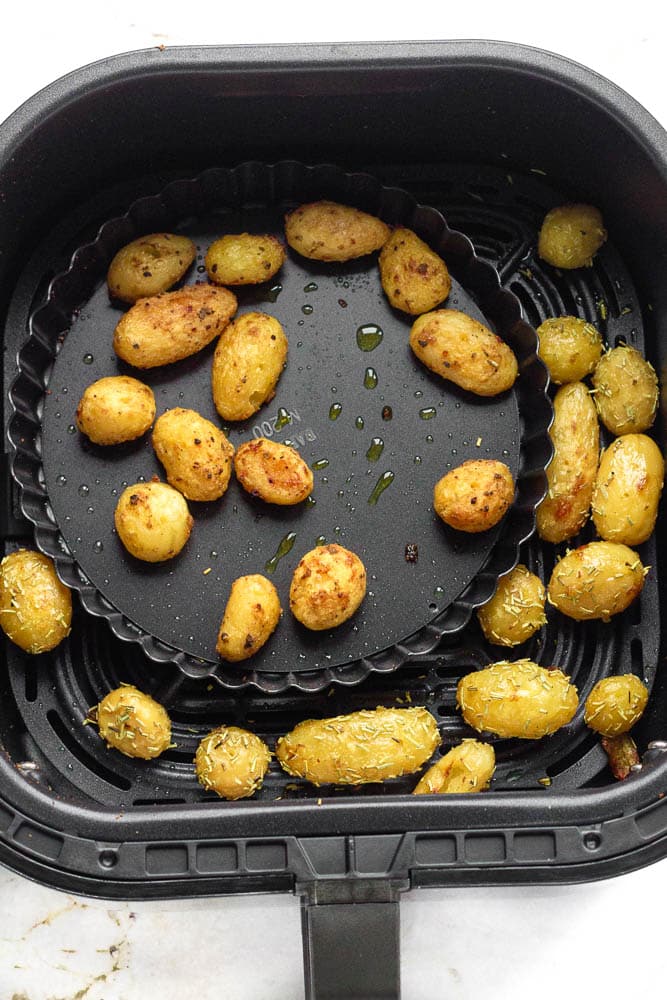 I prefer to use the pan for two reasons:
We keep more oil on the potatoes. Cooking in more oil keeps them a little richer and more crispy, though once again this may defeat the purpose of air frying in your mind, if oil reduction is a motivating factor.
We can avoid sticking. Potatoes sticking to the bottom of the air fryer basket can be an issue. But it really depends on the air fryer whether this will be an issue. There was no sticking in my Instant Vortex pictured. The bottom of this air fryer has thick lines and is well designed to discourage sticking. But I always encountered sticking when I tested this in my Philips Viva air fryer, which has a basket styled more like a deep fryer basket with much thinner grates. The thin grates allow more oil to drop out, and the potatoes would almost sink into the grates.
It doesn't have to be a pan, by the way – parchment paper designed for air fryers or a silicone mat are also good options to prevent sticking and reduce oil loss.
Important : Avoiding Exploding Potatoes 😬
So yeah… I have had some exploding potatoes while testing this recipe, but there's a simple solution – poke a few holes in the potatoes before you start cooking them!
Potatoes explode when the steam from cooking builds inside and has nowhere to go. Usually, small chunks of potatoes wouldn't need holes poked in them but my assumption is that the additional water content in the canned potatoes can generate more steam than a fresh potato would. This can become trapped when our outer layer starts to crisp up and seal – especially if you flour them. So poking a few holes in each potato will help any steam escape and hopefully prevent this from happening to you.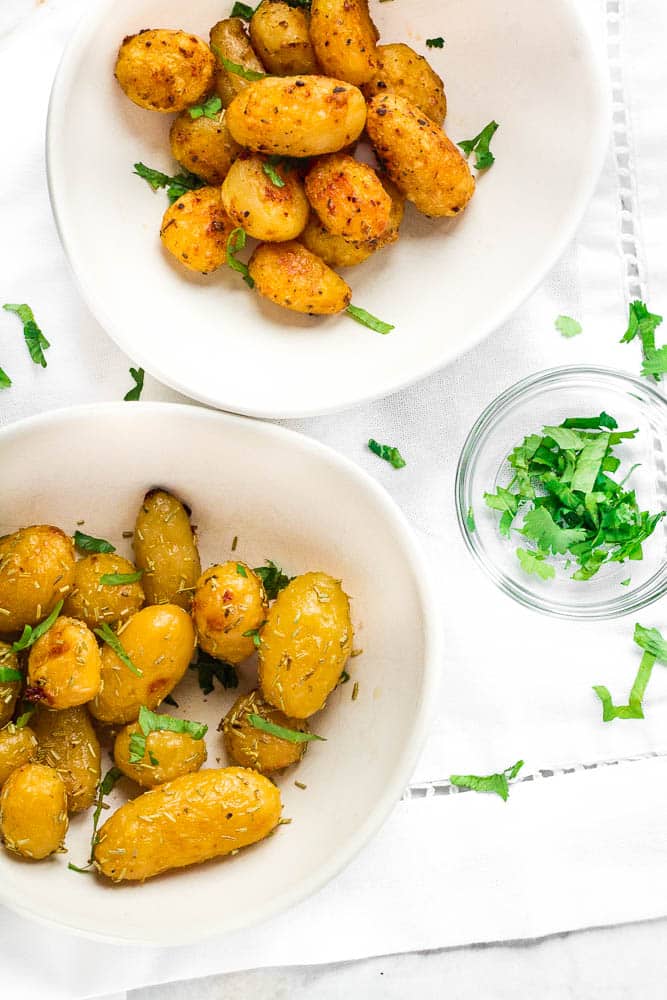 Love air frying?
If air fryer recipes are a point of interest for you, please check out my air fryer category which has a mix of essential basics like this one + easy complete meals to make in the air fryer!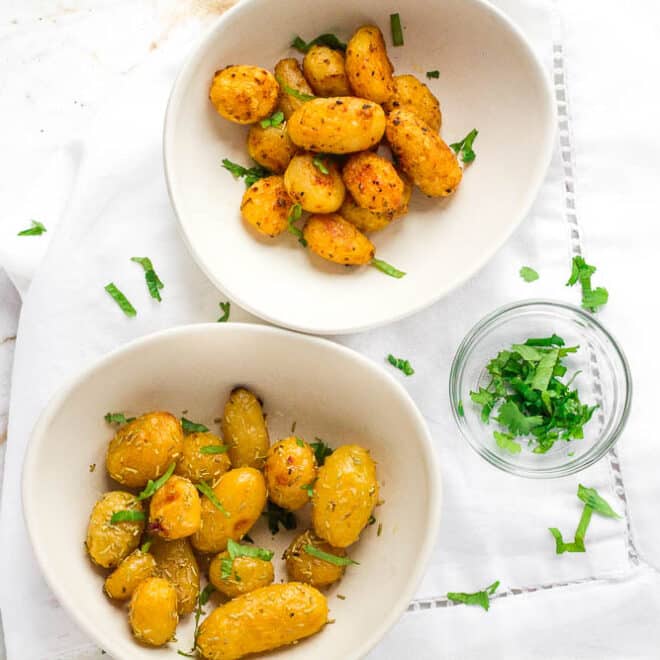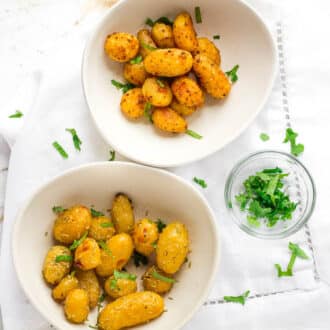 Air Fryer Canned Potatoes
These crispy air fried potatoes from a can are quick to make (no parboiling!), made from cheap ingredients and endlessly versatile.
Ingredients
600 g (21 oz) can of potatoes, can sizes vary – this is approximate
all purpose flour
olive oil
seasonings of choice (I recommend dried rosemary + garlic powder or cajun)
Instructions
Prep your potatoes. Rinse, drain and pat them dry. Add a dusting of flour (just enough to cover them all in a light coating, no more) and seasonings to taste.

Drizzle just enough olive oil over the potatoes to coat them, mixing gently to coat without disrupting the seasonings too much.

Air fry at 200C for 20 minutes. The potatoes can be on a pan within the fry basket, or placed directly on the basket. If the potatoes are on the basket, be sure to shake them a few times while cooking to avoid sticking.
Calories: 101kcal, Carbohydrates: 16g, Protein: 2g, Fat: 4g, Saturated Fat: 1g, Polyunsaturated Fat: 0.4g, Monounsaturated Fat: 3g, Sodium: 5mg, Potassium: 364mg, Fiber: 2g, Sugar: 1g, Vitamin A: 2IU, Vitamin C: 17mg, Calcium: 11mg, Iron: 1mg